SPONSORED POST
Ethan and I were asked by Spiral Spring Spirulina to try out one of their products and review it for our blog. Spirulina is not something I have ever used before, but I decided to give it a shot. I chose to test out the Choco Spring version, a combination of spirulina, cocoa and oat fiber. I have heard mixed reviews from people who have tried spirulina before. The results of my completely unscientific poll, shows that when it comes to spirulina, much like cilantro, people either like it or think it tastes too "earthy."
Before I used the Spiral Spring product, I consulted with my friend Courtney as she is in the "pro-spirulina" camp. She told me that much depends on how you prepare it. She likes to add it to salads, but as I was testing the Choco Spring variety, I didn't think a salad was the right medium. As I typically have a smoothie every morning for breakfast, I felt that would be a good way to test this out and created a "Banana Split Spirulina Smoothie." Here is the recipe:
Banana Split Spirulina Smoothie
Prep Time: 5 minutes
Servings: 1
Ingredients:
1 ripe banana
1 cup strawberries, fresh or frozen
1 1/2 cups vanilla soy milk
1 Tablespoon Spiral Sping Choco Spring
Directions:
1. Put all ingredients in a blender and blend until completely smooth.
2. Pour into a glass and drink.
It couldn't be any easier. I am happy to report that it did not taste "earthy." It was not like someone said, "here, drink this glass of dirt." The spirulina blended in very nicely and was not at all gritty, another fear I had before trying it. I would have liked a stronger chocolate flavor though. The other criticism I have is about the packaging and not the product itself. It is hard to find the information on how much to use. When I found it, it said, "one spoonful." There is no indication of teaspoon or Tablespoon. The scoop that comes with it is a teaspoon, so I used that. However, the nutrition information calls for 10g. When I weighed the content of one scoop, it came out to 3 grams. So, you need 3 scoops, or 1 Tablespoon, to get the correct serving size.
Rather than repeat all the nutritional information from the package, here is everything it contains: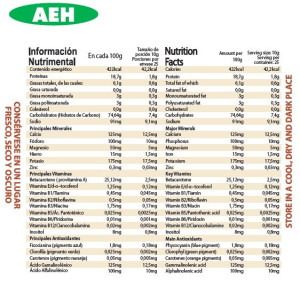 Overall, I was pleased with the Spiral Spring Choco Spring. If you want to try this or any of the other Spiral Spring products, you can get 20% off with discount code Mos20. If you are curious about trying out spirulina, but are afraid it might be "too earthy" or gritty, Sprial Spring Choco Spring Spirulina is a good way to go.