After I went vegan, I became open to trying new kinds of cuisine. One of the first I tried was Ethiopian. There was a great Ethiopian restaurant near us in South Orange, New Jersey called Lalibella. All the vegetable dishes they serve are vegan, and you can get a combination platter with six different dishes so you can try a lot. The food is wonderful and we ate there often. The only issue I had with eating there was that when I left, my clothes smelled like the restaurant. I knew I wanted to try making Ethiopian food at home, but I was intimidated by the spices used. They were completely foreign to me (no pun intended). However, thanks to Kittee Berns' book, Teff Love: Adventures in Vegan Ethiopian Cooking
, now I can cook Ethiopian food without fear. Teff Love, is the ultimate guide to vegan Ethiopian cooking. Before getting to the recipes, Kittee guides you through everything you need to know about cooking Ethiopian food from the basics of this type of cuisine, the traditional ways to serve it, and the kinds of spices that are used. As an added bonus, Kittee shares techniques and tips to make cooking easier. Moreover, she includes a grocery list, which to make your trip to the store as simple as possible.
Following her guide through the wonders of Ethiopian cuisine, Kittee next discusses what is called "The Holy Trinity of Ethiopian Cooking": berbere, ye'qimem zeyet, and injera. Berbere is a blend of spices that is main seasoning used in Ethiopian cooking. You can buy already made berbere, or you can follow Kittee's instructions and make your own berbere paste. Ye'qimem zeyet is an easy to make seasoned oil that Kittee uses in almost all the dishes in Teff Love. However, if you don't have time to make it in advance, you can substitute olive oil in its place. While you won't get the same flavor as, it works in a pinch. Injera is a sourdough-risen flatbread with a unique, slightly spongy texture, traditionally made of teff flour (hence the name Teff Love). It takes several days to make injera, but with Teff Love, it is not difficult. Better still, should the craving for Ethiopian food strike and you cannot wait a few days, Kittee has a recipe for a quick version of teff crepes.
In addition to sections on breakfasts, appetizers & snack, desserts, and beverages, the recipes for main dishes in Teff Love are divided into sections based on the main seasoning of each including: Kay Wot (spicy red sauces and stews), Alicha Wot (mild yellow sauces and stews), and Shiro (smooth legume based sauces). There are recipes featuring injera, cooked vegetable, salads and even stir fries. Think of how impressed your friends will be when you invite them over for dinner and serve an Ethiopian feast. With Kittee's help, you don't have to imagine it any longer.
Here is a sample of what you can make with this book: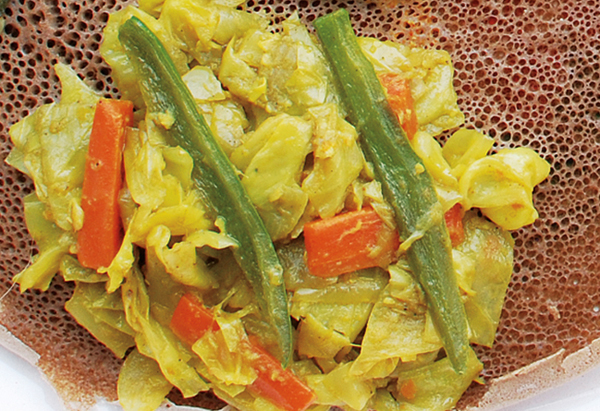 yetikil-gomen-bekarot_recipe

From Teff Love, Reprinted with permission from Book Publishing Company (January 15, 2015).
Pick up a copy of Teff Love: Adventures in Vegan Ethiopian Cooking
 and start cooking today.