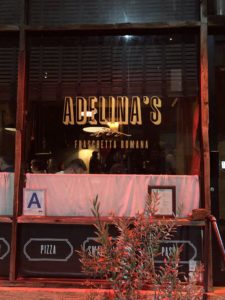 A year ago, was the first we heard about Adelina's. They are a local Italian restaurant located in Greenpoint, just across the park from us in North Williamsburg, and word was that they were starting expand their list of vegan offerings. It looked interesting and we both love Italian food but you know how it goes: life got busy, it fell off our radar and we never ended up making it there for dinner. Fast forward to the annual Hallowoodstock celebration over Halloween Weekend at Woodstock Farm Sanctuary and who was there selling their vegan pizzas? You got it-  the good folks at Adelinas. We took this as a sign that we were going to have to make it over there and soon because now they're coming out for our beloved Woodstock and so we want to come out for them.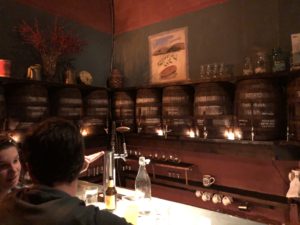 When you enter the restaurant, you immediately see the high ceilings, exposed brick walls, and the wooden bar where wine barrels are stacked in a row and wine is poured through spigot by the glass. The walls have painted-on frescoes that break up the exposed brick. Pendant lights hang from the high ceilings over each table shining discreet regions of light at each table while simultaneously creating a darkening effect between them.  This clever lighting helps make your table feel more private and intimate.
We started our meal with Pannelle— salty, airy pillows of fried polenta, perfectly crisped on the outside and soft on the inside. The texture and flavors contrasts beautifully with the mustard sauce that accompanies it.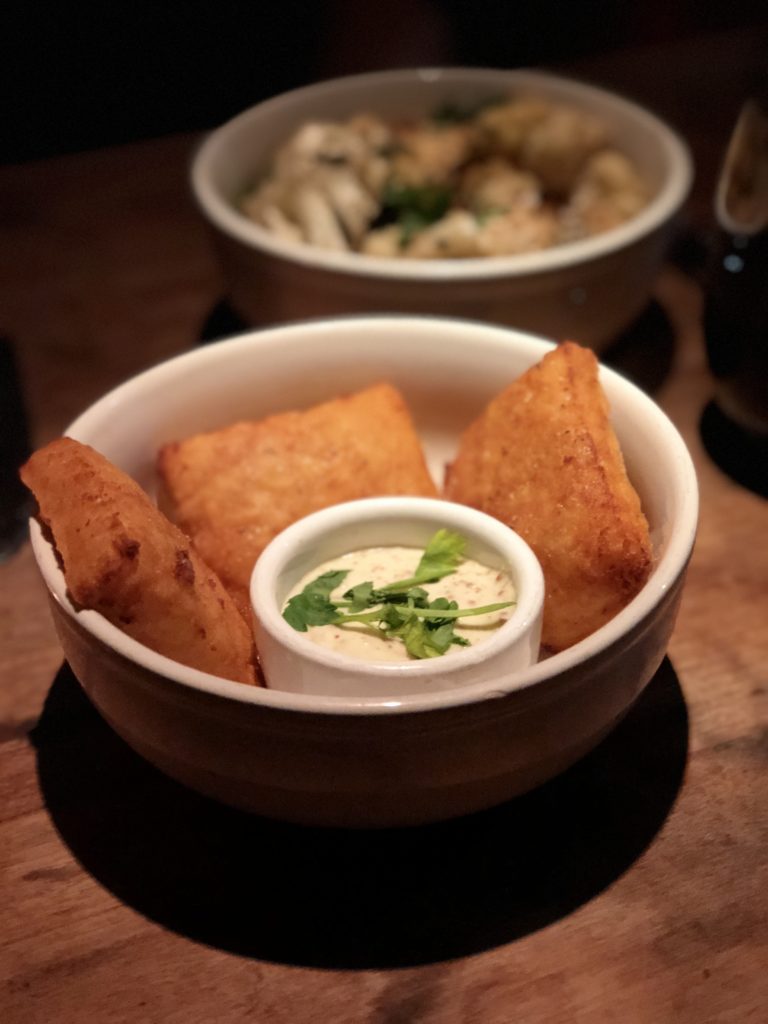 We also started with the Cauliflower— a simple bowl of roasted cauliflower tossed with olive oil, garlic, parsley and capers. The flavors are lovely but if I'm honest, I would have enjoyed a more bold and robust flavor palate. This vegan version, made vegan solely by omitting the granna padano cheese, doesn't hold up. If you're taking the cheese off a dish to make it vegan, the flavors need to work on their own. The cauliflower wasn't roasted enough and the garlic needed something else to help pull the flavors together. I could imagine how the cheese does that. I found it disappointing not to have one of Adelina's delicious homemade vegan cheeses added to this dish or even a good commercially available vegan parmesan such as Just Like Paremesan from VioLife.
Because Michael and I are completely incapable of resisting anything with polenta, we split an order of the polenta frittata con cicoria. Like the pannelle, they were perfectly fried outside, creamy inside, and were served with a rich flavorful crimini mushroom sauce that added the perfect amount of umami. The bright and bitter sautéed dandelion greens were the perfect contrast.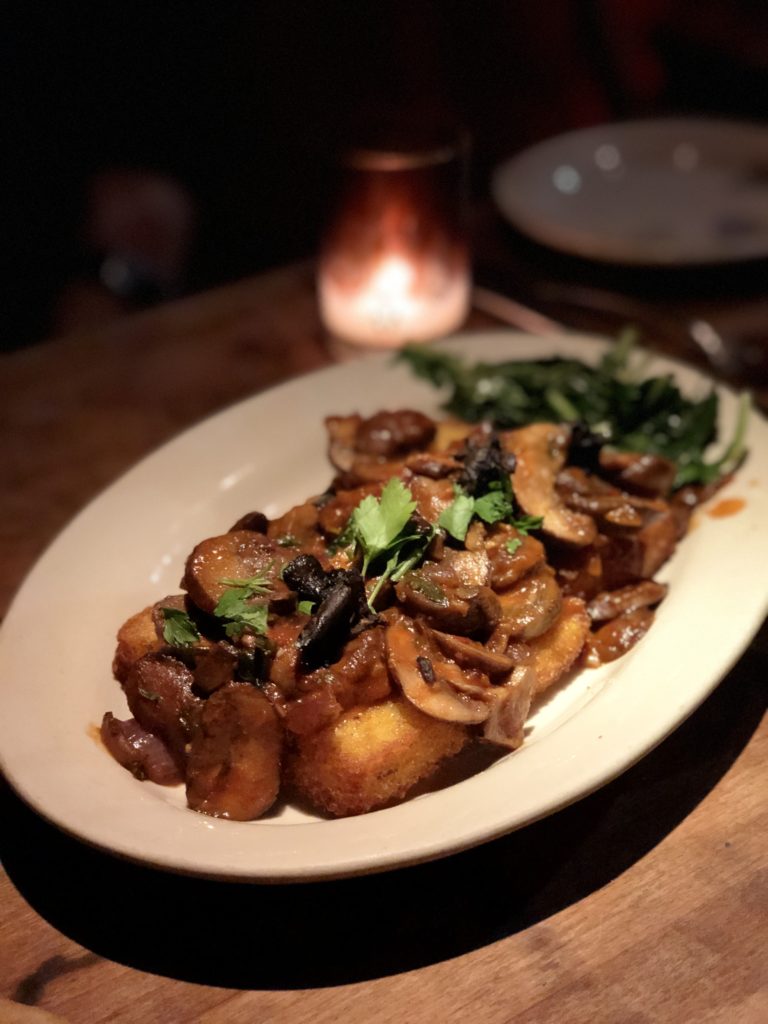 We also split The Woodland, a 10″ pizza.  It was pizza perfection. A light crispy crust topped with a slightly sweet tomato sauce, covered with a generous amount of homemade cashew mozzarella which holds its own against the best of all upscale vegan cheeses. Topped with sauteed crimini mushrooms and porcini crisps, it's one of my culinary life goals to go to Adelina's one night, order three of these with a class of wine and call it dinner.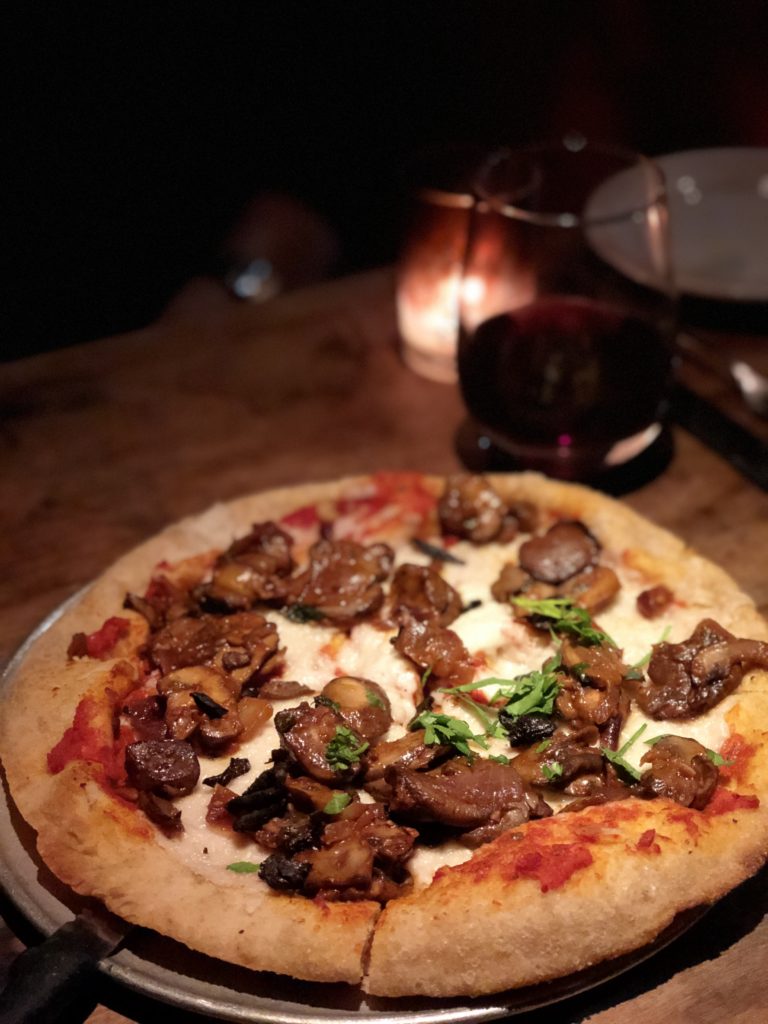 Opting for dessert, we split theLemon Rosemary Cake and the Chocolate Truffle. The cake was a bit close-textured, but it was sweet enough and the bright lemon flavor went well with just a subtle hint of rosemary in the background. The chocolate truffle was the show-stopper for me. Thick and creamy with a richly deep chocolate flavor, it's like a giant ball of ganache— and there's nothing wrong with that! Especially when coated in flavorful pistachios.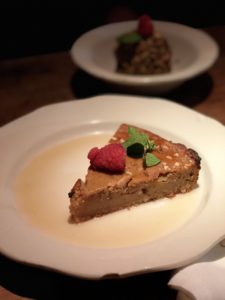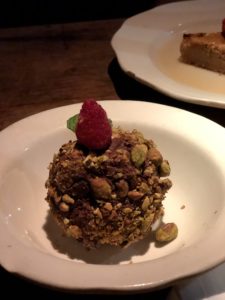 We were stuffed but there was much more on the vegan menu we wanted to try so a week later, we ordered take out and brought it home. Going in on a Sunday night at 7:30 pm, Adelina's was filled to capacity and there were still folks waiting to be seated. Our to-go order entailed the Tuscan Beans with Rosemary Focaccia, the Paccheri, an Original Pizza and the Potato Pie Pizza.
The Tuscan beans have a strong tomato flavor with a nicely bright oniony seasoning. They were not overly done so the beans, impeccably cooked, really gave a strong cannellini flavor.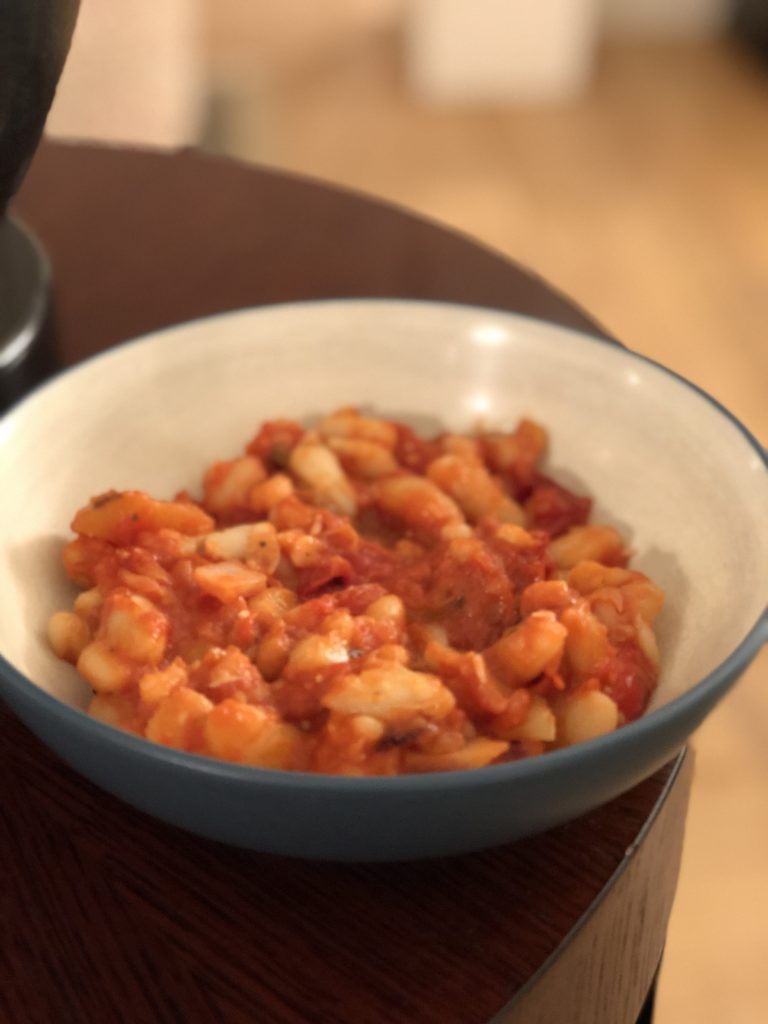 The Paccheri was fantastic. The pasta, perfectly al dente, had a sweetness to it imparted from the cauliflower that balances the mild bitterness of the radicchio. The pinenuts add a warmth that round out this simple but flavorful dish.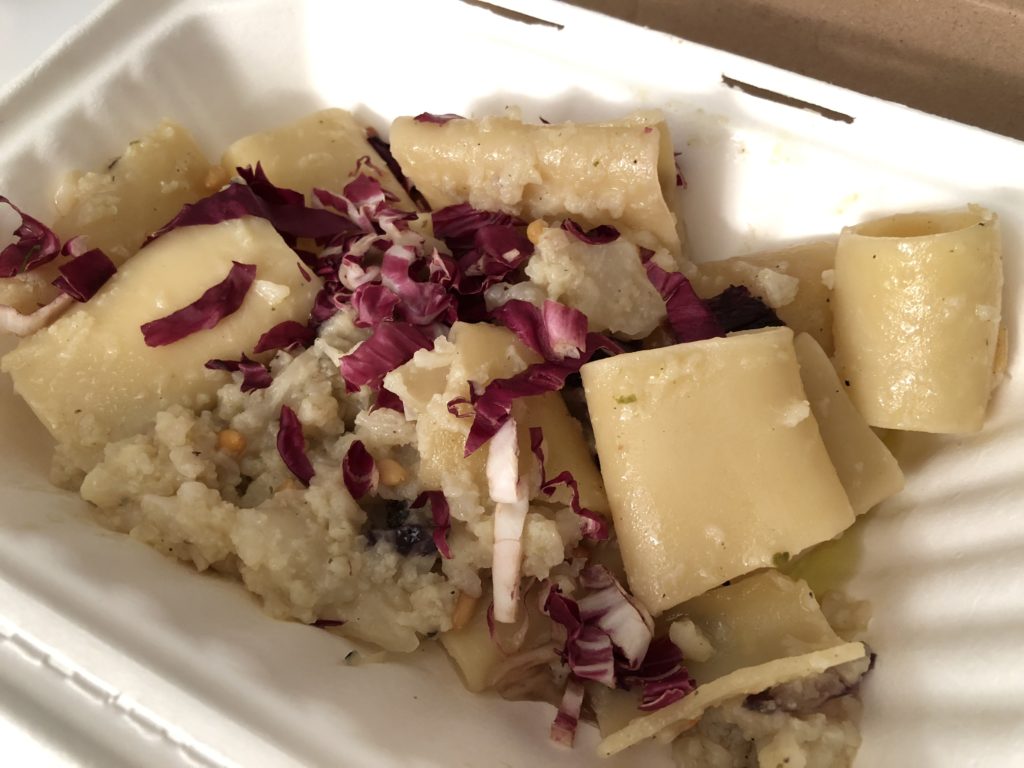 The Original Pizza is absolute perfection. Melting vegan cheese, a thin layer of crust, sweet red sauce and the perfect amount of basil. This is exactly what a pizza should be.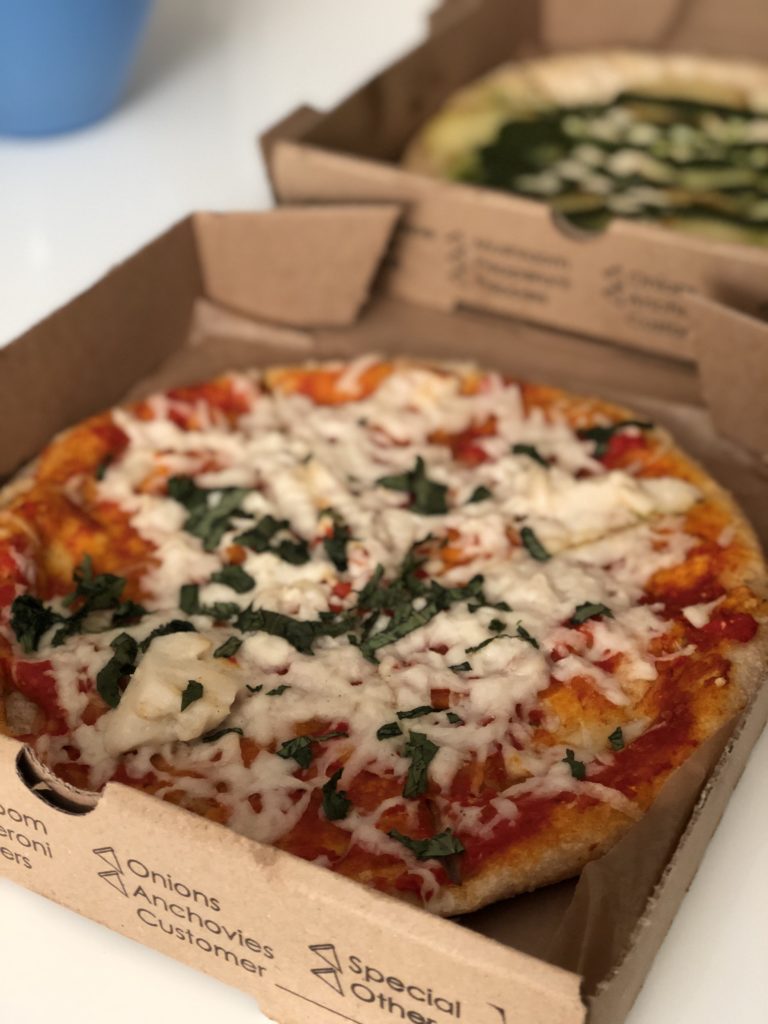 The surprise favorite of this night was the Potato Pie Pizza. The vegan pesto complements the thickly-cut ridged potatoes so well. Sitting atop the cashew mozzarella and the light thin pizza crust, it is simultaneously savory and freshly verdant.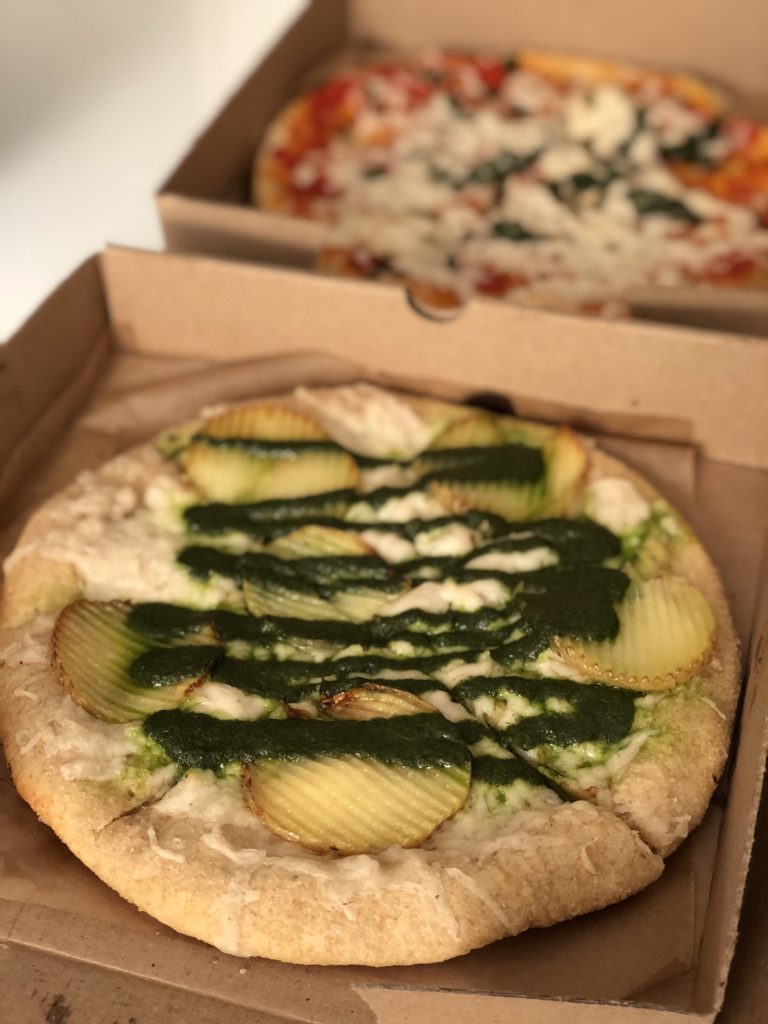 Adelina's is a gem and the secret is out. It's always packed and for very good reasons. Be sure to get a reservation regardless of the day of the week, even if your reservation is to sit at the bar which is how we're going to do it next time. Adelina's is the perfect example of the evolution of a family-style local Italian restaurant adapting to the changing reality of food and how New Yorkers are choosing to eat. With abundant vegan offerings, they are our favorite go-to classic New York Italian restaurant. Once you go and try the vegan food at Adelina's, we're quite confident they'll be your new favorite, too.
Adelina's
159 Greenpoint Ave
Brooklyn, NY 11222
347-763-0152