I admit it; as a child of the 1970's, when I hear "Chia" I think of the infamous Chia Pets. Perhaps that's been the reason I've long avoided the more recent health fad of eating this superfood. But when you consider what these little seeds contain, it's silly that I've been avoiding the for so long. Just one ounce (roughly 2 tablespoons) of chia seeds hits your recommended daily allowance of a lot of important things, such as 17% of the RDA of calcium, 23% of the RDA of magnesium, 12% of the RDA of iron, 5 grams of protein and 10 grams of fiber! They also contain Zinc, Vitamin B3 (Niacin), Potassium, Vitamin B1 (Thiamine) and Vitamin B2. Okay, so this is definitely a superfood.
I've been playing around with chia seeds and have come up with my favorite ways of eating them. I will share two such recipes here, but you should play around and come up with your own version that you like best.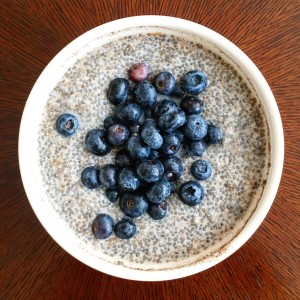 Banana Blueberry Chia Porridge 
1/3 cup Chia seeds
1/3 cup coconut water
2/3 cup coconut or almond milk (I prefer Califia Farms' Coconut Almond Milk)
1 medium banana, sliced
1/2 cup fresh blueberries
Cinnamon
Vanilla powder
Directions:
1.  Combine the Chia seeds, coconut water, vegan milk, vanilla and cinnamon (to taste) in a bowl and mix well. Let it sit for 10 minutes then vigorously stir again.  You can also set this up and let it firm up in the refrigerator overnight so it's ready to be eaten the next morning.
2.  Add the bananas, blueberries, stir well and enjoy!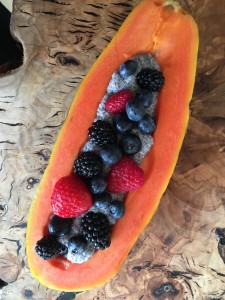 Summer Chia Papapya Boat
1/2 Papaya, cut lengthwise and seeds removed
2 tablespoons Chia seeds
2 tablespoons coconut water
4 tablespoons coconut or almond milk
1/2 cup assorted summer berries
1 teaspoon toasted Coconut flakes (optional)
Directions
1. Combine Chia seeds, coconut water and vegan milk in a bowl and mix well. Let it sit for 10 minutes and then vigorously stir again.
2. Fill the halved papaya with the chia pudding, top with berries and sprinkle toasted coconut flakes on top.