Back in my pre-vegan days, I was a tuna salad junkie.  I made a really good tasting one with enhancements to my recipe (like the shredded carrots and spicy mustard) offered by my mother-in-law who makes the best tuna salad I ever tasted.  Well, until now.  Mine is now the best because it's a cruelty free version of what she makes. Using chickpeas instead of tuna makes this a lower-sodium and mercury-free option while still retaining all of that great protein you expect from a "tuna" salad.  
Prep Time: 5 minutes or less
Ingredients:
15 oz can of chickpeas, rinsed and drained

2 green onions (finely chopped)
1 celery stalk (finely chopped)
1 medium carrot (shredded)
1 1/2 tsp spicy mustard
1 1/2 tsp sweet pickle relish
1/4 cup vegan mayonnaise
1/4 tsp onion powder
1/4 tsp garlic powder
1/4 tsp paprika
Sea salt, to taste
Ground black pepper, to taste
Directions:
1.  Mash the chickpeas.  You can do this by hand with a fork or potato masher, or you can pulse them until they're fine and granular in a food processor with the blade attachment.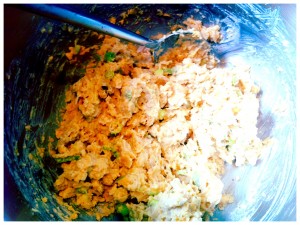 2. Add in the rest of the ingredients and mix by hand.
3.  Enjoy!