If you are looking for great vegan burgers, look no further than Marty's V Burger.  Although it opened a few months ago, it took a while before Ethan and I could get over to Marty's V Burger. Thankfully, we made some time a few weeks ago and finally did it. It was well worth the wait. Ethan and I have been fans of Marty Krutolow for quite some time. We first tried one of his incredible vegan burgers at a holiday shop up a few years ago in Brooklyn. It was love at first taste. His "Original World Famous Burger" was everything a burger should be. It was like a Big Mac, but so much better: not only because it was entirely plant based, but it also tasted infinitely better. The patty on a soft bun topped with lettuce, cheese, pickles and special sauce, was truly a thing of beauty. I became a Marty groupie on the spot. If he was at an event I could get to, I would be there. I needed my Marty's burger. No matter what other food offerings are available, I always get my Marty's burger first. And, if I am completely honest, I often get a second one before I leave. If fact, one year he supplied burgers as passed hors d'oeuvres for Thanksliving at Woodstock Farm Sanctuary and although they are cut into fourths, I easily ate the equivalent of 4 burgers.
The only problem with Marty's burgers, were that I could only get them a few times a year at food festivals and shop ups. One year he had a booth at the Winter Village in Bryant Park, but that was only for a few weeks. Marty had been talking about opening a permanent location in Manhattan, but nothing was certain. Thankfully, after much waiting and lots of hard work, Marty finally opened Marty's V Burger. Located at 134 E 27th Street in Manhattan, Marty's V Burger is open Monday-Saturday 11:00 AM – 10:00 PM. Now when I crave a burger, I can feed the need.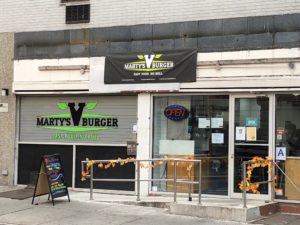 The menu at Marty's V Burger is much larger than what it originally was when he first started vending at Veg Fests and Shop Ups. All the classics are still there: the World Famous Original, the Shroom Steakhouse Burger, the Crabby Patty, kale salad, mac n' cheese, and drumstix. However, the brick and mortar location has so much more! You can get a Double World Famous which I like to think he created just for me. In fact, you can get any of the burgers or Crabby Patty as a double. When he was first selling burgers at events, Marty was working on a small griddle, so there was a slight wait for your food. That is now changed at Marty's V Burger. Your order is ready very quickly so you can enjoy the deliciousness with no delay. Also, he now has a fryer so you can get a burger and fries. Let me repeat that, BURGER AND FRIES!!!! And if you want dessert, Marty's V Burger offers desserts from Brooklyn Whiskers bakery.
The store is small with a few tables and some seating along a counter on the back wall, but burgers and fries are easily portable you can always get your order to go and eat in nearby Madison Square Park.
If you can't get to Marty's V Burger don't worry, they deliver. Unfortunately, or perhaps fortunately, my office is just outside the delivery area so I can't have it every day for lunch. But on nice days, I can still walk there. In fact, I am planning on taking my burger loving father there for lunch one day.
The next time you want a burger, get over to Marty's V Burger. Let them know the Mos sent you. Remember, at Marty's V Burger it is fast food, no bull!
Marty's V Burger
134 East 27th Street
New York, NY 10016