Every March, Ethan and I get out of New York for a winter warm up trip. In the past, we have usually gone to a beach location, but this year we tried something new. We had heard about the exploding vegan food scene in Mexico City, so we decided check it out. Vegan food is not what one would usually associate with the land of tacos, carnitas and queso, but veganism is on the rise in the capital city of Mexico. In fact, there are so many vegan restaurants, that it would take weeks to eat at all of them. As we were only there for 4 days, we had to be selective. We did a small write up for Veg News Magazine on being vegan in Mexico City, but here is our comprehensive guide.
When planning our trip, we consulted HappyCow.com to see where the majority of vegan restaurants are located. While there are vegan restaurants all over the city, most are located in the Condesa and Roma Norte districts. If you base yourself in one of these areas, you can walk to most restaurants within 15 minutes. Moreover, Uber in Mexico City is great and you can get pretty much anywhere you want for under $4USD, and your ride will usually include a complimentary bottle of water.
Our first stop in Mexico City was Forever Roma. It is a small, dimly lit restaurant with 10 tables in the lower level and additional seating both outdoors and upstairs. A quick word of caution about the upstairs seating area, the ceiling is very low and the tables are only a few inches off the ground, so you will be practically sitting on the floor. (We later learned that these are floor booths designed to be like in India or Thailand). If you are going to eat at only one place in Mexico City for every meal, Forever is your best option as it offers breakfast, lunch, dinner and dessert. In addition to it's full menu, Forever also has a display case loaded with take away items including vegan cheeses, donuts, cookies, and cakes. For our first meal, we sampled, the Tacos Baja California, Nachos Vegano, Chilaquilles Del Charman and Forever Fries. The tacos come as an order of two wheat tortillas topped with crispy fried cauliflower, avocado, pico de gallo, and a chipotle mayo. The cauliflower is warm, crisp and contrasts nicely with the cool and creamy avocado. We could have easily eaten more of them. The nachos are a generous portion of tortilla chips topped with a homemade cheese sauce, black beans, avocado and pico de gallo. The cheese sauce has a strong nooch flavor, but its very good. We just wish there had been more beans, avocado and pico de gallo. The Chilaquilles are similar to the Nachos in that is it a plate of tortilla chips, however these are covered in a delicious, slightly spicy, salsa verde. The menu says this dish comes with beans, but it wasn't until we were halfway done that we realized the beans are underneath the chips. The Chillaquilles are topped with a nut cheese that we didn't care for, if you get them, we recommend asking them to leave it off. The Forever Fries are sweet potato fries drizzled with a balsamic reduction, cashew crema and topped with fresh strawberries. This dish is an interesting mix of sweet and savory. The combination of flavors is not something we would have thought of, but works really well together.
In addition to standard Mexican fare, the menu offers a variety of wraps, burgers and bowls. The Dragon Bowl filled with noodles, edamame, tofu, carrot, and cabbage tossed with a creamy dressing is as filling as it is delicious.
We enjoyed our meal here so much, that we ended up returning for breakfast twice and again for a mid-afternoon snack. In our travels we have noticed that finding vegan breakfasts can sometimes be a challenge, but thankfully that is not a problem in Mexico City. Forever had a large breakfast menu with everything from pancakes to enchiladas to tofu scrambles and more.
The menu offers three different ways of having pancakes: with ice cream, with chocolate-hazelnut spread and strawberries or Gringou style with a side of tempeh bacon. I went full on Gringou (I just can't do ice cream for breakfast). The pancakes are good, but left me wanting a little more to eat. The breakfast enchiladas are delicious and filled with sweet potato, kale, and carrot. We tried the Mockyets, a large piece of bread topped with beans, avocado, tomato and nut cheese. This would have been better without the cheese. The tofu scramble should be avoided. The tofu is marinated in vinegar and has a very overpowering mustard flavor. The Acai Bowl is a great option for breakfast: a large bowl of granola, strawberries, raspberries, blueberries, blackberries and bananas surrounding a scoop of acai sorbet.
Forever
Guanajuato 54 (at Merida)
Roma Norte, Mexico City
A few blocks from Forever, at the corner of Guanajuato and Orizaba is what is rapidly becoming a mini vegan mall. This former university houses three vegan restaurants and a vegan friendly bakery. Even though we were full from our lunch we got cookies and ice cream from Milkella, the bakery. All the vegan options here are clearly labeled and change daily, so be sure to check back often. Also located in this mall is the whole foods plant based resturant Vegan Planet. We had dinner our first night at Vegan Planet with Sabina and Paulina, two of the people who work in the Mexico branch of the Humane Society International, the owners of Vegan Planet, along with their chef, Chef Miguel and Chef Yougi, one of Mexico City's well known chefs who while not vegan is working with HSI on its Lunes Sin Carnes (Meatless Mondays) campaign. At Vegan Planet they make everything from scratch from the breads to the condiments. They do not use any processed foods at all. We didn't order off the menu for dinner. Instead, the owners instructed the kitchen to just send out food. We were able to sample a wide range of their offerings from the mezze plate filled with olives, roasted peppers, a greek salad, pizza loaded with lots of vegetable and tortillas filled with homemade cashew cheese and hummus. As a special treat for my birthday they also sent out a slice of their raw cheesecake made with cashews and coconut, topped with strawberry sauce. Everything was fresh and delicious. This was a great first dinner in Mexico City.
We did make a return trip to Vegan Planet for breakfast and tried their pancakes and oatmeal. The pancakes were a little disappointing – they were pasty in the middle and very dense. For breakfast you are better going to Forever and keeping Planet Vegan for lunch or dinner.
Also in this mini vegan mall is Pitahaya, a taco stand that makes vegan tacos. Not only can you watch them make your tacos fresh, you can watch them make the tortillas for them. On the day we went, the corn masa used for the tortillas was pink as it was infused with other vegetables. The dough is pressed into tortillas as cooked alongside your taco fillings. We tried the Jamaica (marinated hibiscus flowers) and Pastor, soy meat in a slightly sweet and savory marinade. The Jamaica was very sweet, tangy and very spicy. I liked the pastor, but Ethan was not a fan, so I ate his as well. They also offer all vegetable tacos with potato or cauliflower.
The third vegan option here is Los Antojos de Alma. This is actually a smaller version of their larger restaurant in Condesa. While we didn't eat at this location, we did eat at the main restaurant.
Vegan Planet
Pitahaya
Milkella
139 Orizaba
Roma Norte, Mexico City
We tried the main location of Los Antojos De Alma for lunch on our second day. Although it is a very small café and was almost empty, it took almost an hour to get our food. When it arrived, it was good, but after waiting so long, it needed to be spectacular. It wasn't until our server asked if we wanted anything else that he noticed we hadn't received anything yet. He was very apologetic and our food quickly arrived afterwards. We started with the Buffalo Cauliflower. The florets are coverd in a cornmeal batter before frying. The batter was a little too thick for my tastes, but the buffalo sauce had a very nice kick to it. They come with a dill sauce to cut the heat, but as I am not a dill fan, I didn't use it. It was a little chilly out, so Ethan ordered a bowl of the Tortilla Soup. This tomato based soup was very good and had a slight spice to it. It comes topped with vegan sour cream and crispy tortilla strips.
We had heard that the lentil burger here was the thing to get, so as he is a burger fan, Ethan ordered it. While the burger was great, the accompanying French fries were not. It may be a cultural thing, but unlike the crispy fries we expected, these were soggy and sprinkled with vinegar. For my main course, I got the tempeh taquitos. The crumbled tempeh is sautéed with Mexican spices and served on corn tortillas topped with chopped onion and pineapple. They were very good and the sweet of the pineapple balanced the spice of the tempeh nicely.
After waiting so long for food, I was ready to get out still feeling a little chilly, Ethan needed coffee to warm up and what is coffee without dessert, so we ordered the raw lemon pie. As courtesy for the long wait, they also brought us a chocolate pie as well. The fillings are dense and very creamy. The raw crust is made from nuts and worked nicely with the nut crust.
Los Anjotos de Alma
Michoacan 121
Condesa, Mexico City
After lunch we stolled around the corner to get ice cream at Capricho Helado. This little vegan ice cream shop offers ice cream, malts and some pastries. They are happy to let you try the ice cream before you commit to buying a scoop. It is a great refresher after walking around the city.
Capricho Helado
Fernando Montes de Oca, 64
For our second dinner in Mexico City the location was completely my choice as it was my birthday and I went for street tacos from Por Siempre, the vegan taco stand, which was conveniently located right by our hotel. If you want cheap eats, even by Mexico City standards, this is the place to go. We each got 2 regular tacos and one special taco, for 100 Pesos, about $8USD. I tried the Al Pastor and Chimichuri regular tacos and the Big Bebe, while Ethan went for the Chorizo, and Chimichurri regular tacos and the Gringa special. I really liked the tacos, but Ethan was not as big a fan. Even if you don't like them, it is still worth checking it out. Food trucks are found all over Mexico City and this is the only all-vegan one, so if you want to partake this is Mexico City experience, this is your chance. The stand opens at 6:30PM and the line forms quickly, so get there early to avoid waiting. They are closed on Sundays, so plan accordingly.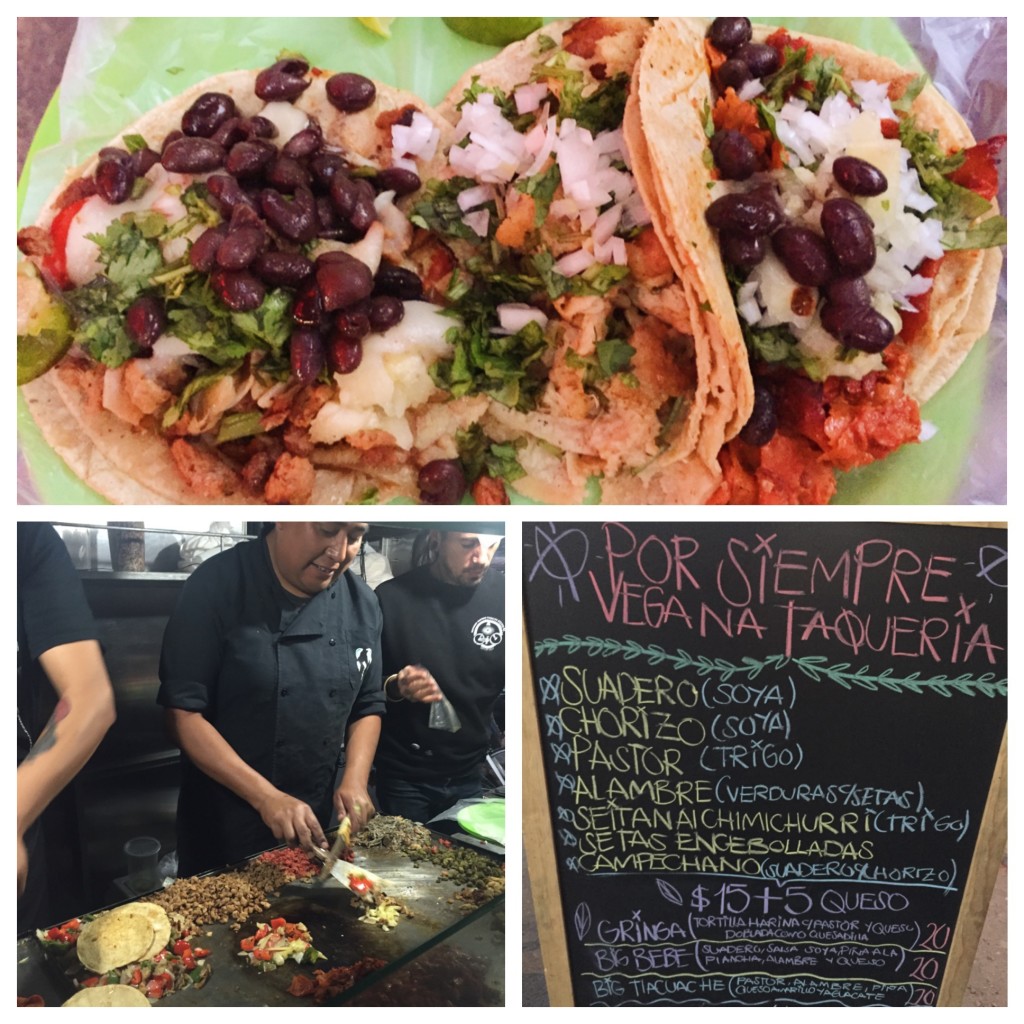 Por Siempre
Manzanillo y Chiapas
Roma Norte, Mexico City
We followed dinner by a evening at Lucha Libre. If you are not familiar with Lucha, think WWF, only more so. Masked and costumed fighters wrestle in and around the ring. There is not much in the way of vegan eats at the show, but you can get palomitas (popcorn) and drink a Michelada, two beers poured into a large cup and mixed with fresh lime juice and salt. Also, if you remember that awesome late 70's/early 80's classic drink Clamato, they do also make Micheladas with it, so be sure to specify you just want lime and salt. The audience at a Lucha show is just as big a spectacle as the "fight" itself. Even if you don't stay for all the matches, it is worth checking it out, just to experience it. And you may leave with ideas for Halloween costumes.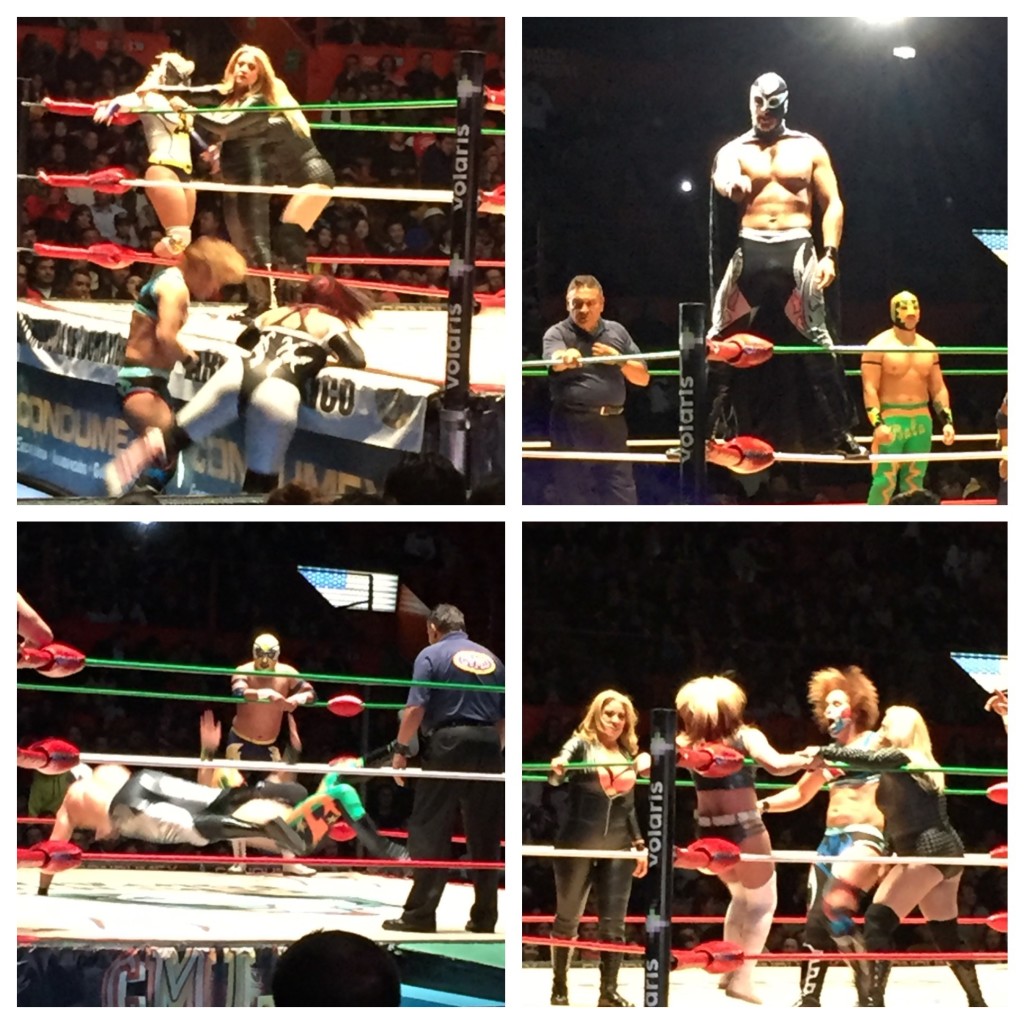 Our next day in DF we left the Condesa and Roma Norte areas and headed across the city to the El Bazaar Sabado in the San Angel neighborhood. This lively market is located in an converted Monastery.  It's the perfect spot to shop for souvenirs as local artisans bring their traditional and modern handicrafts for sale. While there, be sure to check out the adjacent street market in Plaza Tenanitla and the art fair across the street in Place San Jacinto. There is little in way of vegan food here, but you might be able to find churros from one of the street vendors that are vegan. Just be sure to ask "sin huevos y sin leche" to be safe.
El Bazaar Sabado
Plaza San Jacinto
San Angel, Mexico City
After spending some time wandering the markets, we grabbed an Uber back to our hotel. It should be noted that Uber in Mexico City is fantastic. A drive across the entire city costs about $3USD. The cars are clean and the drivers are quick to jump out and open the door for you. Moreover, almost every driver we had offered us bottles of water as soon as we got in the car. Uber is by far the easiest, quickest, and safest way we found to get around the city. Our most expensive ride was to the airport from our hotel, and that was because we "splurged" for the Uber Black. This ride cost $8USD.
We freshened up and set on out foot to get lunch. Well lunches to be precise, we had 2 of them. Our first lunch stop was at U.to.pi.a Vegan Food & Bar. This small cafe is the place to go for vegan comfort food like pizza, hotdogs, etc. The decor is a random assortment of furniture that give you feeling of being in a club house furnished with whatever was around. One wall is covered in vegan messaging with sayings in both English and Spanish and includes phrases like, "I think. Therefore, I am vegan," and "Vegan for the animals." This place is not afraid to let it's vegan message out. Everything here is made to order, so it can take a little longer than one would expect for comfort food. We shared an order of the Hongos Empanadas and a Pizza Margarita. The empanada was filled with sauteed mushrooms and their own homemade vegan cheese. The crust is more like an herbed pizza dough rather than the traditional flaky pastry. It is served with a chimichurri sauce for dipping and tastes wonderful. They offer two other empanadas, but our server said this was the best one, so who were we to argue? The pizza can easily be shared by 2 or 3 people. The crust is the same herbed dough as used for the empanada, and was topped with a gerenous helping of their homemade cheese and slices of fresh tomato. There is a very thin layer of sauce under the cheese, so if you like sauce on your pizza, ask for extra. The juiciness of the tomato slices helped to balance the richness of the cheese. If you want some comfort food, you cannot miss U.to.p.ia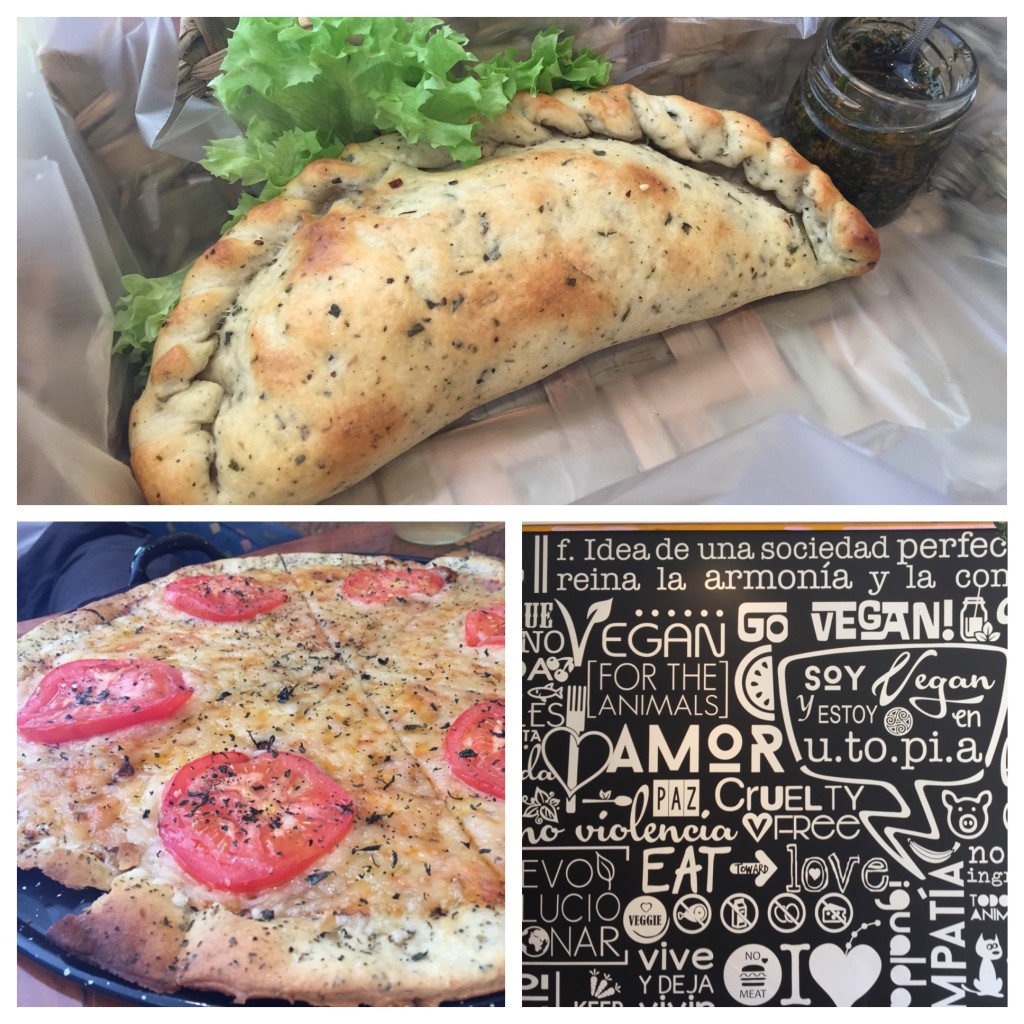 U.to.pi.a
Calle Juan Escutia, Delegación Cuauhtémoc
Condesa, Mexico City
Although we were rather full, we continued on to our second lunch stop at Papalo Papalotl. This bright and airy eatery is located on a street corner and on nice days they open the walls so it feels like an outdoor cafe. The food has a Mediterranean influence and with ample cooked, raw and gluten-free options, everyone is sure to find something to eat here. The menu has a wide variety of soups, salads, main courses and desserts to please every palate. As we had eaten 20 minutes earlier, we kept to lighter foods for this feeding. We started with the Bruschetta and Tuscan Minestrone Soup. The bruschetta comes a three toasted slices of baguette topped with a generous helping of diced fresh tomatoes and a drizzle of olive oil. The soup is full of vegetables in a light broth and is not as pasta and bean heavy as one would expect from a minestrone. Both of these starters were delicious.
For his main course, Ethan ordered the Quinoa Tacos and I opted for a green salad (I was craving salad) and a side of Papas al Romero. The tacos come served on lettuce leaves rather than tortillas. The taco filling is a mixture of quinoa, mangoes, and strawberries, tossed with an orange juice reduction. These are a great twist on tacos and were both filling and refreshing. The green salad is a mixture of lettuces, black berries, strawberries, and blueberries tossed in a balsamic reduction that is flavored with horseradish. The combination of the sweet from the balsamic and the kick from the horseradish was initially a little strange as I wasn't expecting it, but it works very well. The potatoes were a simple dish of roasted potatoes tossed with olive oil, salt, and fresh parsley. They were good, but I was hoping for something like the Patatas Bravas we had in Madrid.  At this point we were too full to contemplate dessert, but I would be remiss not to mention that the dessert menu features "Nutcake." Yes, I am a child at times.
This was the freshest meal we had in Mexico City. If you are looking for whole food plant based cuisine, you do not want to miss Papalo Papalotl.
Papalo Papalotl
Mazatlan and Juan de La Barrera
Condesa, Mexico City
We took a break from eating and walked around the Condesa back to our hotel for a siesta before meeting up with Sean, aka Fat Gay Vegan and his partner Josh for dinner. Though based in London, they are currently living in Mexico City for six months and we figured who better to show the Vegan Mos around town, than the Fat Gay Vegan. We were intrigued when rather than suggesting a restaurant he only gave us an address. When we arrived, he led us through a little door and into the kitchen of Los Loosers, Mexico City's vegan food delivery service. Monday through Friday Los Loosers prepares one dish a day and will deliver to anyone, anywhere in the the city by bike. All you have to do to find out that day's meal is look for them on Instagram or Twitter and then email them your location. Los Loosers began in 2011 out of an apartment kitchen. Today they have a full commercial kitchen where they make everything from scratch and are working on expanding to a full cafe. Sean asked them to prepare a dinner for us and we got to spend the evening talking with Sean, Josh, and the amazing team behind Los Loosers while eating delicious food. You can watch the story of Los Loosers here.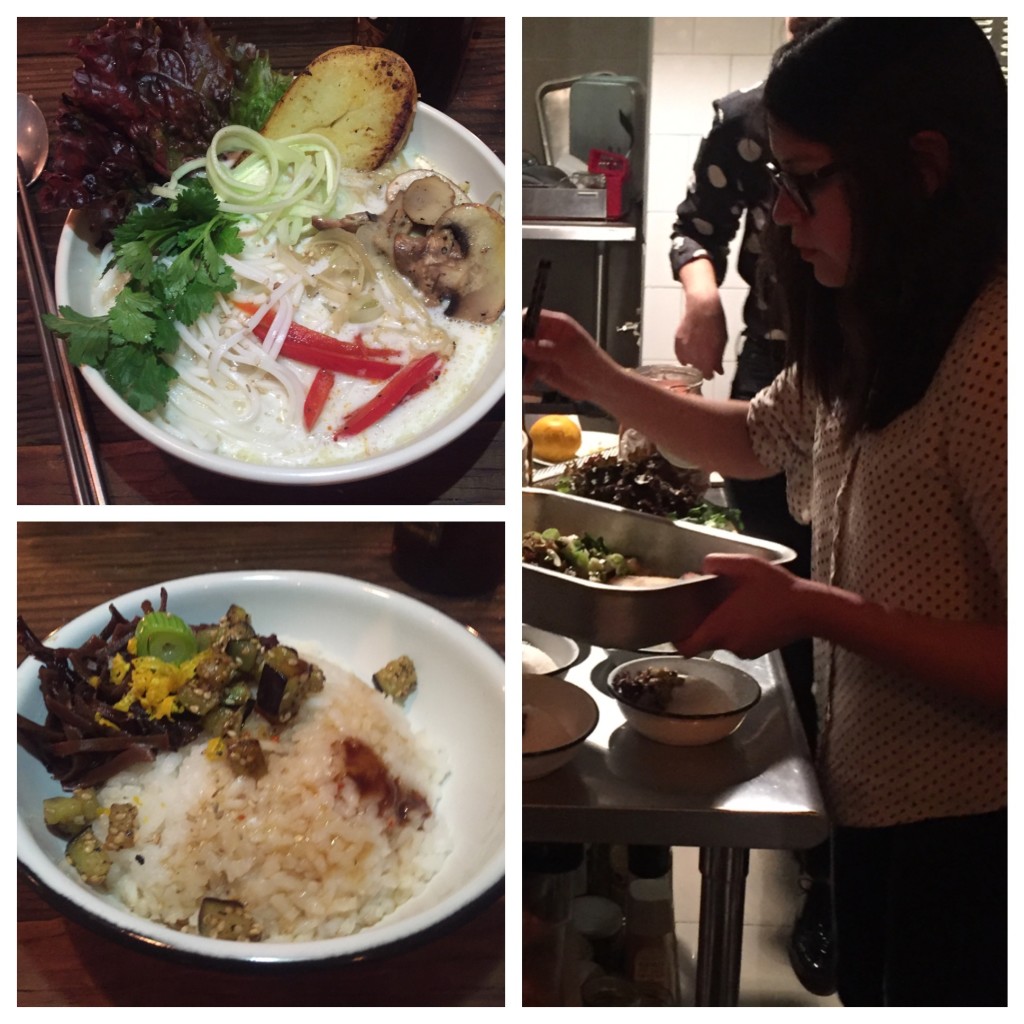 Following our meal, Sean and Josh took Ethan and me to see some of the gay bars in Mexico City, but that is a post for another time.
Sunday was our final day in Mexico City although we didn't each much, we did check out two more places and a few stores too. We first took an Uber to the Centro area to visit Veg Amo, a vegan bakery and cafe. The tiny spot offers a wide selection of smoothies, cakes, pies, salads, and even waffles. In addition to fresh food, they do offer a few packaged goods for sale such as cacao nibs, Just Mayo and vegan caramel sauce. We would have purchased the caramel, but I had just made a batch before we left for this trip. There is very little to see and do from a tourism perspective, so after some tea and cake, we took an Uber to the Zocalo and jumped on a tourist bus for a tour of the city.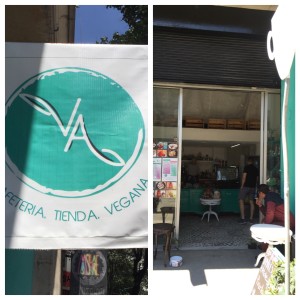 VegAmo
Revillagigedo 47
Mexico City, Mexico
Following our city tour, we decided to check out Vegan Ville, Mexico City's vegan grocery store. If you need to stock a vegan kitchen in Mexico City, you cannot miss this store! Vegan Ville has all the Gardein, Follow Your Heart, Tofurky and Lightlife products you could want. They also have a selection of freshly made pastries and cakes in addition to dry goods for filling a pantry.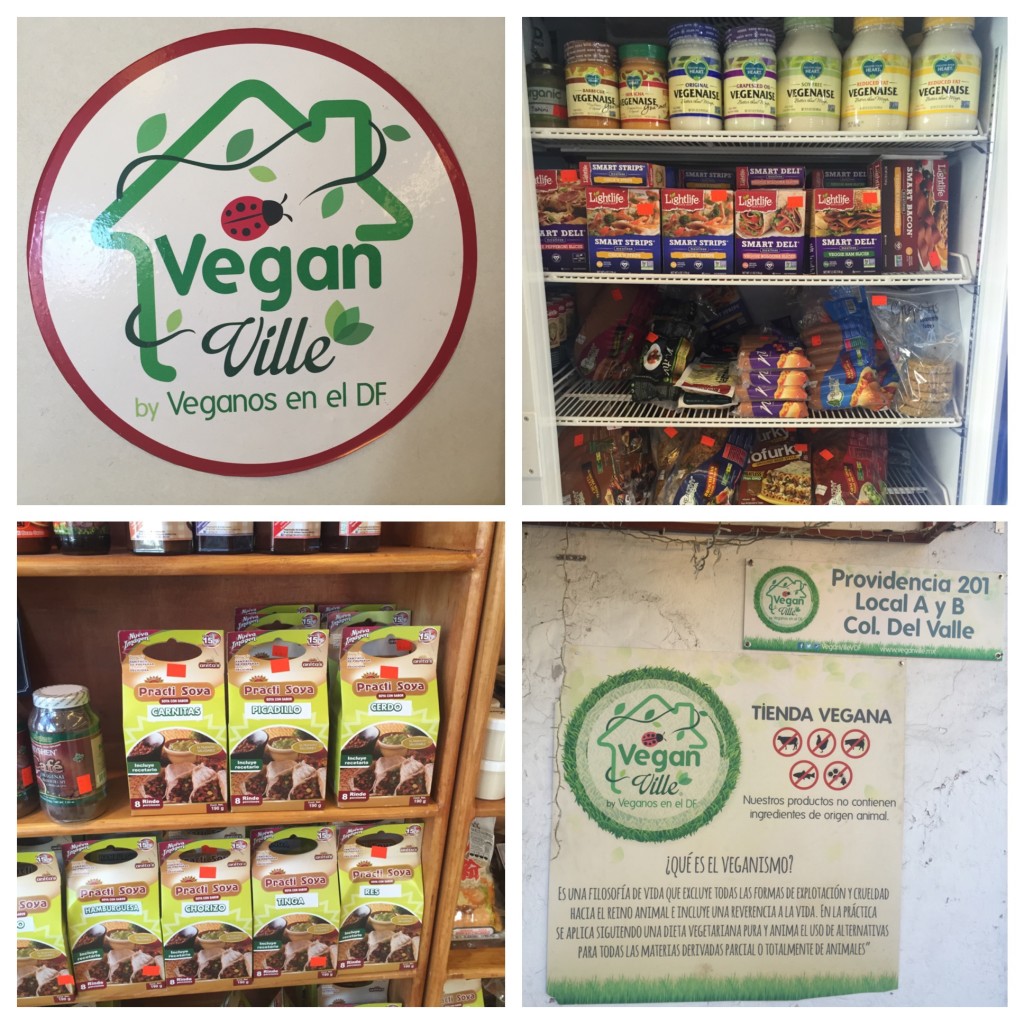 Vegan Ville
Providencia 201,
Col del Valle, Deleg Benito Juarez
Mexico City

Still worn out from the night before, we went back to the hotel and napped again for a few hours. When we were ready for dinner and began to look up places to go, we found that most of the vegan restaurants in Mexico City are closed on Sunday nights. However, a solution was easily found, the good standby of falafel. Falafel restaurants have saved us many times when traveling. There are two main falafel restaurants that we were told about, Falafelito and El Rey de Falafel. We had more recommendations for El Rey de Falafel, so that is where we went. It is more of a stand than a restaurant, so there is no dining room per se. In stead, there is a counter with 3 stools along the sidewalk and you step up to place your order. We each ordered a falafel sandwich and were very happy with them. The falafel is nicely seasoned and fried up crisp. The pita is warmed before being filled with hummus, 9 balls of falafel (which is more than any other place we have even been to) and your choice of traditional fillings such as cucumber, tomato, pickles, cabbage, etc. This was some of the best falafel we've had outside of Israel, which is not surprising as it is an Israeli run kosher establishment. Three important things to note: it is closed on Saturdays, it is cash only, and this is not a vegan restaurant as it does serve meat. However, as they do serve meat and are kosher, you can be sure that none of the sauces or breads contain any dairy products.
El Rey de Falafel
Taumalipas 55, Cuauhtémoc
Condesa, Mexico City
We were leaving Mexico City to return home on Monday, so after a last breakfast at Forever, we checked out the newest vegan grocery store in the city, Mr. Tofu. This store is stocked with all the Gardein, Tofurky, Follow Your Heart, and Daiya products you could want. They do not carry  much in the way of dry goods or fresh foods, so our hopes of grabbing something to take on the flight home was shot.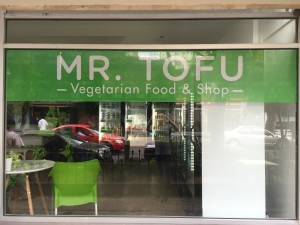 Mr. Tofu
Aguascalientes #156
Condesa, Mexico City
After we got to the airport and checked in, we saw that there is a rather large food court at terminal 2. We looked at all the restaurants and thankfully found one that offered a soy burger. 100% Natural is the only vegan dining option at the airport. The soy burger comes with cheese and a mayo based sauce, so be sure to ask them to leave those off. The burger is good with no strong soy flavor and when you are facing a 5 hour flight with no food, it is a great option.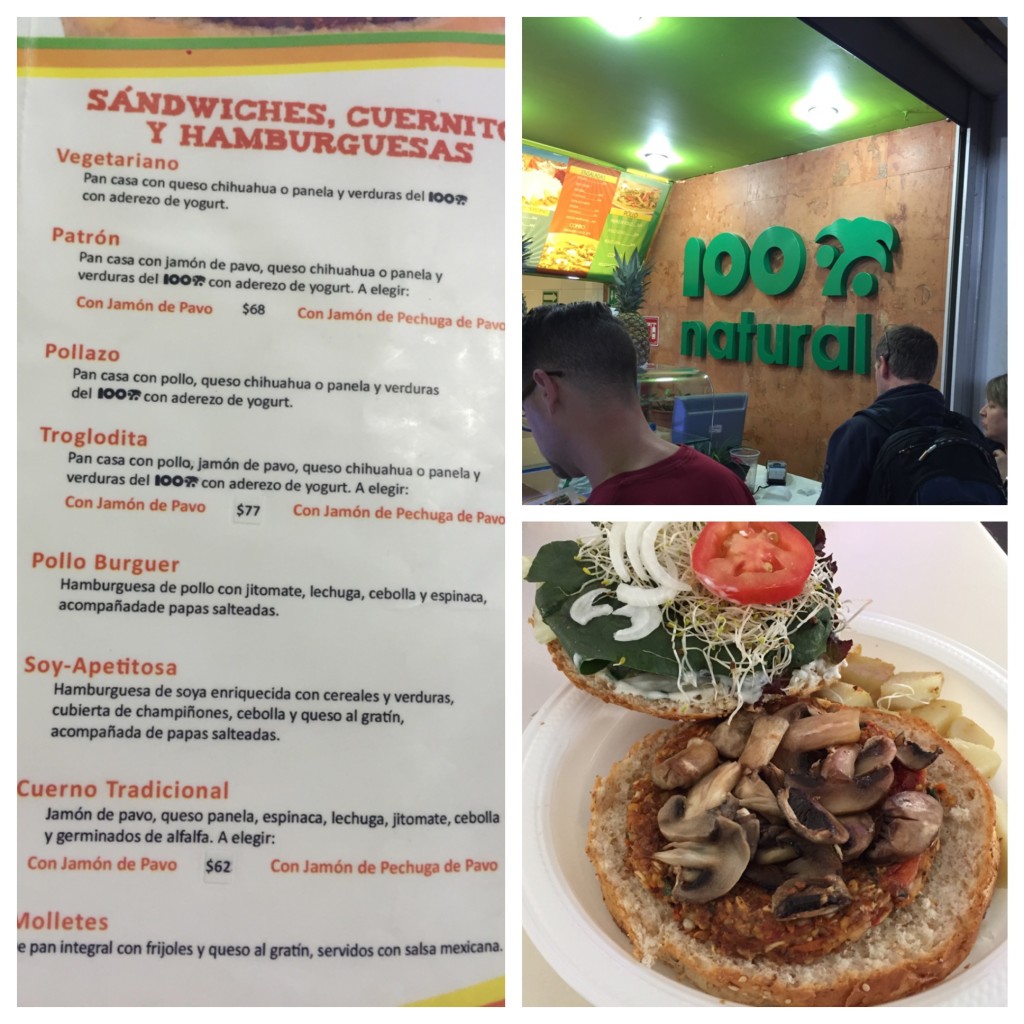 100% Natural
Terminal 2
Aeropuerto Internacional Benito Juárez
We were happy to see that Mexico City lived up to what we had heard about it being a great city for vegan dining. There are more restaurants than we could possible have tried in our brief visit. Everyone we encountered was friendly and happy that we were there supporting the city. If you are looking for an inexpensive city to visit with great vegan food, look no further than the capital city to our south.