If you went to any kind of cocktail reception in the 70's or 80's you invariably either ate or at least saw Pigs in a Blanket. They were everywhere. Mini hotdogs wrapped in pastry that you could dip into mustard. However, they were chock full of animal products. Fast forward to today and our vegan, cruelty free version. I mean, why would we want to eat a friend like Esther?
You can make them large for a meal or small for appetizers.  As an added treat, I'm giving you two recipes for the price of one!  For the large size, add bacon and cheese. It is a little difficult to add them if you're making them appetizer sized.  Yes, these contain a lot of processed foods, but these are treats for special occasions, like National Pig in a Blanket Day.
Prep Time: 5 minutes
Cooking Time: 12 minutes
Servings: 4 large or 16 small
Ingredients:
1 8oz package refrigerated crescent roll dough, make sure it is vegan (I like Immaculate, but Pillsbury works too – both are "accidentally" vegan)
4 Field Roast Frankfurters (or whatever brand of vegan hot dogs you like)
8 slices Upton's Naturals Seitan Bacon
2 slices Diaya Cheddar Style Slices (or shreds)
Assorted condiments for dipping
Directions:
1. Preheat oven to 350F. Line a baking sheet with parchment and set aside.
2. Open the crescent roll dough can (I love this part). Carefully unroll the dough, but do not separate the triangles.  Now is the time to decide if you want 4 or 16.  If you want 4, carefully separate the dough along the perforations  into 4 large rectangles and gently press the perforations to close them.  If you want 16, separate the dough into 8 triangles and then slice each in half length-wise.
For large size:
1. Lay 2 slices of bacon across each rectangle of dough.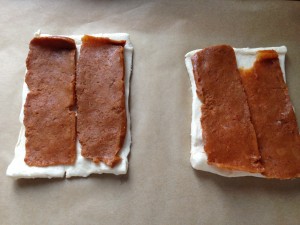 2. Top bacon with a half slice of cheese.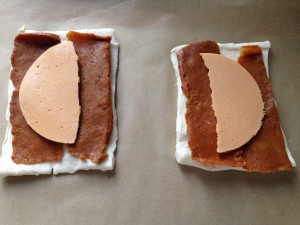 3. Place the frankfurter across the bottom of the rectangle, about 1 inch from the bottom.  Starting from the bottom, carefully roll the dough up over the over the frankfurter and continue rolling all the way up. Repeat this process with the remaining dough, bacon, cheese and franks.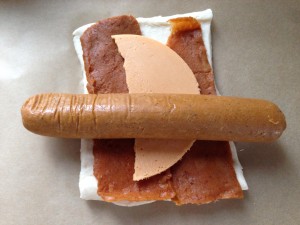 4. Place the rolled up franks on the prepared baking sheet, seam side down.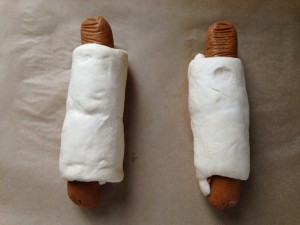 5. Bake in preheated oven for 12 minutes, or until golden brown.
6.  Allow to cool a few minutes before serving. Serve with mustard or whatever other condiments you like.
For appetizer size:
1. Slice each frankfurter width-wise into 4 pieces.
2. Place a frankfurter slice at the wide end of the dough triangle and roll the dough around the frankfurter. Repeat with the remaining dough and franks.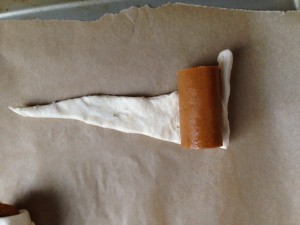 3. Place rolled up frankfurters on the baking sheet, seam side down.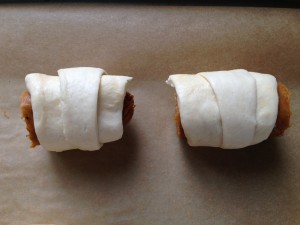 4. Bake in preheated oven for 12 minutes, or until golden brown.
5. Remove from oven and allow to cool a few minutes before serving. For the full 80's effect, place a toothpick ( preferably the ones with colored cellophane on the end)  in each one and serve on a platter with a dish of mustard in the center for dipping.