I first heard of Pine Bark from a neighbor of mine in when I lived in Chelsea. She made it and brought to over to me as a holiday treat. It was incredible. Sweet and salty, crunchy and chocolately. I needed the recipe. My neighbor generously shared it with me and it became a go to treat for the holidays. While the recipe itself is very simple, the result is quite good. Yes, it calls for a lot of butter, but this is a treat, not a everyday food.  And you really should not be eating this all at once anyway. You can dress these up by adding colored sprinkles, colored edible sugar beads, chopped almonds, or even crushed up candy canes.  These are great for a holiday cookie exchange, to give a gifts to people or just to have as another dessert option on a buffet.
Prep Time: 10 minutes
Cooking Time: 10 minutes
Servings: 36
Ingredients:
36 saltine crackers (1 sleeve)
1 cup vegan butter
1 cup packed light brown sugar
1/2 tsp vanilla extract
2 cups semi-sweet chocolate chips
1/2 cup toppings of your choice (optional: crushed nuts, colored sprinkles, colored sugar beads, crushed candy canes, etc)
Directions:
1. Preheat oven to 350F. Line baking sheet with aluminum foil and lightly spray with non-stick spray.
2. Place saltines, salty side up on the prepared pan. Set aside.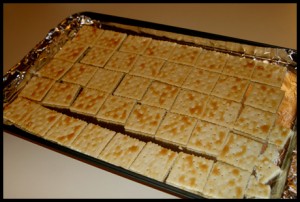 3. In a saucepan, boil the butter and sugar for 2 minutes over medium-high heat, stirring constantly. Remove from heat and stir in the vanilla extract.
4. Pour mixture over the crackers, making sure they all get covered. Bake in preheated oven for 5 minutes.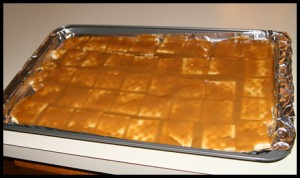 5. Remove from oven and cover with the chocolate chips. As the chips begin to melt, spread the chocolate evenly over the crackers. You can place the pan back in the oven for a minute or so to help them melt faster.
6. If you want to add toppings to the bars, now is the time to do it while the chocolate is still melted.
7. Cool slightly and then transfer onto wax paper to cool completely.
8. Once cooled, separate into individual bars and serve. Store leftovers (if there are any) in an airtight container.