Vancouver, BC is a veritable treasure trove of vegan food. Finding delicious vegan food here is easy, and with so many great options, you will not go hungry when you visit. We tried to visit as many restaurants as our stomachs would allow, but there just wasn't enough time, or room for more food. We wanted to do some repeats, but we will just have to save them for another trip. Here is our take on the places we did get to. Let us know what you think and if you know of other places we should check out next time we are in Vancouver. 
As soon as you step in to The Wallflower you will notice the fun and funky decor. The behind the banquette is painted with black and white flowers, hence the name "wallflower," and if you look carefully, you'll see black & white photos of faces within the flowers. In addition to the wonderful flower wall, the remaining walls are used a gallery for local artists to display their works for sale. While not a vegan restaurant, The Wallflower has a full vegan menu. The service is attentive without being intrusive. Whereas most restaurants in the US have a stack of different jams and jellies on the table, Wallflower has a mug filled with containers of peanut butter and jelly. How cool is that? I must point out that we arrived at 9:00 AM on a  Sunday, right after they opened, and were the first ones here. However, less than 30 minutes the restaurant, was already more than half full.. One last note about the restaurant itself before getting to the food, normally miss matched plates and mugs drive me crazy in restaurants, but here it completely works with the vibe of the restaurant.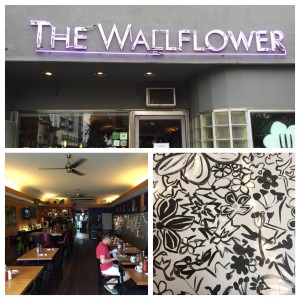 As I mentioned above, we started our breakfast with the Vegan Poutine off the appetizer section, not the one in the breakfast/brunch section. The bowl of perfectly fried potatoes arrives covered in a savory thyme gravy finely crumbled seasoned tofu and just a little Daiya mozzarella shreds. Because of the addition of the tofu, they do not need to go heavy on the Daiya which keeps us from being overly oily. Moreover, the tofu adds an extra layer of texture to contrast with the crispy french fries. This Poutine is a winner! It took us three trips to Canada to find vegan poutine and it was certainly worth the wait.
For our main course, we each ordered the Tofu Rancheros and added avocado to it. This dish is a mountain of hash browns, baked beans, salsa and Daiya cheddar shreds piled a top two toasted corn tortillas. It is a wonderful combination of tastes and texture. The beans have a great sweet and smoky flavor that plays beautifully with the rich potatoes and cool salsa. This is all topped with Daiya and then put in the oven to let the cheese melt and get slightly crispy on the edges. I truly appreciate that the chefs at Wallflower understand that when using Daiya, a little goes a long way and use just enough to get some flavor. 
Make sure you stop by Wallflower for a great breakfast when you are in Vancouver. We need to plan another trip, just so we can have dinner or lunch here.
The Wallflower Modern Diner
2420 Main Street
Vancouver, BC
(604) 568-7554
After a morning of wandering around downtown Vancouver, we "found" ourselves at Cartems Donuterie. I had seem them listed on Happy Cow, but didn't plan on visiting as according to the reviews, the only vegan options are Earl Gray donuts and one other vegan flavor that changed daily. However, as we were right there, we stopped in. I am so happy we did.  In addition to the Earl Gray, there was a wide selection of vegan donuts and fritters from which to choose. I have to give a shout out to Lilian, our server who was ready to answer all our questions and tell us all about each vegan donut. Come hungry as you are going to want to try more than one. In fact, we tried four, for as our friend Lisa says, "it would be rude not to!"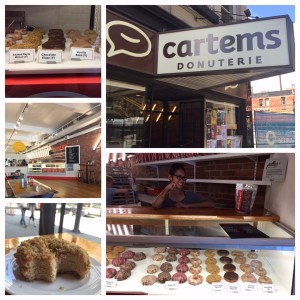 Our donuts of choice were the Vanilla Bean, Smoked Maple Walnut, Coconut Lime and Cucumber Watermelon. Yes, Cucumber Watermelon. As that is the most unusual, let's start with it. The Cucumber Watermelon donut is a yeast donut that with a very subtle cucumber flavor, you know it is there, but if you didn't know it was cucumber you would likely think, "hmmm, I know that flavor, but cannot identify it." It is as if they used cucumber water in the batter. The donut is then topped with a watermelon flavor glaze and a sprinkle of black sesame seeds. The combination of flavors worked really well and is a great twist on a glazed donut. The Smoked Maple Walnut was the most complex of the four. This cake donut is topped with a maple glazed and covered in  chopped smoked walnuts. On the first bite, the smokiness is a little overpowering, but the it finishes sweet and mapley. After a few more bites, we noticed the smokiness subsided and the flavors built upon themselves and it was truly delicious. The Coconut Lime is a like a coconut key lime pie in donut form. This is a filled donut, as Cartem's called it, a "stuffie." The lime flavored coconut cream filling is very thick so it does not run out when you bite in. This makes for a neater eating experience than with most other filled donuts. The coconut glaze topped with a sprinkle of lime sugar. Ethan is a huge coconut key lime fan, so this was his top choice. Now, I am donut purist, and when trying donuts, the ultimate test is, "can they do a simple glazed donut well?" The answer for Cartem's is a resounding, "YES!" The Vanilla Bean: is a great traditional vanilla glazed donut. Texture is a cross between cakey and yeasty. The glaze has a fantastic vanilla flavor rather just being sugary-sweet. 
We washed our donuts down with a light a refreshing watermelon cream soda. It went perfectly well with the donuts. However, if you want to go more traditional with your beverage, they do have almond milk in addition to cow's milk. 
Cartem's Donuterie
534 West Pender
Vancouver, BC
(778) 708-0996
As our day progressed and we were wanting an afternoon snack, we stopped the small snack bar, Fynfood. This is not a full restaurant, but rather a small shop in a row of restaurants. It is mostly for take out, although all the restaurants in the strip share common tables in front and you can eat there. The menu is written on a mirror, so it is a little challenging to read. On our visit, they had two soup options, a noodle dish that you can get with either lemongrass "chicken" or black pepper "beef", and a few other snack items.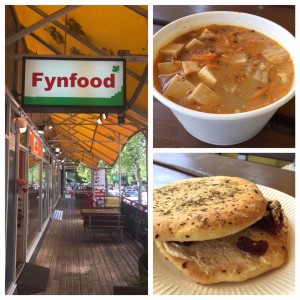 Ethan was fighting a cold and really wanted soup. The Tom Kah soup was just what he needed. The generous bowl of soup was loaded with tofu, carrots, corn, black beans and cabbage. Unlike most soups with tofu that only have a few small pieces, this soup was filled with tofu. It had a very spicy kick to it thanks to lots of red and black pepper. Ethan found it almost too spicy. I was not too hungry, so I opted for the pita with hummus and cherry tomatoes. I was a shocked when it arrived as I was expecting a scoop of hummus, some cherry tomatoes and pita bread. What I got instead was sun-dried cherry tomatoes between two toasted pieces of pita bread spread with hummus. While not what I had expected it was a good snack. The sun-dried cherry tomatoes were very sweet and had a texture similar to dried cranberries. Their sweetness balanced the savoriness of the herb dusted pita. I would have liked more hummus though. 
Fynfood is nice choice for a quick snack. They also have a selection of desserts and a wide variety of frozen vegan meats available for sale.
Fynfood
102 – 1610 Robson St
Vancouver, BC
Tel: 778-379-7833
Our first dinner in Vancouver was good, hearty comfort food at Meet on Main. Behind a fairly benign looking entrance lies a what looks to be a combination diner/ quintessential burger joint.The light fixtures and awesome artwork are an eclectic mix of styles and reflects the clientele. The current display of paintings on the wall, look like Margaret Keane meets Tim Burton. No one is out of place here and leave any pretension at the door (Water comes served in pint mason jars). The space is raw with exposed ceilings, a concrete floor and a metal wall on one side. In the back of the room dining area is a blackboard with the special of the day written in colorful chalk. The jovial, vibrant atmosphere inside and the crowd waiting outside let you know that this is going to be a good meal. Everyone here was in a good mood and clearly enjoying the food. Come hungry as there is a lot to try here. Best of all, everything is vegan and gluten-free, unless otherwise noted on the menu.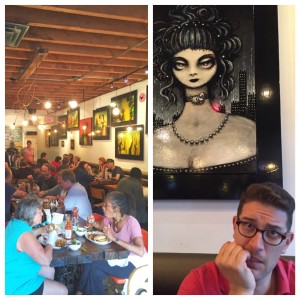 We started our meal with the Sweet-Chili Cauliflower and Whiskey BBQ Things. The cauliflower is coated in a beer batter, fried crisp, and then coated in a sweet slightly spicy sauce. This dish is delicious and has a bold flavor. The pieces of cauliflower are huge pieces of cauliflower and the sauce had a very slight kick that was perfect for me. The "things" in the Whiskey BBQ Things are actually battered and fried pieces of Beyond Chicken, or as called on the menu "chiggin." These are then tossed in a whiskey BBQ sauce giving them a slightly smokey taste. They are also available in a buffalo sauce. Between the two appetizers, the cauliflower was the winner. To be fair, this is probably because it arrived first and after it's sweet and spicy taste, and anything following it would be lost.
For our main course, we each order the Angry Burg. The burgers served at Meet are made especially for them by Yves and for the Angry Burg, that patty is beer battered, fried, tossed in Buffalo hot sauce and then topped with avocado and ranch dressing. If that is not enough, the burgers come with salad and fries as well. Our server recommended adding on some vegan Feta as well. Ethan fetaed, I went au natural. The burger is huge and has a great buffalo kick, the fries are perfectly crispy and salty, and the salad has a great lemony mint vinaigrette. In addition to the burgers, we also ordered the Mac N' Cheese, a huge portion of whole wheat pasta tossed with a vegan cashew cheese sauce finished with a sprinkle of smoked salt. You can add in vegan sausage, Portabella mushrooms, or broccoli if you want. This is deliciously creamy and cheesy thanks to a good dose of nutritional yeast. 
Despite how full we already were, we ordered dessert as well. From the many options, we chose the Rice Pudding Churro Balls and the Chocolate Chip Cookie Dough Balls. The Churro Balls are two perfectly fried balls of dough filled with creamy rice pudding and rolled in cinnamon-sugar. They come with a scoop of vanilla vegan ice cream topped with beet crystals. Each bite is a sugary, cinnamony, crispy, soft, warm and cold mouthful of heaven. They are every bit as good as they sound. Unfortunately, we did not feel the say way about the Chocolate Chip Cookie Dough Balls. In all fairness, we did not realize they were gluten free when we ordered them, so our expectation was different. The dry balls are very firm and hard to cut. They come with a vanilla cashew ganache dip that has a very strong cashew flavor.
Even though we greatly enjoyed the food, the dining experience itself left a lot to be desired. Even though we ordered our meal before 2 other tables, we were served 20 minutes after them. The servers were very apologetic and readily acknowledged that our wait was crazy and wrong. They blamed it on an order for a table of 6 going in right before ours, but that is highly unlikely considering the tables next to us ordered after us and were served before us. After this long wait, we figured that it wouldn't happen again, however, we had another long wait between appetizers and mains. Again, the staff apologized, but that doesn't make up for the time. They promised to make it up with "something magical" which, to their credit, they did do. The man at the table next to us, who was also waiting said he was once here and had to wait an hour for a grilled cheese and once it came, it was the small heels of the loaf about the size of a coaster. So, if you go, just keep in mind that this meal may take much longer than you planned on. 
Meet On Main
4288 Main Street (between 27th & 28th)
Vancouver, BC
(604) 877-1292
Based on recommendations from several people we tried breakfast at Naam. Naam is vegetarian, not vegan, and most items on the menu contain eggs or dairy. However, you can substitute tofu for eggs in many of the dishes for $1.00. We were there on a cloudy morning and found the restaurant to be somewhat dimly lit, so I imagine at night it is quite dark. The space feels very bohemian. or as my mom would call it, "rustic," her euphemism for dirtier than she'd like. It felt as if there's a film over everything, and it's not quite clean. Our server was a little confused when Ethan asked whether the Croissant Sandwich could be made vegan. We were told we could substitute in tofu no problem. However, when we asked about the croissant itself, he said it was made with butter. In other words, no this cannot be made vegan. 
Ethan selected the Breakfast Burrito with home fries. He found it to be quite mediocre and lackluster with no strong flavor. I went for the Vegan Pancakes, a side of sauteed tofu and miso gravy. Despite containing banana, the pancakes are very dry. The syrup is served in small cup so be careful pouring lest your fingers get sticky. This is actually a big pet peeve of mine when it comes to syrup. When it is not served in a dispenser or some vessel made for pouring, but rather in a cup, no matter how hard you try, your fingers get sticky. The tofu was coated in soy sauce, seared on 2 sides, then cubed, so only one side of each piece was seasoned and seared. While large serving, it was mostly tasteless (aside from the soy sauce side) and rubbery. Our server forgot the gravy, but I didn't remind him as the food was so blah I didn't want to try it. The only good part of the meal was the Home Fries. This is a generous portion of quartered potatoes that are cooked with a little green onion and sprinkled with curly parsley. Nothing great. Perfectly adequate. If you're near Naam, you might want to try it, but don't make a trip over just to eat there.
Naam Restaurant
2724 West 4th Avenue
Vancouver, BC 
604-738-7151
For our second lunch in Vancouver, we decided to try out some Ukrainian vegan food at Indigo Age Cafe.  Although they call themselves a "raw vegan cafe", about half of the items on the menu are cooked. I think they do themselves a disservice by listing themselves as raw. In fact, we almost didn't try it as raw food is not something we usually go for. Because of this, Indigo was a most pleasant surprise. Even though it is located in a below Street level space, it still very bright and welcoming thanks in part to large street level windows to let light in and the warm paint colors on the wall. Typically I think of Ukrainian cuisine as being very heavy, such is not the case of the food at Indigo.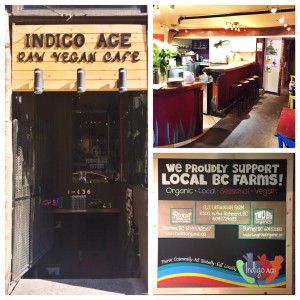 Shortly after we ordered, we could smell our food being cooked as the scents of potatoes and dill filled the air. Our meal began with Borscht and a Cesar Salad. The Borscht was not too sweet, and the dollop of  light coconut cashew sour cream on top mixed well with the dill seasoning. The soup also contained carrots and potatoes, which while not traditional in borscht, were a happy surprise and welcome addition.  The salad is a generous portion of fresh chopped romaine lettuce tossed with a cashew-nutritional yeast dressing and capers, and topped with sesame onion croutons. The dressing is very rich and creamy, but not overwhelming. 
We then moved onto Pirogies with mashed potatoes ( you can also get them with sauerkraut). and Stuffed Cabbage. The pirogies arrived as a large plate of soft pillows of dough filled with creamy mashed potatoes topped with sautéed mushroom and green onions. The mushrooms tasted as if they were sautéed with wine so they had a wonderful sweetness that wonderfully contrasted with the creaminess of the potatoes and the dough. They were very light as opposed to most other pirogies we've had that end up just sitting in your stomach. These did not leave us feeling bloated. The stuffed cabbage rolls were equally excellent. The cabbage was perfectly cooked so as not to be tough or stringy and cut easily. They were stuffed with a rich, flavorful mixture of rice, carrots, onion, tomatoes, and garlic. These rolls are accompanied by some boiled carrots and celery and topped with some fresh dill. I'm typically not a stuffed cabbage fan, but these were excellent. Ethan even commented (as a stuffed cabbage lover) that these are among the best he's ever had. They made him think of (and miss) his grandmother, Bubby Regina. Both the pierogies and the stuffed cabbage were drizzled with the same dressing that was used for the Caesar salad. 
If you are in the mood for something atypical for lunch, definitely give Indigo Age Cafe a try.
Indigo Age Cafe
436 Richards Street
Vancouver, BC
604-537-7288
While all the other dining experiences we had in Vancouver until this point we casual and relaxed, we stepped it for a more upscale meal and headed over to Acorn, Vancouver's answer to high end restaurants like Vegde in Philadelphia and Candle 79 in New York. The menu is not 100% vegan as some items contain either dairy or egg, but most of the menu is vegan. Acorn also has a wide selection of gluten-free items as well. Everything on the menu is clearly marked to let you know wither it is vegan/raw/gluten-free. The space is dimly lit and rather small resulting in a somewhat pretentious feeling. This was quite a shock until now, we hadn't seen anything like this in Vancouver. Despite being a small space, Acorn does not accept reservations, you might have to wait a bit. When we arrived we were told the wait would be about 30-40 minutes. There isn't a seating area in which we could wait, so we had to stand on the sidewalk. The hostess was very nice and brought us each a small bowl of sweet and spicy roasted almonds to snack on while we waited. Luckily, a table opened in a few minutes and we seated quickly. However, a larger party (of 3) waited over an hour for a table.   
Our server was incredibly knowledgeable about the menu and gave us very clear descriptions of the food and the drinks. Despite the feeling of pretension in the space, her words created lovely pictures of the offerings. We started with Strawberry Fields Forever and Piña Loca cocktails. The Strawberry Fields Forever is a light and fruity drink garnished with a piece of homemade strawberry fruit leather. The Pina Loca is a grown up version of a pina colada. Both were very tasty.
For starters, we chose both salads offered Kale and Mixed Greens. The Kale is Acorn's take on a Cesar salad with smoked paprika croutons, capers, tempeh, olives and Cesar dressing. This salad comes with cheese, so be sure to ask for it vegan. The Kale is delicious. The tempeh is cubed like croutons and adds a nice texture to contrast the kale and the croutons. The Mixed Greens a simple mixed green salad tossed with a miso rice wine vinaigrette and topped with crispy puffed rice. The greens are not cut, so you will need you knife for this one. The dressing is bland with no real flavor. The best part of this salad is the crispy puffed rice, which gives a nice texture and crunch. We each chose Allium for our entrees. This dish is best described as "complex." It is bold and experimental, but we felt they are just trying too hard with it. The dish is a purple potato and leek gratin resting atop a bed of onions and carrots that are stewed with some saffron and wine. It is the finished off with a basil puree, crispy shallots and a lemon gastrique. There is just too much happening on the plate and the pieces don't work together. While it has the elements of a good meal, it doesn't quite do it. We ended our meal with the Berries + Meringue, a plate of seasonal berries topped with a chickpea meringue, chopped macadamia nuts, a sprinkle of black pepper and a lot of sorrel. A LOT. Ethan and I disagreed on this one, he liked the use of the black pepper, but I found it bothersome as I don't want spice in my sweet dessert. I was excited to finally try an aquafaba meringue and was not disappointed. The meringue was light, fluffy and nicely sweetened. The sorrel was overkill on this one. A little might have been nice, but there was just too much here. 
Acorn
3995 Main Street
Vancouver, BC
604-566-9001
For our final breakfast in Vancouver, we headed over to Heirloom Vegetarian. Again, not 100% vegan as they have menu items with eggs and cheese, but one entire side of the breakfast menu is vegan and gluten-free options are clearly labeled. The space for Heirloom Vegetarian is simple and tasteful.With its high ceilings and ample light, Heirloom feels like it belongs in Los Angeles. The space is open and airy with crisp white walls. Everything is simple and tasteful and feels as if  you walked into someone's kitchen (in a good way). The decor reflects the freshness of the food.  The laid back feeling lets you know this is a place in which to relax and and enjoy a good meal. Heirloom tries to go as local and organic as possible with its ingredients, even getting quinoa from Saskatchewan. This use of local produce definitely shows in the freshness of the food.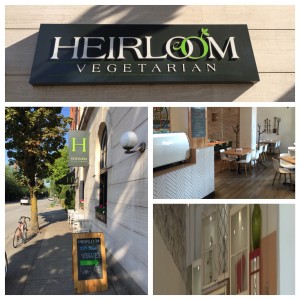 While we looked over the menu, Ethan enjoyed what he says is on the best cups of coffee he's ever had. The coffee comes from 49th Parallel,  local Vancouver coffee company.  Ethan liked it so much that after the meal we took a walk to 49th Parallel and bough some to bring home. The coffee is rich and flavorful, robust and not acidic. If you are coffee addict, like Ethan, definitely check them out. As I am not a coffee drinker, I ordered a What-a-melon Refresher, a mixture of watermelon juice, lime juice, mint and club soda. Perfectly refreshing on a hot summer day. 
The menu is filled with delicious sounding options, and making a decision wasn't easy. Finally we choose three entres, one to share and then one each. To share, we started with the Avocado Toast. If you follow us on Facebook, Twitter or Instagram, you have undoubtedly noticed that we LOVE avocado toast for breakfast and Heirloom does it right. This generous dish arrives as 2 thick slices of toasted Swiss bakery sourdough bread, topped with smashed avocado, radish coins, and cucumber ribbons. All of this is them sprinkled with Himalayan pink salt and served alongside a green salad. The presentation is absolutely stunning, it's an artistic explosion of green on your plate. The bread is exquisite with a hint of sourness, a perfect sourdough. The salad is dressed with a very light mustard vinaigrette that compliments the creaminess of the avocado. This is one of the tastiest green salads I've had in a restaurant ever. The greens taste market fresh as if they were just picked, washed and served immediately. The toast is cut in half so the 4 pieces make this easy to share as starter. 
For his entree, Ethan selected the Chia Coconut Muesli. This is a large bowl of chia seeds, goji berries, hemp hearts, dates, dried cherries, steel oats soaked overnight in almond milk with seasonal fruit and cashew cream. The coconut yogurt has a nice sweet and sour flavor to it and nutmeg gives the oats a nice warmth that blends beautifully with the hemp and chia seeds. I went with the Buckwheat Pancakes for my entree. After the big piece of avocado toast, the 3 huge organic buckwheat pancakes were a daunting challenge. The pancakes come with a seasonal fruit compote (blueberry as of writing this) and cashew cream. I opted to add chocolate avocado ganache as well because, why not? Pancakes are very dense, and I was not able to get through all of them. The cashew cream has a slight tartness to it like a crème fraîche with hints of vanilla. The avocado chocolate ganache is rich and chocolaty and because it has avocado, it's really a health food. The blueberry compote is a lovely fresh blueberry sauce. The pancakes are easily a shareable option for breakfast.  
After our meal, Bree, the general manager sat down with us and asked us for suggestions of additional vegan breakfast options. She was very open to what we had to say. We can't wait to come back and see what they've added to the menu that is already fantastic as it is.
Heirloom Vegetarian
1509 West 12th Avenue
Vancouver, BC
604-733-2231
Because of the prevalence of Asian restaurants, we had high hopes for 3G Vegetarian Dim Sum. Although the name says vegetarian, the restaurant is completely vegan. The decor is tired and dated at this little Chinese restaurant featuring vinyl table cloths and yellow wall paper, but like most dim sum places, you are here for the food. In addition to a large selection of dim sum, there is also a full menu in you want a large entree. The back of our 2 sided dim sum order form had already been used, and while I appreciate recycling, this was a little off putting. Our dim sum lunch consisted of Crispy Spring Rolls, Wonton Soup, Fried Gyoza, Steamed Vegetable Dumplings and Steamed Buns with BBQ Pork. The spring rolls were standard fare, nothing extraordinary, but good. The wontons and gyoza both had the same broccoli-spinach filling. The dough on the wrappers was very thin, so they did not feel heavy at all. The broth for the soup was very light and lacking any real flavor. It could have used a little soy sauce to give it taste. Also in the soup was a large piece of broccoli, something neither Ethan nor I have seen before in wonton soup. The soup is served in the brown crocks that are generally used for French Onion Soup. I don't know why they use these rather than bowls. The winning dish was the steamed buns. The buns are thick and fluffy and filled with great tasting BBQ vegan pork. I would have liked a little more filling in them though. 
Overall 3G Vegetarian Dim Sum is good, nothing spectacular. Just standard vegan Chinese fare.
3G Vegetarian Dim Sum
3424 Cambie Street
Vancounver, BC
604-568-9008
Our final meal in Vancouver was at Graze. Although called a vegetarian restaurant, everything on the menu is vegan. The dining room is very softly lit. In fact, lighting is a bit of an issue here as the overhead lights are only above the aisles and there are no lights over the tables or even candles on the table. The decor is a mix of styles, almost as if the owners weren't sure what in direction they wanted to take the restaurant. Most of the walls are painted in a soft sage green, but the wall alongside the bar is covered in tin tiles. The wall behind the long high table has a mural designed to seem like you are looking outside to a phantasmagorical version of a Toulouse Lautrec Parisian scene. The French country feel is continued with the wide wood plank floors and French county kitchen chairs. The overall effect is a confusing cross between find dining and casual bistro. The music playing in the restaurant was as odd as the decor, it was mostly rock & roll. This music would be better suited to casual cafe, not a fine dining restaurant. Each Tuesday night 20% of every bill is given to a different charity.We asked our server what that night's charity was and she didn't know. When this is something a business does regularly, and likely attracts people who want to support that night's charity, the servers need to know who it is. The night we went, the charity was Friends For Life. To date this year, Graze has donated at total of $37,000 to various charities.
We started our meal with the Cheeseboard featuring the chef's selection of their finest nut-based, aged, cultured cheeses and herbed focaccia. The cheeses tonight were: herbed Boursin, ash Camembert and smoked provolone. For the price ($18) it was a very small portion; one very small wedge of each cheeee with a few blueberries, a quarter of a nectarine sliced very thin and a cut up pickle. The Boursin was rather sour with a very strong dill flavor. The Camembert was excessively pungent and overly salty. The Provolone with its smoky taste and creamy texture was the winner. Also the bread was not a focaccia, but more like a sliced baguette. I like both, but if you say it's served with focaccia, I expect a very specific bread. 
For my main course I ordered the Crostone: a great slice of fresh baked and fried bread, topped with smashed chickpeas in red lentil gravy, grilled seasonal vegetables, and caramelized onion. This was yery dry. The grilled veggies had no seasoning or moisture in them. I couldn't discern any gravy or sauce in the dish. There were no real stand out flavors or seasoning. It's like they forgot to add any salt. Ethan ordered the Pesto Puttanesca: jumbo shells stuffed with a walnut, basil and white bean pesto, which is then covered in a zesty tomato sauce with Kalamata olives and capers. This is served with twisted herbed focaccia. Ethan also added in some spicy chickpea chorizo. The 4 jumbo shells are generously stuffed. The chorizo was very good with a nice spicy kick. Although the individual components of the dish are good, they did not work well together. The sauce did not compliment the stuffed shells and would have worked better over a plain pasta. 
For dessert we ordered the chocolate ganache torte and vanilla cherry cheesecake. Neither of these had any real sweetness. Like my entree in which salt was lacking, here they seemed to forget the sugar. Even the whipped coconut cream topping was lacking sweetness. Moreover, the cheesecake tasted like wax. It was hard and tasteless. There was nothing creamy about it. 
While the menu looked excellent, its execution left a lot to be desired. They are trying to put together flavors to be complex, rather than thinking about how they actually work together. They should think about revising the menu to make simple food really well rather than complex food poorly, or keep it complex, but think about how flavors work together. 
Graze
3980 Fraser street
Vancouver, BC
604-620-8822
Other mentions:
We didn't eat anything on Granville Island, but we did scope out the vegan options in the Public Market. We were pleasantly surprised at how much we found. The ChocolaTas stand has vegan chocolates available by the piece with the vegan options clearly marked. Within the food court we found vegan options at almost every stand. At Fraser Valley Juice & Salad you can get fresh made salads and juices, as well as stir-fried and steamed vegetables. Stop by Phoenix Fast Food to get some Falafel and Mediterranean salads. If you are in the mood for Japanese food, visit Omi where you can get tofu on rice, tofu udon soup, mixed veggies on rice, and mushrooms udon soup. For Indian food, check out the offerings at Curry2U, all the vegetable dishes, except the spinach in cream sauce, are vegan. If you want Mexican food, visit La Tortilleria and get a burrito or taco loaded with beans, rice and vegetables. Lastly, if you want something lighter, you can build your own salad at Kaisereck and fill it with lots of fresh veggies.  
If you do decided to check out 3G Vegetarian Dim Sum, you should know about Rain or Shine Ice Cream located just a few blocks away at 3382 Cambie, they have vegan ice cream in addition to dairy ice cream.
Finding great vegan food in Vancouver is easy. So book a ticket, pack your bags and get over there to enjoy some truly delicious food.