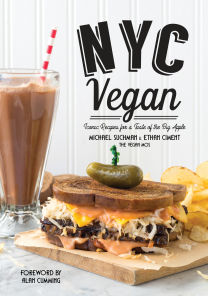 NYC Vegan brings New York's fabulous foods to the plant-based table. From the diners and delis of Brooklyn to the traditions of Little Italy and Chinatown, the foods of New York are the foods of the world.
Old New York: Manhattan clam chowder, Waldorf salad, eggs Benedict, New York-style pizza, and New York-style cheesecake.
Street foods and festivals: Soft pretzels, churros, falafel, Italian ice, caramel corn, and zeppole.
Delis and diners: Reuben sandwich, bagels, pot pie, and Brooklyn egg creams.
Bakeries: Knishes, cinnamon rolls, black-and-white cookies, and Irish soda bread.
Jewish specialties: Blintzes, brisket, mandelbroit, and "chicken" soup.
Neighborhoods: Polish pierogis, Italian lasagna, Dominican arroz con maíz, Greek avgolemono soup, and Puerto Rican mofongo.
These recipes are simple and delicious and bring the city vibe to your own kitchen. As self-trained cooks, Michael and Ethan are food lovers who show how vegan food can taste just as good as non-vegan dishes and how eliminating animal products from your diet does not mean you can't enjoy New York City's iconic foods. This book includes full-color photography by Jackie Sobon and a list of current New York City vegan restaurants.
NOTE: If you want your book signed to someone other than you, please send an email to Michael@veganmos.com and let us know.

With easy to follow recipes and tips for surviving the holidays, The Vegan Mos are here to help make your fantasy of a cruelty-free, 100% vegan Thanksgiving a reality.