Here is how a simple shopping trip led to the creation of a recipe. Our Loaded Crispy Rice Treats are a direct result of grocery shopping.
While Ethan and I were shopping at our local Whole Foods we saw a package of "Crispy Treats," also known as Rice Krispie Treats, but without paying for using the name.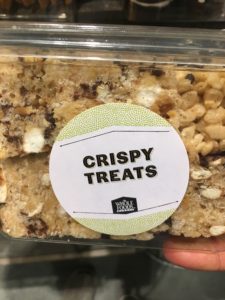 Hoping that these might be vegan, Ethan picked them up and checked the ingredient list. in light of the fact that the store carries Dandies and Sweet and Sara* marshmallows, it was not completely unreasonable to think that these could be vegan. Well, they aren't. Check out the 3rd line. At least Whole Foods had the courtesy of letting us know that not only do these contain gelatin, but the gelatin comes from pig bones. Lovely.
By this time however, the genie was out of the bottle and we were wanting crispy rice treats. We circled back through the store and picked up everything we would need. I haven't made crispy rice treats in a while, but I remembered the gist of the recipe: crispy rice cereal, marshmallows, butter. Ethan suggested loading them up with extra goodness like the pig filled ones we saw, so we also grabbed some pretzel sticks and mini chocolate chips.
After we got home and unpacked all the groceries, it was time to start making the Loaded Crispy Rice Treats. Ethan thought this would make a fun recipe to video, so he filmed me while I made them. I'm working at talking while I cook and not getting flustered as I do it, so please forgive that. Here is the video and the recipe:
Ingredients:
1 10 ounce package vegan marshmallows
4 tablespoons vegan butter
5 cups crispy rice cereal
1/2 cup pretzel sticks broken into 1/2 inch pieces
1/2 cup mini chocolate chips
Directions:
1. Line an 8-inch square, 9-inch square, 13×9-inch baking pan with parchment or waxed paper and set aside.
2. In a large saucepan over medium-low heat, combine the marshmallows and butter. Mix well until the marshmallows are completely melted, about 7 minutes, stirring frequently to prevent burning.
3. While the marshmallows are melting, in a large mixing bowl combine the cereal, pretzel pieces, and chocolate chips.
4. Add the melted marshmallows to the cereal mixture and stir well until everything is evenly coated in marshmallow cream.
5. Transfer the mixture to the prepared pan and press down into one even level that fills the pan. Set aside to cool. Once completely cooled down, cut into squares.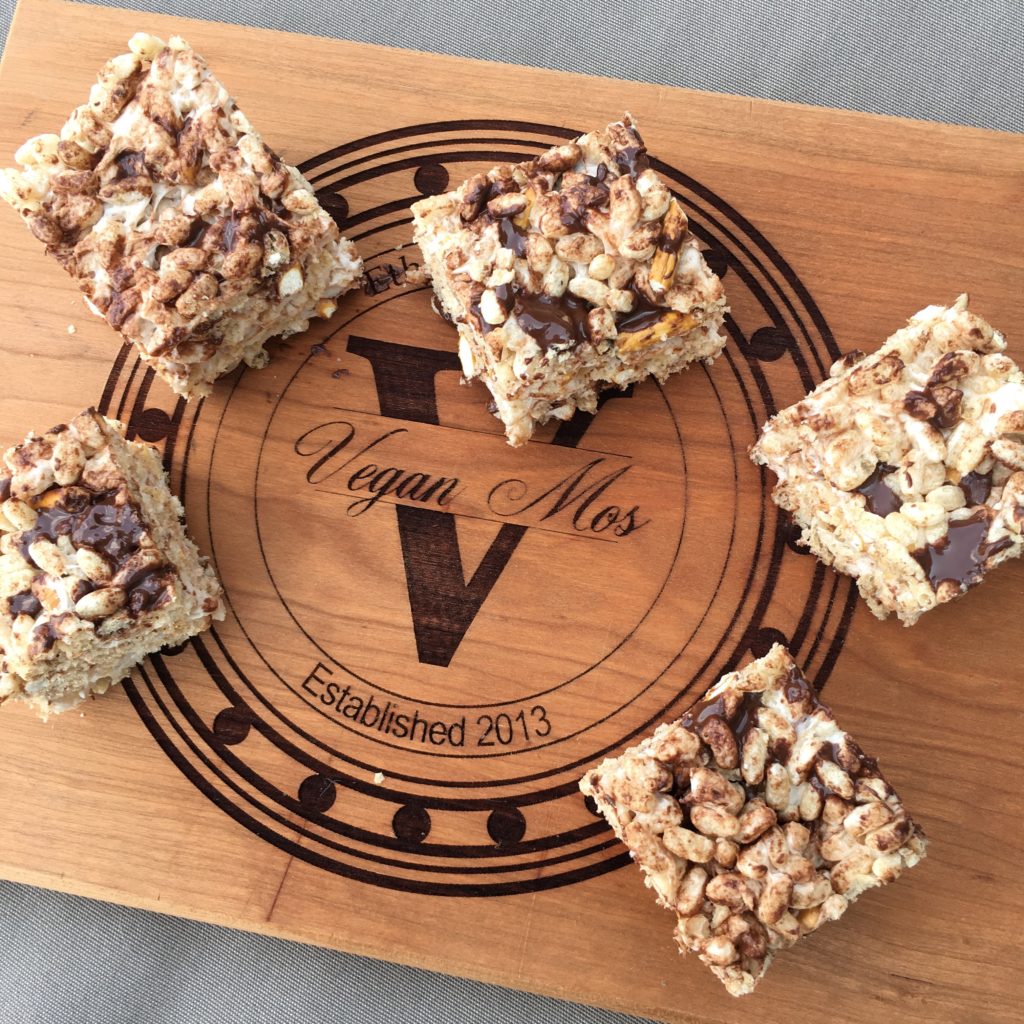 *A quick note about Sweet and Sara. We love these marshmallows and have used them for years. Sara is one of the nicest people you could meet. Unfortunately, on Friday September 15, Sara announced that after 14 years, Sweet and Sara would be closing. You can read her announcement here. Sara, we wish you, Uhmma and Ahbba all the best. Thank you for all the delicious treats.