We first visited the Cayman Islands when it was a port of call on an Atlantis Caribbean Cruise vacation we took, back in 2014. It was a short visit, disembarking at 10 am with an all-aboard of 5 pm. But in that full day, there was plenty for us to do. We knew there were vegan-friendly food options on the island (thanks Happy Cow!) and, being taken in by the blazing sunshine, warm water and soft powdery sands of Seven Mile Beach, we knew we needed come back.
Our second visit to the Island was again as a port of call, this time on an RSVP Caribbean Cruise. Better prepared from our initial visit, we disembarked early for a full day that began with a sumptuous breakfast at Bread and Chocolate, followed by lounging on the beach all morning, a jaunt over to Island Naturals for lunch, followed by more beach and ocean. This time, we promised each other that we'd be back. After all, The Caymans are a short daily direct flight (under 4 hours) from New York City and it's the perfect warm and sunny getaway from a bleary New York City winter.
This past March, we made good on that promise and flew down to the Caymans for a quiet and relaxing beachside sunny weekend in paradise for Michael's birthday. During our second visit, we had lunch at Island Naturals and then took the short walk over to the neighboring Ritz Carlton after our lunch. The Ritz has long been the premiere luxury hotel/ resort property in the Caymans and so we checked it out, scouting it out as a potential upscale "splurge" should we decide to come back. It was everything you'd expect a Ritz Carlton to be: imposing, grand and luxurious. When I was booking this trip, I searched for discounted rates at the Ritz Carlton but even the lowest level room was exceedingly expensive and I didn't want to pay that much for a room without a view of the water, much less one that had a view of the road or the garbage dumpsters.  So, in searching for a new property, I was intrigued to find The Kimpton Seafire Resort and Spa, a brand new (at the time) property in famed Seven Mile Beach. Back in 2013, we stayed at the Kimpton Hotel Monaco in downtown Denver on the recommendation of our friend Dan Hanley (of The Gay Vegans) and we loved it. Kimpton is quite a younger, hip, swanky, luxury brand of hotels and they seem to be popping up everywhere.  So we was excited to check out this new property and the photos were impressive. Sadly, when checking out their on property menus online, there was scarcely any vegan food options mentioned. That's when I decided to reach out to the hotel and see what they might be able to do for us.
It wasn't even an hour after I emailed that the General Manager, Mr. Steven Andre, wrote back to me. He was excited that we were considering his new property and he wanted us to know that yes they definitely could (and have) entertained many vegan guests and it would be their pleasure to work with us to make sure we had a seamless experience. He put us in touch with Executive Chef Massimo De Francesca  and he, too, reassured us that it would easy to accommodate us so that we could have a relaxing and delicious weekend.
The weekend before heading down, Chef Massimo suggested that we speak by phone, just to get a sense of what foods we like, what we don't like, what we might be able to do to adapt their menu to make options suitable for vegans. We were pleasantly surprised that he didn't balk at requests for breakfast tofu scrambles or vegan pancakes, and he even offered that there were vegan muffins that they could make for us, as well.  I was concerned that dinner on Saturday night be quite festive as it was Michael's birthday, and I wondered what kind of vegan dessert he might be able to offer. He said that in addition to rice pudding, there was a coconut crème brule . Reassured by his unflinching insistence that all things vegan could be had, we felt cautiously hopeful that we might have found a vegan-friendly gem in the Caribbean.
We flew down on a direct from JFK on JetBlue and arrived later in the afternoon than expected at the hotel, due to some serious lines at immigration. Still, all frustrations melted away as we walked to the balcony off our ocean view room on the 8th floor:
Waiting for us in our room was a complimentary snack. Knowing that we were vegan, they prepared vegan macaroons with dried hibiscus flowers accompanies by assorted fresh fruit. This was the perfect welcome snack that said, "Welcome to the Caribbean!" The macaroons were lightly crisped on the outside and flavorfully chewy and moist on the inside. The dried hibiscus flowers' flavor went beautifully with the coconut from the macaron.
We wasted no time after tasting the macaroons. Without so much as unpacking. we changed into our swimsuits and made a beeline to the beach. After all, it had been a long delay at immigration and we wanted to enjoy the last 90 minutes of sunlight outside, in the warmth and sunshine. Once situated in our lounge chairs, we ordered drinks and chips with guac and salsa. We were hungry and this was the perfect snack for us as it was too late for a full lunch but too early for us to eat dinner.
After watching the sunset, we went to Coccoloba Bar and Grill, the property's on-the-beach restaurant that specializes in Mexican Street Food. Chef Tom was in the kitchen that night and he whipped up a delicious vegan dinner on just a few moments' notice. We started with shaved Brussels sprouts with peppers avocado pickled cabbage veggies and dried cranberries.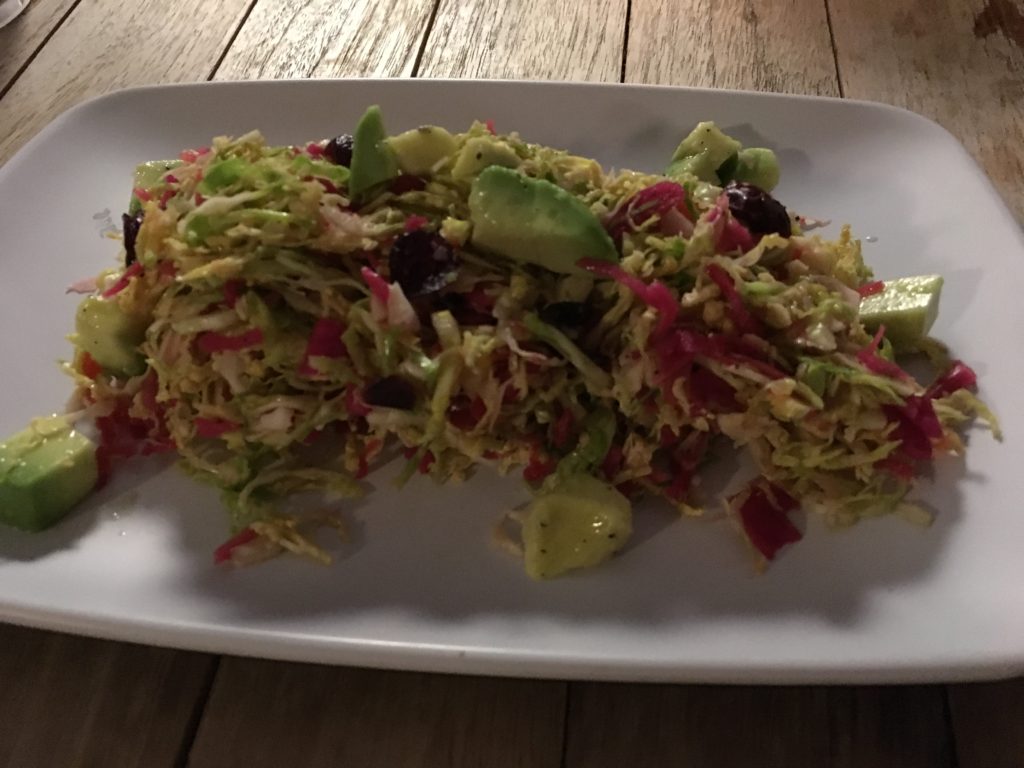 For our main course, he served us a stir-fry of local veggies with rice, kale and spinach.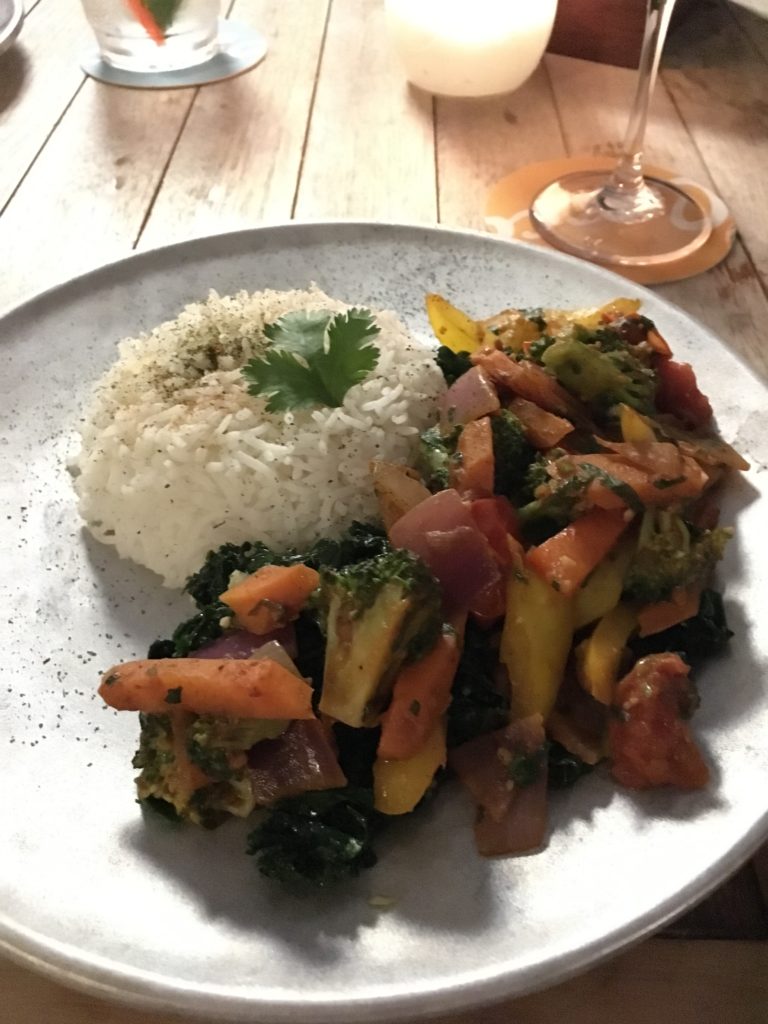 Though we were pretty full, Chef Tom wanted to impress, and impress he did. He pulled together a most delicious assortment of vegan cookies with three different flavors of sorbet: Calamansi (Calamondin), Lychee, and Passionfruit-popcorn. This was more than we expected (or could eat) but we were so delighted to try these delicious treats and they did not disappoint.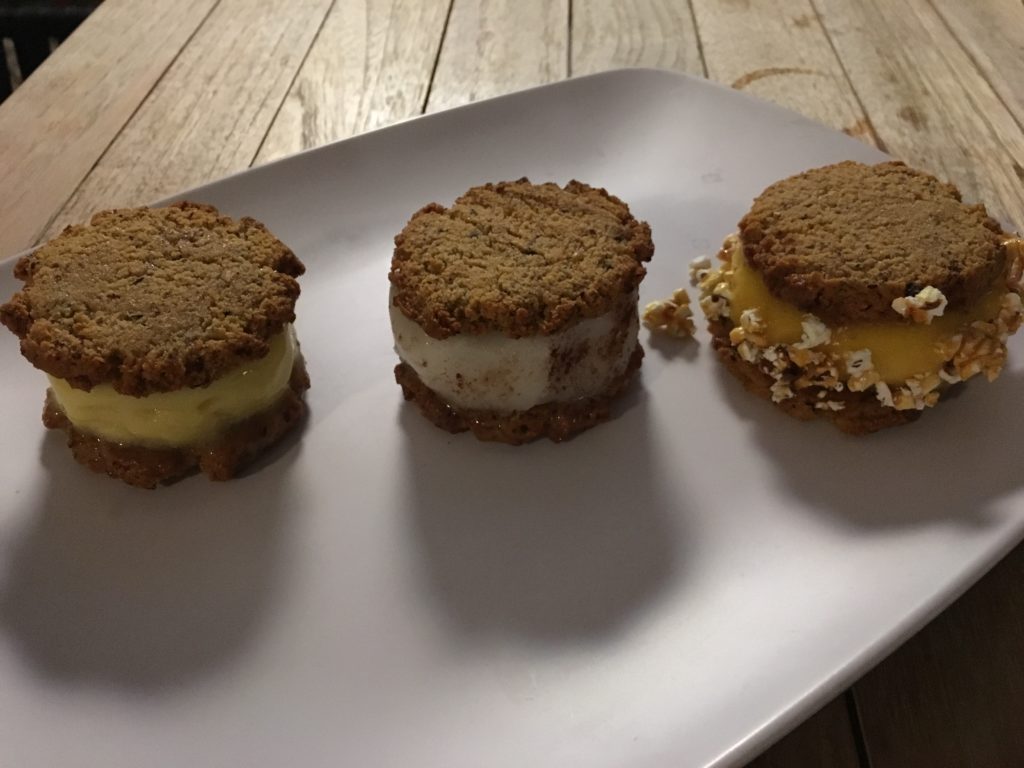 We tucked in that evening, sure that we were in excellent hands and we couldn't wait to see what the coming days had in store for us.
The next morning, after our workout at the property's spacious and clean gym, we showered and went for breakfast at Ave. We were promptly met by Laszlo Boros, The Food and Beverage Manager, who already knew who we were, that we were vegan and he was ready to make our breakfast dreams come true. There are indoor and outdoor dining seating options at Ave and, of course, we opted to dine outside with a view of the beach and ocean. The buffet had many options that were suitable to vegans such as oatmeal (made with water, not milk) fresh fruits, cereals and juices.
We decided to order off the menu since they were able to convert any of the breakfast omelettes to a tofu scramble, we both ordered the "Cayman Scramble" (without the cheese) consisting of local peppers, side salad, tomato-pepper catsup, breakfast potatoes with scallions and a choice of toast. This scramble had some heat to it but it wasn't overpowering. The breakfast potatoes were some of the best we've ever had.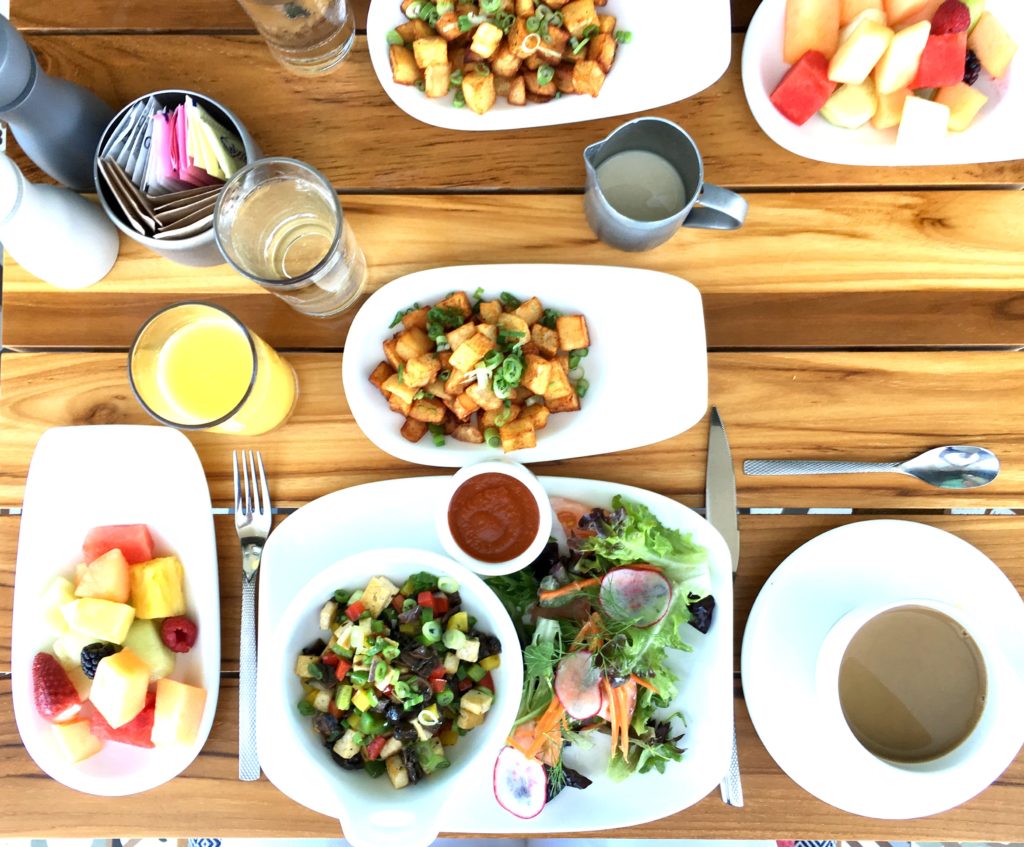 After a morning of lounging around on the beach, we took some shade at Coccoloba's where Chef Tom whipped up another masterful lunch. He started us off with a wilted kale salad with chickpeas, shaved carrots and citrus vinaigrette. The team here at Kimpton does vinaigrettes better than just about anyone anywhere we've dined. Light and flavorful, but not overpowering. The perfect compliment to the flavors of the veggies.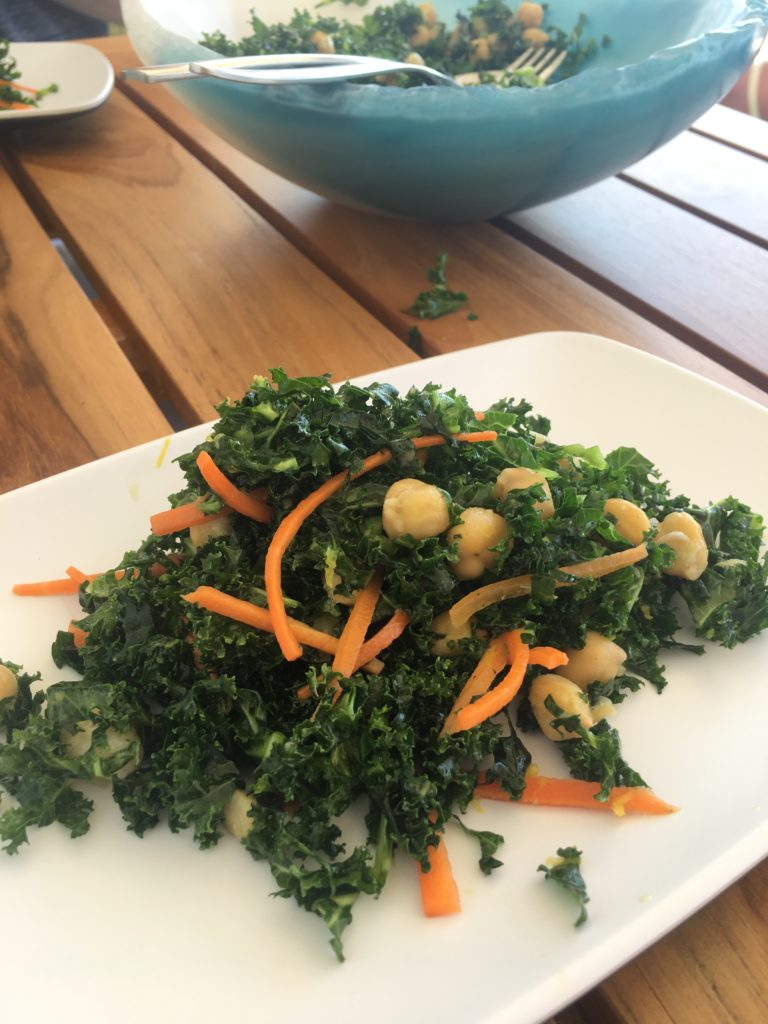 This was followed by white corn flour tortillas with black bean purée, roasted veggies guac and roasted corn, and a red and yellow lentil stew with garlic, shallots, cherry tomatoes, and cumin seeds served with tortillas.
We had planned to go off-property that night but we were so completely overwhelmed by the impeccable service and food, that we decided to just stay on property for the rest of the vacation.  We hoped to be able to try the tasting menu at Avecita, Kimpton Seafire Resort's signature dinner-only venue, presenting a theatrical culinary experience showcasing Spanish tapas-inspired dishes. Tucked away in a corner of the larger restaurant, Ave, Avecita does a limited-seating nightly contemporary food and wine pairing/tasting at the bar.  We were incredibly lucky to score two seats at the communal table without a prior reservation. The communal seating made for some really interesting dinner conversation when two drunk nurses from Milwaukee sat down beside us. That certainly added to the flare of the dinner, wherein Chef Massimo surprised us with each course knowing that his only limitation was to keep the meal entirely vegan.
Our 7-course dinner went as follows:
Course 1: Parsnip with kumquat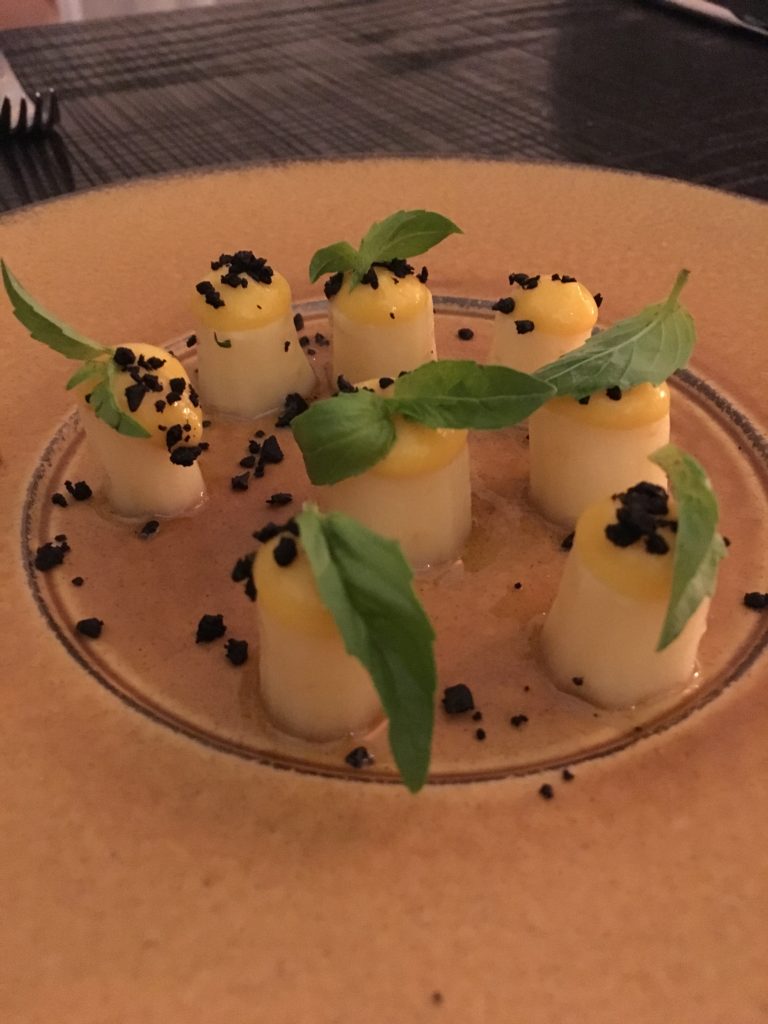 Course 2: Tomato tartare, saffron crackers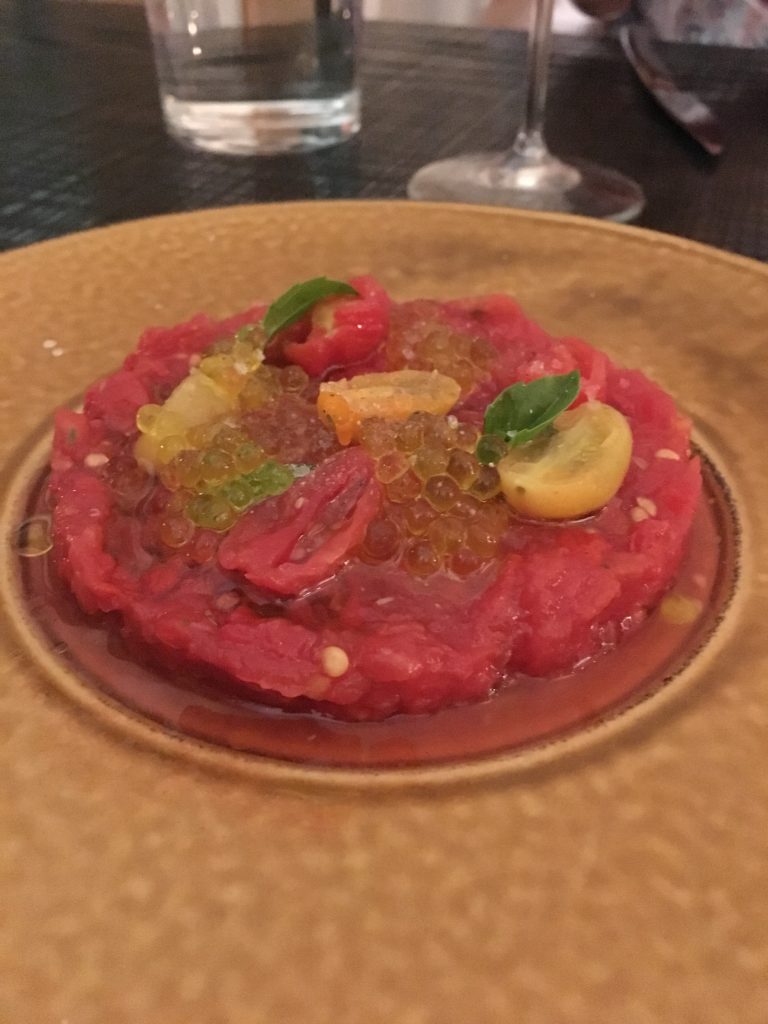 Course 3: Charred eggplant with watercress, miso & pine nuts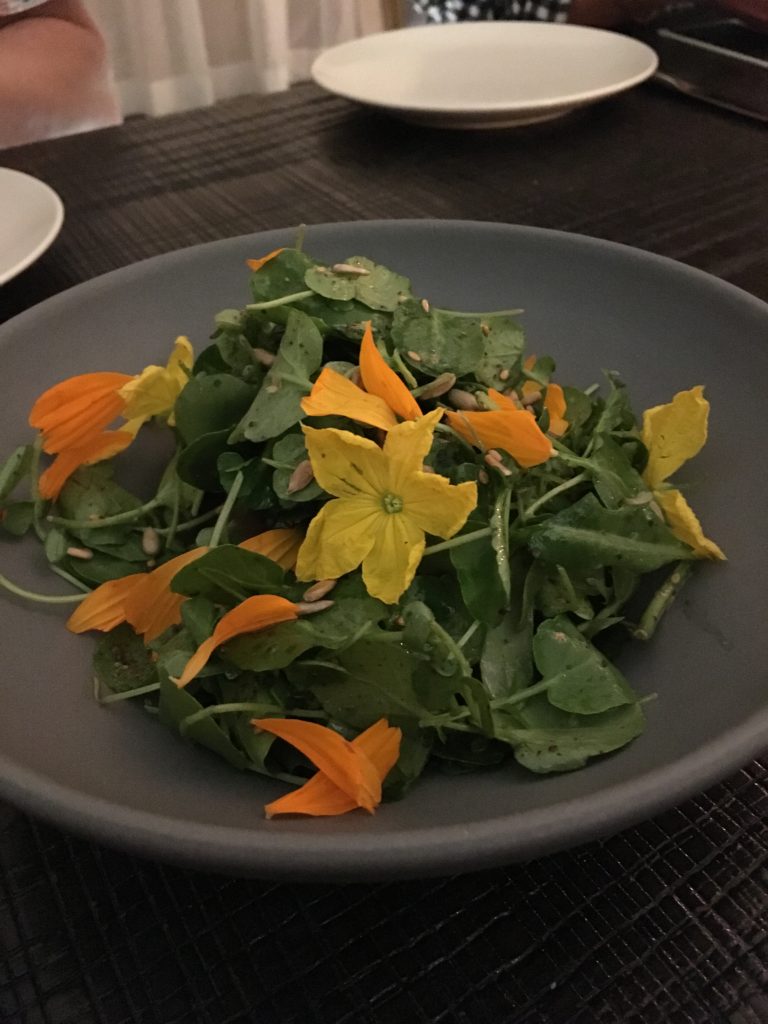 Course 4: Morell mushrooms with seared tofu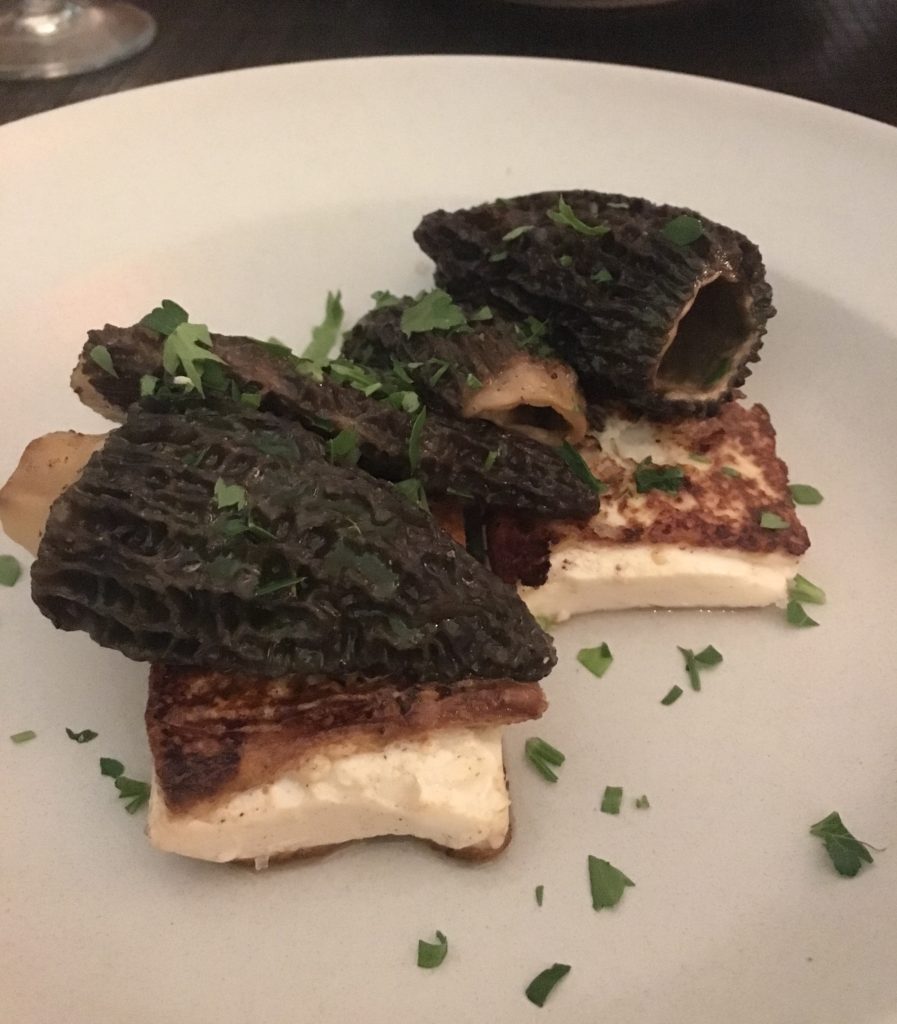 Course 5: Charred Bibb lettuce, beets, pickles. Curry spice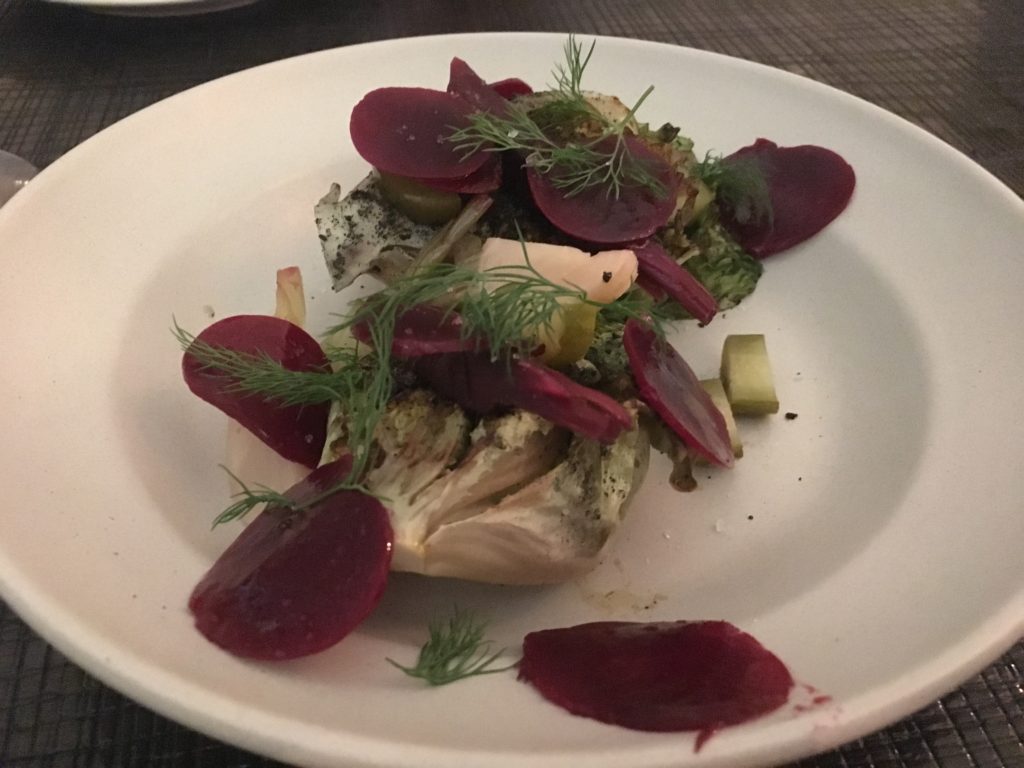 Course 6: Charred carrot, pistachio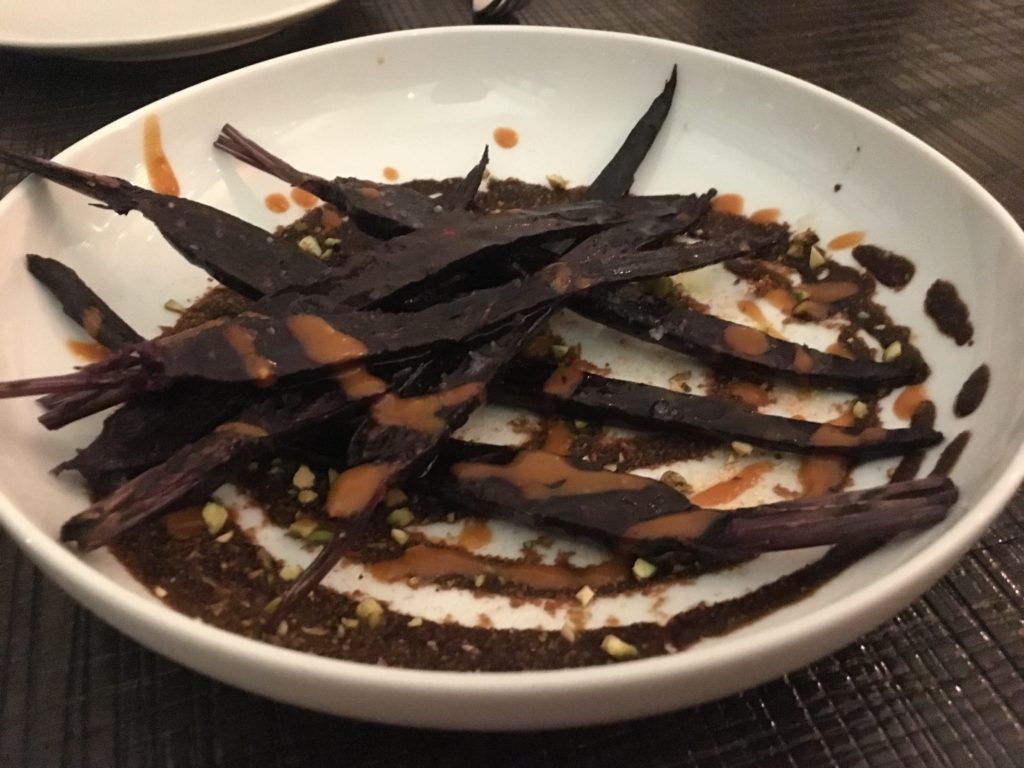 Course 7: Blood orange & tomato Popsicle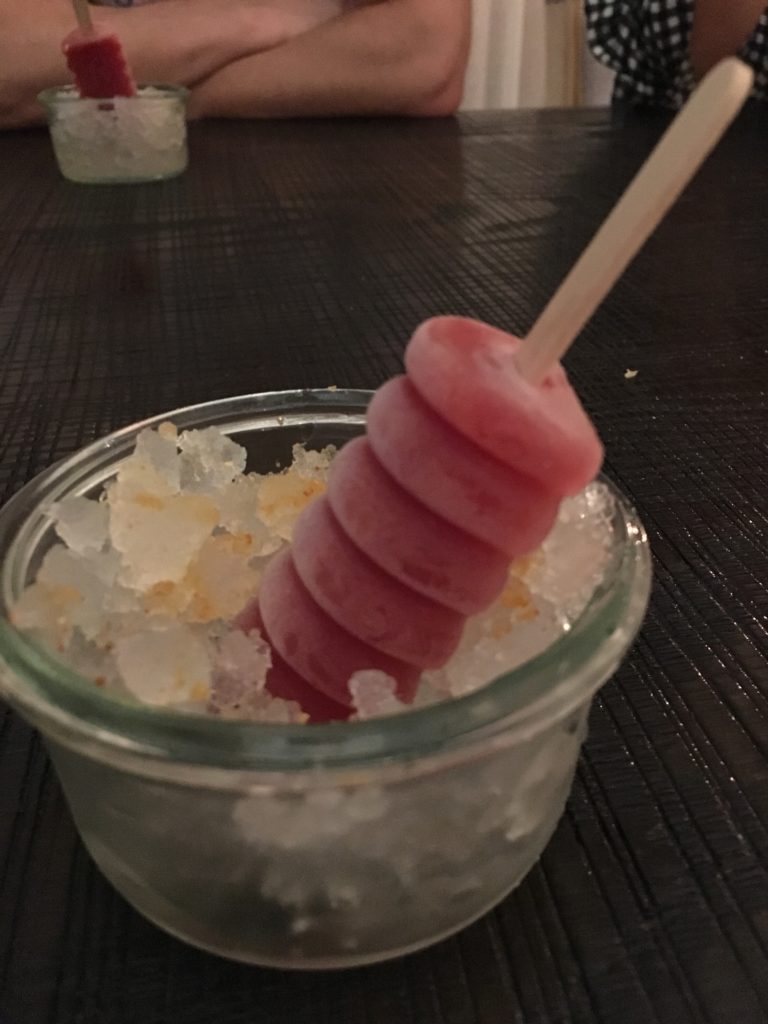 This meal was most impressive and filling. Paired with a few glasses of wine (we almost "caught up" to theMilwaukee nurses) it was the perfect end to our first full-day on the Island. We went to bed full, happy and really impressed by Chefs Massimo and Tom. We were loving our experience here at The Kimpton Seafire.
We mixed it up the next morning for breakfast, ordering vegan pancakes. Laszlo said, "Yeah, we can do that." he paused and then he asked, "Do you guys like avocado?" We told him we do and he said, "how about some avocado toast?" We thought, "Avocado toast and pancakes? Is that too much?" But it was Michael's birthday and birthdays are days to indulge so we did and are we ever glad Laszlo suggested it! Toasted freshly baked bread, topped with perfectly ripe avocados, topped with local herbs and spices… this was heaven. The pancakes were also perfection. Light and fluffy, golden and flavorful, served with fresh berries and maple syrup. Michael's birthday was off to an excellent start.
After a morning spent on the beach, we lunched back at Coccoloba and enjoyed roasted butternut squash and pepper, arugula and quinoa with a light vinaigrette: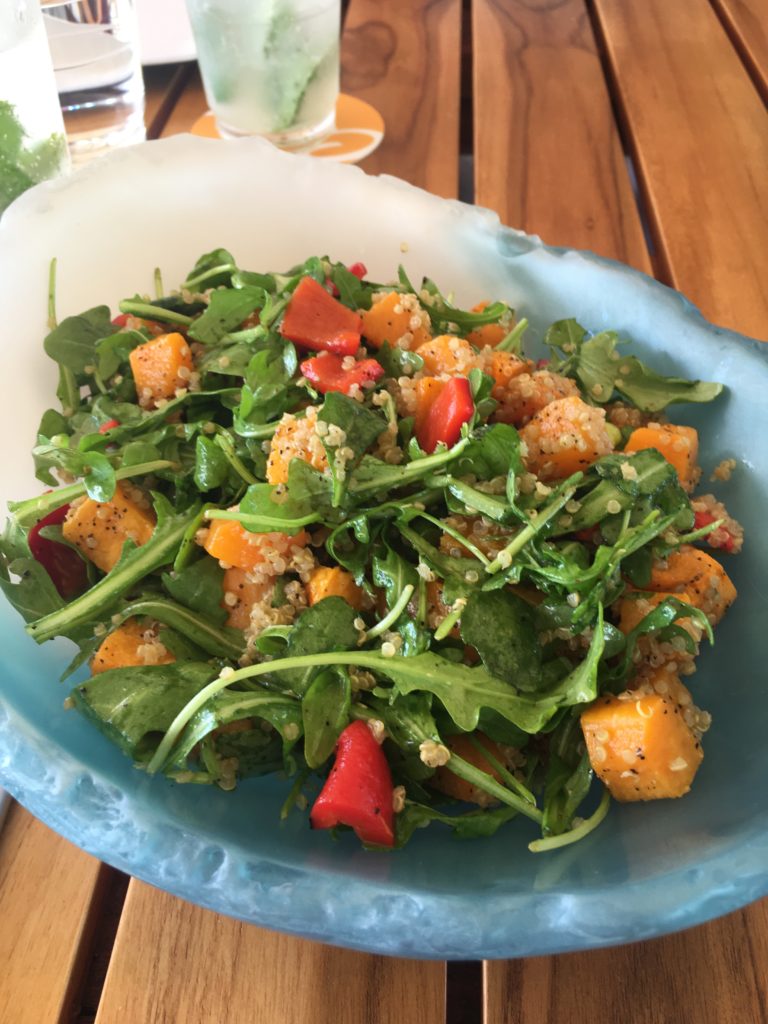 Mini tacos with grilled portobello and poblano – meaty (portobello) and fishy (grilled poblano and red onion):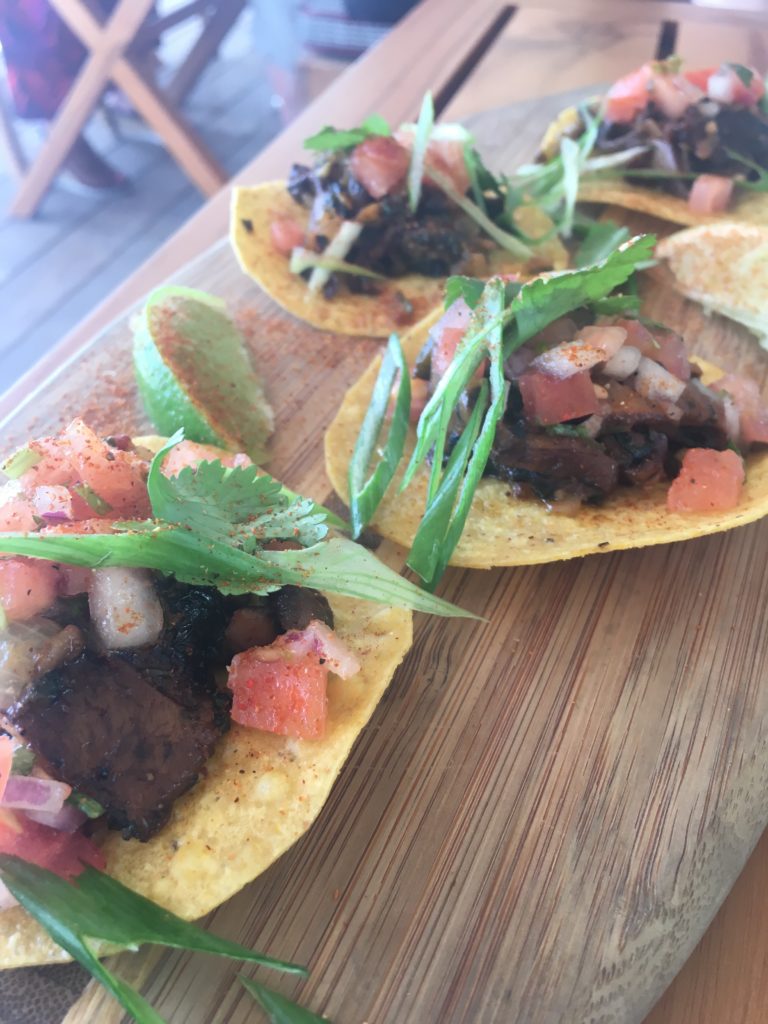 Thick cut yucca fries with seasoned chickpea hummus: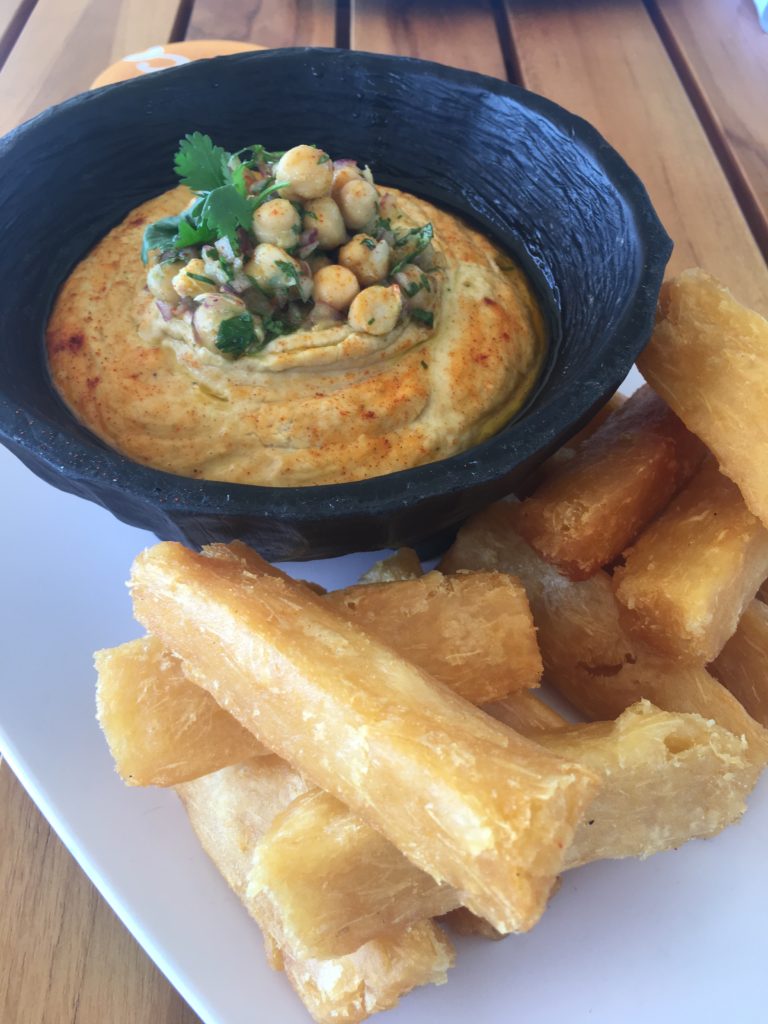 Coconut Creme brûlée w/fresh fruit.  They even wrote "Happy Birthday" for Michael in chocolate– how sweet, indeed!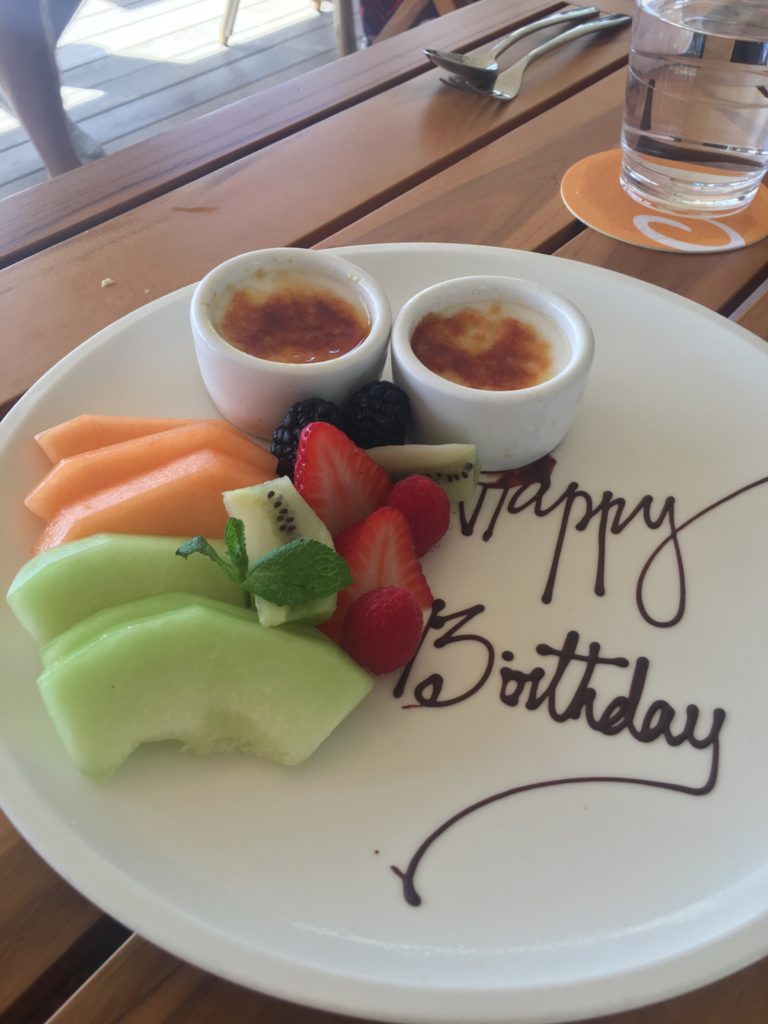 That night, our last one at the resort, we went for a special birthday dinner at Ave. Again, we asked Chef Massimo to surprise us with each of the 7 courses. Honestly, this meal was stupendous. We started off with Yucca chips topped with avocado, chanterelles and radish: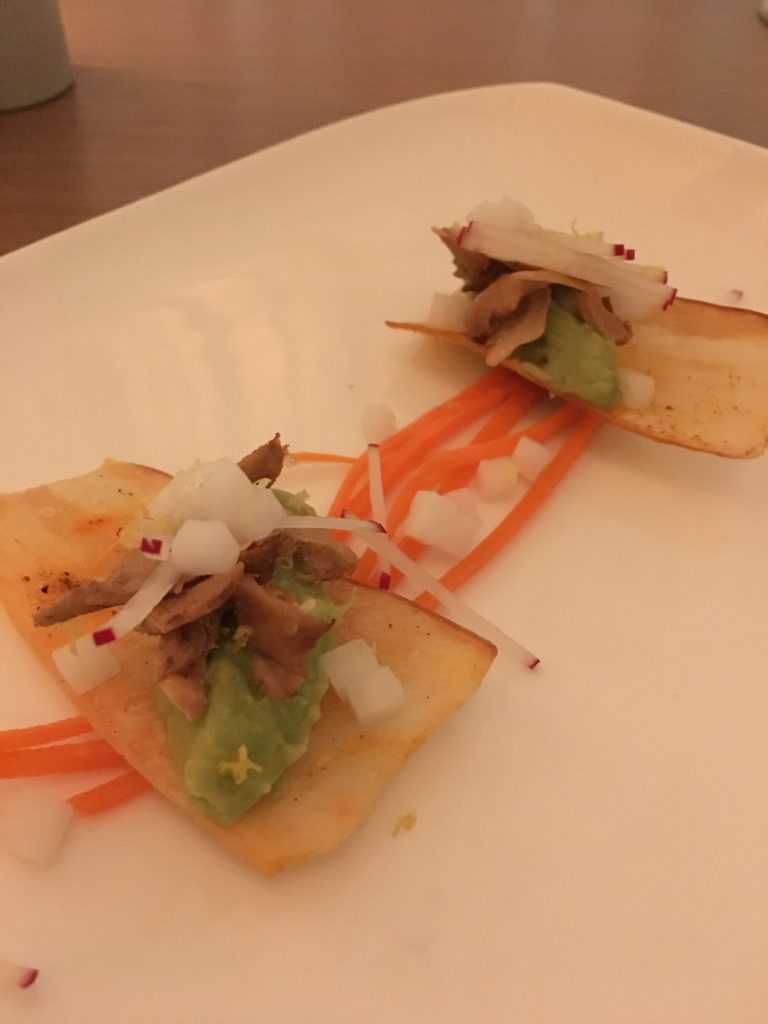 Lemon & herb bread with vegan butter: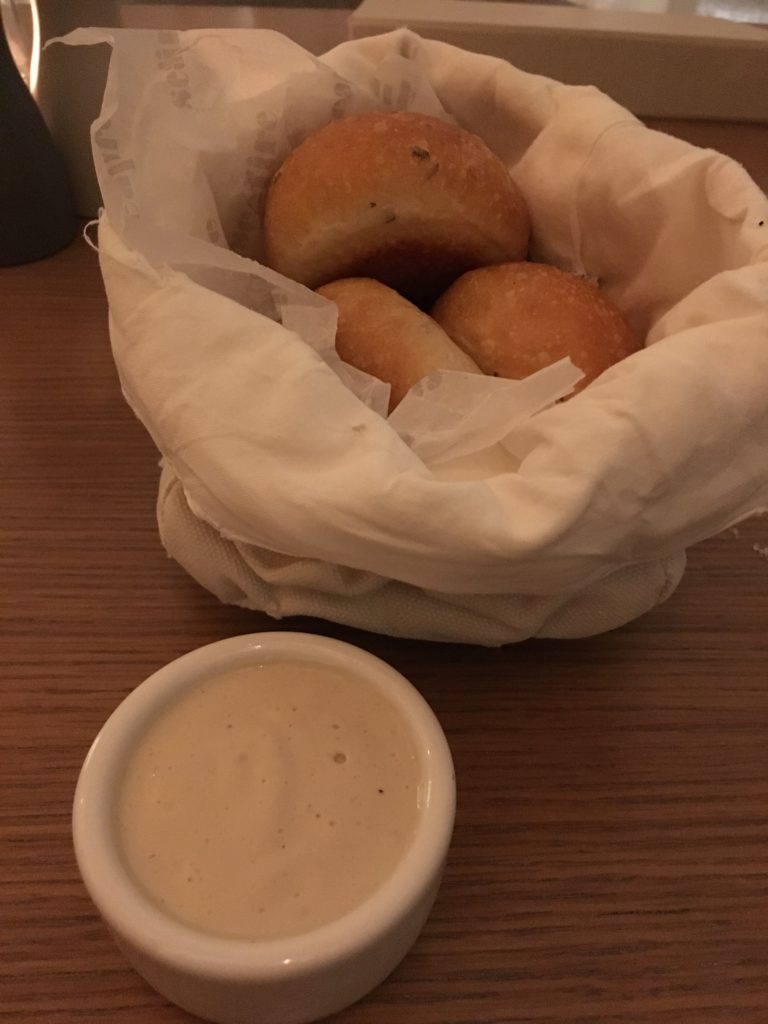 Avocado & melon gazpacho with cherry tomatoes: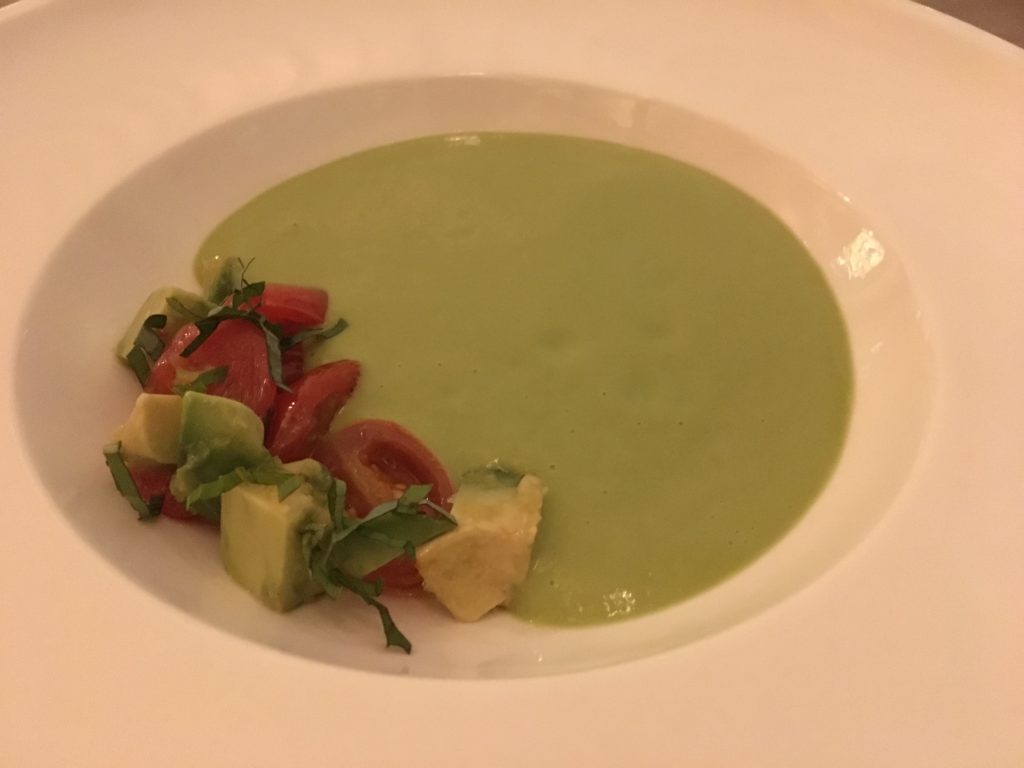 Coconut ceviche with plantain chips: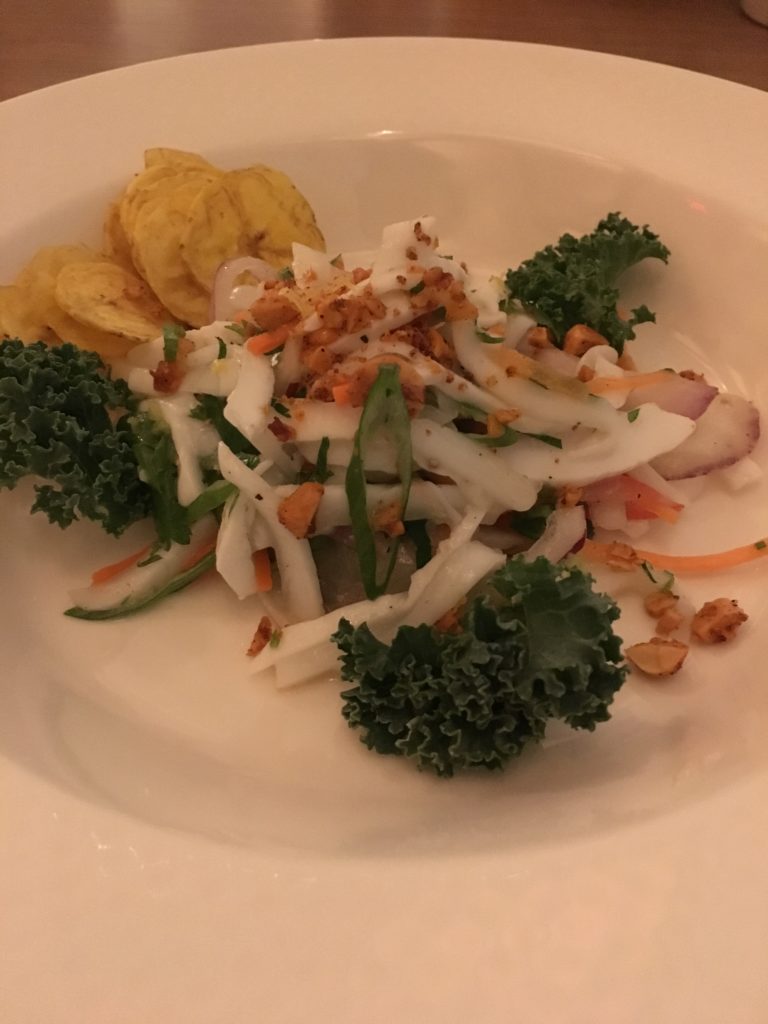 Roasted squash, beets, mushroom & spinach: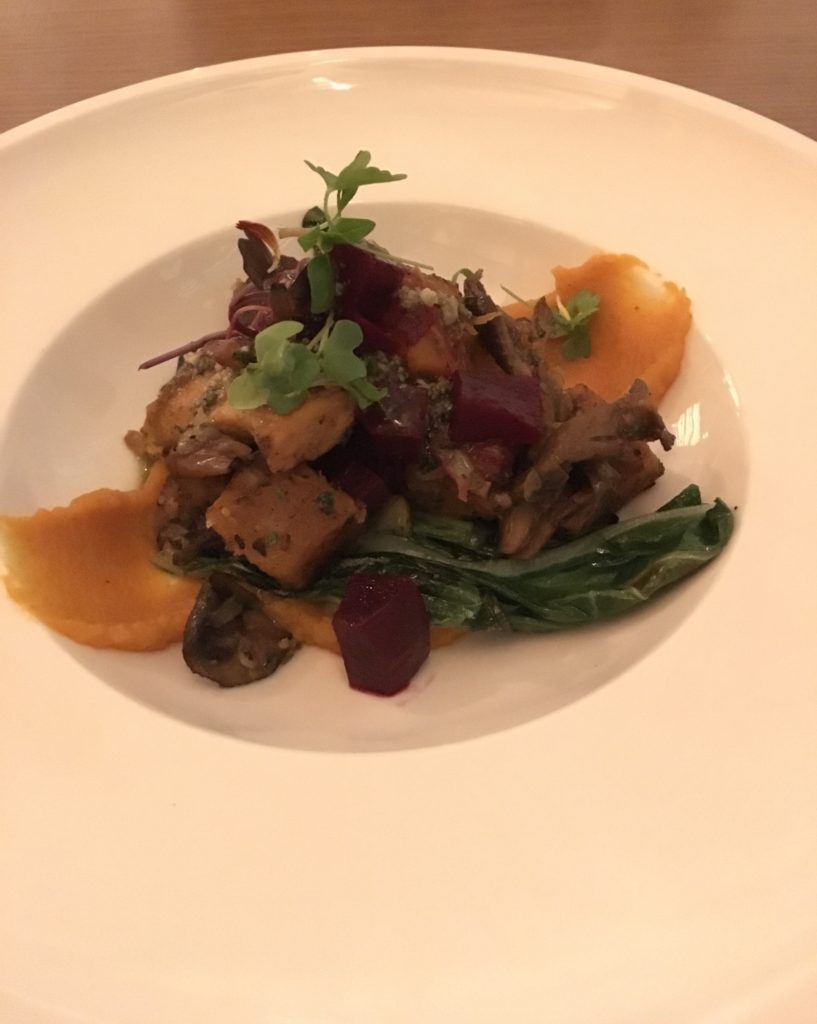 Vegetable curry with mango relish:
Coconut creme brûlée, vegan cheese cake, and chocolate cake: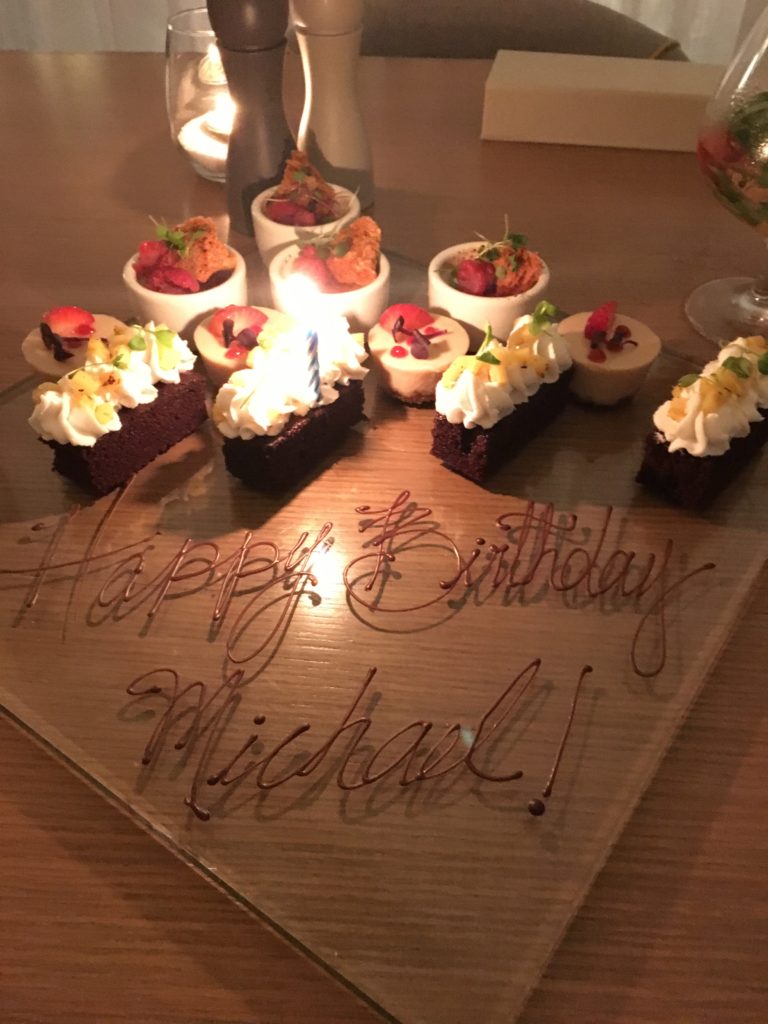 Everything about our stay at The Kimpton Seafire was perfection. From the modern, comfortable hotel rooms, to the spacious and stylish restaurants, the well appointed fitness center, to the beautiful poolside and the expansive beach. This vacation was everything we'd hoped for and so much more. We cannot speak highly enough of the team at The Kimpton Seafire.  Not only Chefs Massimo and Tom, but Lazlo and everyone else we interacted with on property were consummately professional, unobtrusively solicitous and highly dedicated customer service experts, insistent on making sure their guests had everything they wanted at all times.
Vegan-friendly properties exist everywhere but it's been challenging to us for some time to find a true luxury brand that understands and executes vegan food well in the Caribbean. It's nice to know that with the arrival of Kimpton in Grand Cayman, luxury vegan paradise is just a flight away. We can't wait to return!