I am a cookie snob. I will not eat just any cookies. I am always happy to try a cookie, but whether I finish it is another story. I owe my cookie snobbery in large part to my dad. When I was little, my dad would occasionally bring home chocolate chip cookies from various bakeries around Manhattan. So from an early age, the bar was set very high. One of my favorite cookies, when I was little, came from David's Cookies. The cookies were small, but rather than using chocolate chips, they used chocolate chunks. Each cookie had one big chocolate chunk in the center with just enough cookie dough around it to  make a cookie. I recently saw a bag of Enjoy Life chocolate chunks in the store and I knew it was time to make my own version of Chocolate Chunk Cookies.
I used my favorite cookie recipe as a model and adapted it to accommodate the large chunks of chocolate. Rather and do the David's Cookies method of a huge chunk of chocolate and a little dough, I opted for more dough and lots of smaller chunks, bigger than chips, but not huge hunks. When I make chocolate chip cookies I like to use about a tablespoon and a half of dough for each cookie. For these Chocolate Chunk Cookies, I opted for a large cookie scoop that holds 3 tablespoons of dough. The resulting Chocolate Chunk Cookies are big and thick, with what I consider the ideal ratio of dough to chocolate chunks. Before baking the cookies, I like to top each one with a few extra chocolate chunks, just to have some full chunks right on top so people can see how big they are.
The other notable changes to my standard cookie recipe are the additions of oatmeal and cinnamon to the dough. The cinnamon gives a very subtle flavor, and the oatmeal adds some extra body to the cookie dough to help it stand up to the big chocolate chunks. I like to use Ener-G Egg Replacer in my cookies, but if you have a different egg substitute you like, by all means use it. Whatever replacement you use, you will need enough for 1/2 cup of liquid volume. Lastly, if you cannot find chocolate chunks, chips will work fine too.
Ingredients:
4 1/2 teaspoons Ener-G Egg Replacer
6 tablespoons warm water
1 cups (2 sticks) vegan butter, softened
1 cup light brown sugar
1/2 cup granulated sugar
2 teaspoon. vanilla extract
2 1/2 cups all-purpose flour
1/2 teaspoon baking soda
1 teaspoon baking powder
1/2 teaspoon salt
1/4 teaspoon cinnamon
1/2 cup steel cut oats
2 1/2 cups semisweet vegan chocolate chunks, divided
Directions:
1. Preheat the oven to 350° F. Line 2 baking sheets with parchment paper and set aside.
2. In a medium mixing bowl combine the flour, baking soda, baking powder, salt, cinnamon and oats. Set aside.
2. In a small bowl, combine the egg replacer and water.  Mix vigorously until thick and foamy. You can do it by hand, but it works much better in a blender or with an immersion blender using the whisk attachment. Set aside.
3. In a large bowl, beat butter, brown sugar, sugar and vanilla until creamy, about 5 minutes. Add the Ener-G mixture and beat until the mixture is smooth.
4.Gradually add the flour mixture to the butter mixture in 3 additions, beating well after each addition.  After the last addition, beat to fully combine. Add 2 1/4 cups of chocolate chunks to the mixture and beat to evenly distribute them throughout the batter.
5. Use a 3 tablespoon cookie scoop to scoop out large balls of dough, and place them about 2 inches apart on the prepared baking sheets. Wet your hands a with a little water and press them down slightly to help them spread as they bake and top with a few of the remaining chocolate chunks. You will likely have to bake the cookies in batches.
6. Bake for 13-15 minutes, or until the edges are lightly golden and the center of the cookie is still a bit soft. Cool for a few minutes on the baking sheet before transferring to a wire rack to cool completely.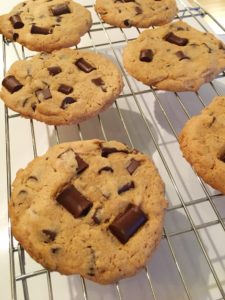 Makes 20 cookies