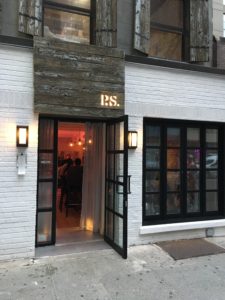 Anyone who knows the vegan restaurant scene in New York City is well aware of the vegan food wasteland that Times Square and the Broadway Theater District is. That's why vegans in New York City rejoiced last week at the long-awaited opening of P.S. Kitchen.
Brought to you by the owners of  Terri, the popular chain of plant-based fast food restaurants in Manhattan, P.S. Kitchen is a decidedly more upscale venue with a hip and chill vibe. The white marble bar, white-washed brick wall and distressed white wooden floors all take on a soft pink glow from the hot pink neon sign that bold states, "Ready Or Not". Sitting the in calming glow from this sign it's hard to believe you're dining in the middle of the busiest and noisiest part of America's largest city. This space is a sanctuary and a vegan oasis of calm amidst the chaos of Broadway and Times Square.
We began our meal with two of their signature cocktails, currently being served sans alcohol while they await their imminently forthcoming liquor license. Michael enjoyed the Summer Thyme: Strawberry, orange blossom, lemon, blue agave, pink peppercorn and lemon thyme. Ethan loved The Bengal: Mango, lemon, coconut water and turmeric served in a martini glass lined with Korean chille.
Our meal continued with three selections from the "Small Plates" section of the menu: Watermelon Heirloom Tomato Salad, Maitake Bao, and Crispy Artichoke. The Watermelon salad is made up of cubed watermelon and three colors of tomatoes tossed in a light vinaigrette dressing. The feta is not a cubed feta as one might expect, but rather comes in the form of a white sauce dotted on top of the salad. The cool sweet watermelon and the bursting flavor of the tomatoes blend perfectly in this bright and refreshing dish that just tastes like summer.
The crispy artichoke, though fried, didn't taste greasy. The outside was nicely crisped while the inside retained a perfect texture that wasn't too soft or overly firm. A hint of garlic and sprinkling of chives combined with the lemon emulsion to offset the richness of the artichoke. The Maitake Bao is a vegan take on traditional Chinese steamed buns.  The two pillow like steamed buns arrived with fried maitake mushrooms already nestled inside and then you can top them with options from the accompanying plate of cilantro, pickled onions, kimchee and sliced radishes. The soft, sweet buns were as good as any we've enjoyed in any restaurant in Chinatown. We both enjoyed this starter best- it was the perfect balance of sweet, spicy, crunchy and savory.
Our meal continued with two selections from the "Large Plates" section: Spaghettini and Buffalo Hen of the Woods. While the Spaghettini reads like a simple dish of pasta, tomato sauce, capers and basil, in reality, it quite complex. The pasta is perfectly cooked. The sauce is rich and savory, just salty enough thanks to the capers and still, the fresh tomato flavor comes through front and center. The surprise of this entree is the addition of lemon zest that brightens it all and makes the whole thing pop. The Buffalo Hen of the Woods was everything you'd hope for and a bit more. It had a strong buffalo flavor and a nice amount of heat without being too firey. The bleu cheese sauce was cooling and tempered the heat well. The addition of purple potatoes and tomatoes in place of ordinary celery added both sweetness and depth of texture.
We ended our meal sharing the Strawberry Shortcake. The almond biscuit sits atop a strawberry puree, and is smothered with a strawberry rhubarb compote. Rather than topping it all with a whipped cream, a rich and delicious vanilla almond creme is artfully slathered around the edge of the bowl. This summery dessert was a great finale to a fantastic meal.
If the delicious food and comfy curated ambiance weren't reason enough to dine here, P.S. Kitchen takes ethical eating to an entirely different level in donating all of the profits to sustainable charities both locally and overseas. They also look to employ staff from marginalized and vulnerable local communities here in New York City. Creating these job opportunities is in keeping with their mission of giving a hand up to to the vulnerable, equipping them with the tools necessary for self-sustainability and building meaningful relationships with their neighbors.
P.S. Kitchen has opened strongly with an eclectic menu, an stunning venue and top notch service with extreme attention to every detail. In addition to their dinner menu, P.S. Kitchen has a lunch menu, brunch menu and a bar menu for folks who want delicious vegan tapas with their drinks. We can't wait until their second floor opens with it's private outdoor dining space. It's pretty clear to us that P.S. Kitchen has burst on to the New York City vegan restaurant scene as an instantly beloved vegan joint for friends to gather, to take business meetings or even go out on a date. We can't wait to have our next date-night there.
P.S. Kitchen
246 West 48th Street
New York, NY, 10036
212-651-7247