I would ask if you like fried foods, but if you say no, I would be really upset. We all love fried food, but there is one "problem" with it, all the oil. If you have been following Vegan Mos, you know that we are not "no-oil" vegans. We love oil (and sugar, and gluten), however, too much oil is not good. When you bite into a doughnut, you want to taste the doughnut and not get a mouthful of grease. Thanks to the wonderfully amazing JL Fields, now we can have healthier versions of our favorite fried foods  courtesy of her new cookbook, The Vegan Air Fryer. In this Book, JL does for air fryers what she did for pressure cookers in 2014 with Vegan Pressure Cooking.
Check this recipe for doughnut holes made in the air fryer.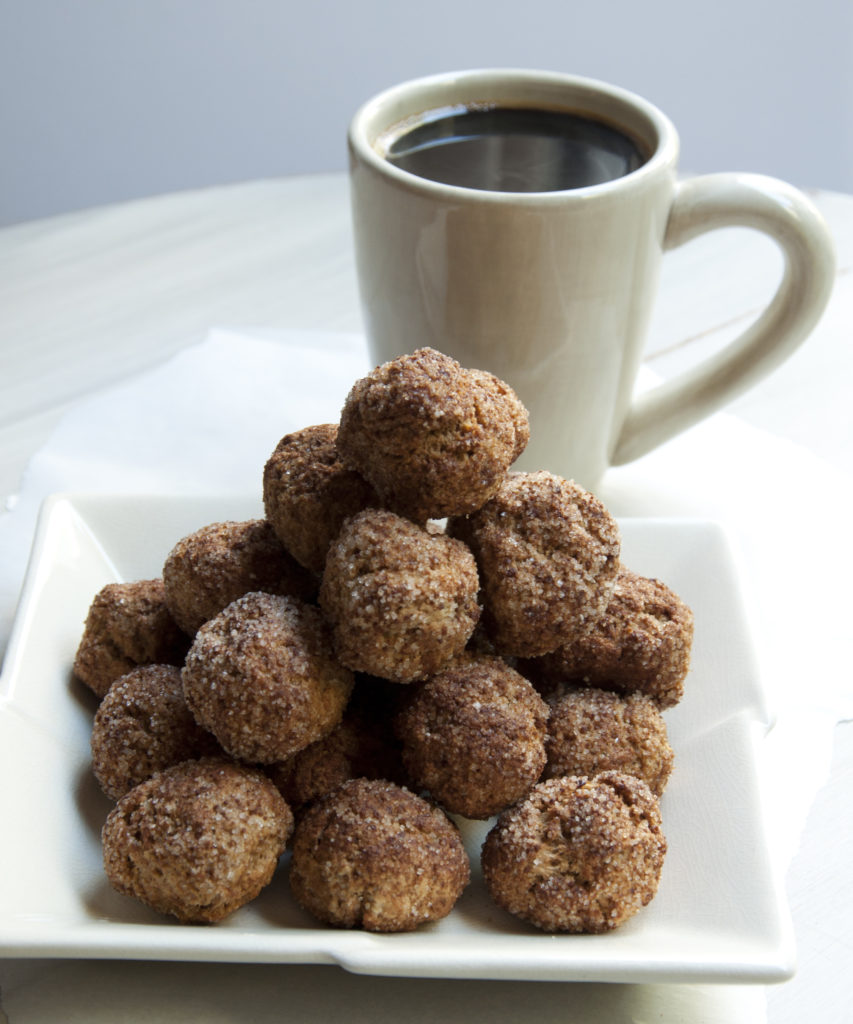 Doughnut Holes
These air-fried doughnut holes are fun to cook — and eat. Enjoy them for breakfast or as a snack. They make for a great dessert, too. (From The Vegan Air Fryer, copyright © 2017 by JL Fields. Used by permission. Photo by Michelle Donner.)
2 tablespoons cold nondairy butter
1/2 cup plus 2 tablespoons coconut sugar, divided
1 tablespoon Ener-G brand egg replacer powder or your favorite vegan egg yolk replacement
2 tablespoons water
2 1/4 cups unbleached all-purpose flour
1 1/2 teaspoons baking powder
1 teaspoon salt
1/2 cup plain or vanilla nondairy yogurt
1 to 2 spritzes canola oil
1 teaspoon ground cinnamon
In a large bowl, combine the butter and 1/2 cup of the sugar and mix well, using your hands until clumps form. In a small bowl or cup, whisk the egg replacer with the water. Add it to the butter and sugar and mix well. Set aside.
In a medium bowl, combine the flour, baking powder, and salt. Add the flour mixture to the butter mixture and mix well. Fold in the yogurt. Mix until a dough is formed.
Roll pieces of dough into 18 (1-inch) balls and arrange them on a large baking sheet or piece of parchment paper.
Grease the air fryer with the oil. Preheat the air fryer to 360°F for 3 minutes. Transfer the doughnut holes to the air fryer basket. Cook for 8 minutes, shaking halfway through the cooking time.
Mix the remaining 2 tablespoons sugar and cinnamon on a plate. Roll the hot doughnut holes lightly in the cinnamon sugar before transferring them to a baking rack to cool.
Makes 18 doughnut holes
Enter today for your chance to win a copy of The Vegan Air Fryer today.