When Ethan first went vegan over 7 years ago, Robin Robertson's cookbook, 1000 Vegan Recipes was a life saver for both of us. To this day, the carrot cake recipes in that book is still our "go to" carrot cake recipe. Since that time, our cookbook collection has grown considerably, with more are being added all the time, and of course our upcoming NYC Vegan will be there soon. Our collection has a number of Robin's books, and we just added another one. Robin Robertson's new cookbook, Veganize It! is truly a DIY manual for making vegan versions of everyone's favorite foods. In the introduction, Robin talks about how when she first went vegan, there was not the abundance of vegan products currently available, so she figured out how to her own vegan versions of the foods she desired. This is a similar tale for many of us. In fact, that is how we come up with some of our recipes – veganizing non-vegan recipes. With more than 150 easy to follow recipes, Robin shows us how to get delicious, vegan food on our table without spending all day in the kitchen.
In the first section of the book, before getting into the recipes, Robin provides guidance for stocking a vegan kitchen. She provides a list of dry goods to keep in your pantry as well as basic equipment to make food preparation easy. If you are new to cooking, this information is priceless. If being in a kitchen is second nature to you, this chapter is a good review and offers tips on how to make cooking a more efficient process. The recipes in Veganize It! are suitable for cooks of all skill levels, and make use of easy to find ingredients so that no one should be discourage from using this book for lack or skill or inability to find a certain item in the store. Veganize It! has two distinct categories of recipes: vegan versions of basic ingredients and recipes that use those ingredients to make veganized dishes. The basic ingredients are ones that we can buy in a store, but Robin shows us that we can easily make them at home. She also discusses the on-going debate of using animal product descriptions like meat, milk and bacon, to describe vegan versions of these same foods. Robin points out that these descriptors are a simple way of letting people know what to expect. This is a conversation I have had with many other vegan bloggers and I am glad to see Robin address.
In eight recipe chapters, Robin shows us that anything non-vegans eat, we can eat vegan. If you don't believe me, check out these amazing looking Pulled Jackfruit BBQ Sandwiches: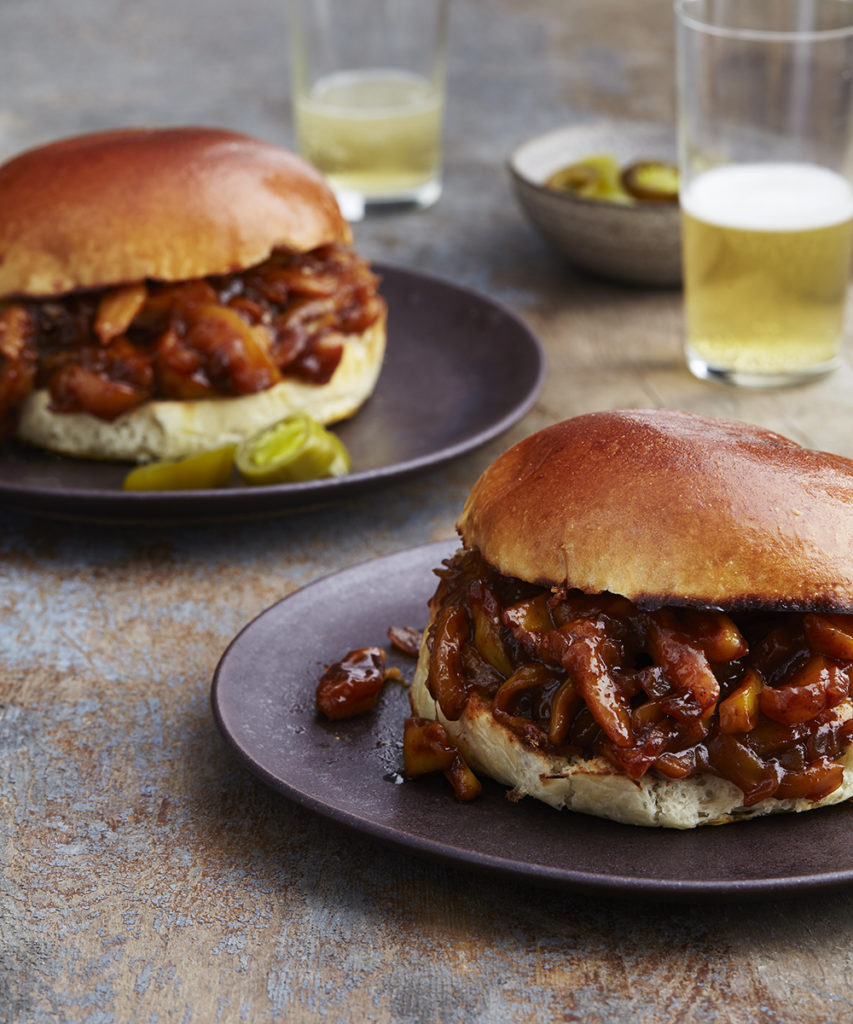 Text excerpted from VEGANIZE IT! © 2017 by Robin Robertson. Reproduced by permission of Houghton Mifflin Harcourt. All rights reserved. Photo by William and Susan Brinson.
PULLED JACKFRUIT BBQ SANDWICHES
SERVES 4
Not only does jackfruit lend itself well to shredding for that pulled effect, but it's also great at soaking up the zesty barbecue sauce, making it an ideal candidate for these hearty sandwiches. Look for canned water-packed jackfruit in Asian markets or well-stocked supermarkets (be sure not to get the kind packed in syrup). If jackfruit is unavailable, substitute your choice of chopped seitan, steamed crumbled tempeh, or chopped or shredded mushrooms (portobellos or oyster mushrooms are especially good here).
1 tablespoon olive oil
1 yellow onion, minced
1 (16-ounce) can water-packed jackfruit, drained and shredded or thinly sliced
1 tablespoon tamari soy sauce
¼ teaspoon smoked paprika
Salt and ground black pepper
1 ½ cups barbecue sauce, store-bought or homemade (recipe follows)
4 sandwich rolls, split and toasted
Heat the oil in a large skillet over medium heat. Add the onion and cook until softened, about 5 minutes. Add the jackfruit and cook until softened, about 10 minutes. Stir in the soy sauce and season with the paprika and salt and pepper to taste. Add as much of the barbecue sauce as desired, stirring to mix well. Use a fork (or two) to break up the jackfruit. If hard pieces remain, remove them to a cutting board and finely chop, then return them to the skillet. Cook for about 10 minutes to heat through and blend the flavors. Pile the jackfruit mixture onto the toasted sandwich rolls. Serve hot.
***
Text excerpted from VEGANIZE IT! © 2017 by Robin Robertson. Reproduced by permission of Houghton Mifflin Harcourt. All rights reserved.
BARBECUE SAUCE
MAKES ABOUT 3 CUPS
1 tablespoon grapeseed or sunflower oil
1 yellow onion, minced
3 garlic cloves, minced
1 (28-ounce) can tomato sauce or puree
1 canned chipotle chile in adobo sauce, minced
⅓ cup pure maple syrup or dark brown sugar
¼ cup water
¼ cup cider vinegar
¼ cup tamari
½ teaspoon salt
½ teaspoon ground black pepper
½ teaspoon liquid smoke
Heat the oil in a saucepan over medium heat. Add the onion and garlic and cook for 5 minutes, until the vegetables soften. Add the tomato sauce, chipotle, maple syrup, water, vinegar, tamari, salt, and pepper, stirring to mix well. Simmer for 20 minutes, or until the sauce reduces to the desired consistency. Near the end of the cooking time, stir in the liquid smoke, then taste and adjust the seasonings, adding more salt, maple syrup, or vinegar if needed to balance the flavors.
~~~~~~~~~~~~~~~~~~~~~~~~~~~~~~~~~~~~~~~~~~~~~~~~~~~~~~~~~~~~~~~~~~~~~~~~~~~~~~~~~~~~~~~~~~~~~~~~~~~~~~~~~~~~~~~~~~~~~~~~~~~~~~~~~~~~
This is just one of the incredible, mouthwatering and easy recipes in Veganize It!
If you still aren't convinced that this book deserves space on your bookshelf, how about a free copy? We are giving away ONE copy of Veganize It! Enter here!