The Simply Vegan Cookbook is the latest accomplishment by Dustin Harder, aka The Vegan Roadie. If you don't know who he is, be sure to check out his two web series' The Vegan Roadie and OMG! That's Vegan? Ethan and I were guests on OMG! That's Vegan in 2015.  Somehow, in between filming 3 seasons of The Vegan Roadie, including the one he just finished in Italy, Dustin managed to write a cookbook. The Simply Vegan Cookbook is designed for everyone who has said, "I wish I could go vegan, but it seems so hard," or "I would go vegan, if I had someone to cook for me." To all of you I say, "thanks to Dustin, your wish has been granted. You have no more excuses to not go vegan."
Unlike most other cookbooks, The Simply Vegan Cookbook is divided into chapters by ingredient rather than by meals. The helps focus you on what you have on hand. Rather than looking a recipe and seeing if you have all the ingredients, in this book you look in to refrigerator or pantry first and then look at the book to see what you can make. There is an entire section of 10 recipes devoted to just broccoli and cauliflower. Moreover, each recipe has 2 variations included, giving you 30 recipes! In fact, every recipe in the book comes with 2 variations turning 150 recipes into 450!!! Yes, 450 recipes!
If this seems daunting to you, and you prefer look for recipes by meal, not worry. At the end of the book all the recipes are indexed both alphabetically and by meal. Dustin's recipes are easy to follow and require no special equipment or skill. Headers in each recipe tell you if the recipe is soy free, nut free, gluten free or can be made in 30 minutes or less. With The Simply Vegan Cookbook, Dustin has taken all the worry out of vegan cooking. Just check out this recipe for Churro French Toast. You read that correctly, CHURRO! FRENCH TOAST!
(From The Simply Vegan Cookbook, copyright © 2017 by Dustin Harder. Used by permission. Photo by Nadine Greeff.)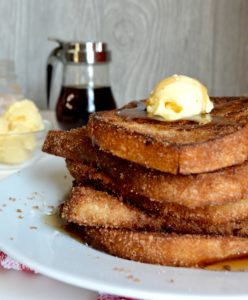 Churro French Toast

If you are ready to go vegan, or know know someone who is thinking about it, get a copy of The Simply Vegan Cookbook. We are also giving away a copy of The Simply Vegan Cookbook, click here for details. The winner will be announced on our Facebook Live show Big Gay Brunch on Sunday January 14, 2018, when our guest will be none other than The Vegan Roadie himself!