Our good friend, and the person who designed our upcoming cookbook NYC Vegan, Dianne Wenz inspired this Spinach Artichoke Ring. Dianne created a delicious Vegetable Crescent Roll Ring on her website, Dianne's Vegan Kitchen. As soon as I saw it I declared Dianne to be a genius, and I was inspired to do something like it. I previously used crescent roll dough for Pigs in a Blanket, but I wanted to try using them like Dianne did. This just so happened to coincide with our planning a Thanksgiving menu and looking at our eBooklet, The Perfect Vegan Thanksgiving. I realized our Spinach-Artichoke Dip would work great when wrapped in crescent roll dough and baked. I made some changes to the dip recipe and created a new appetizer that is dip and bread in one. Break this out at your next party and bask in the praise you are sure to receive.
A note about crescent roll dough: make sure the one you get is vegan. The crescent roll dough by Immaculate Baking Company is not only vegan, but also organic.
Ingredients:
1 teaspoon extra virgin olive oil
1 shallot, diced
1 small clove garlic, minced
3 cups packed fresh spinach leaves, roughly chopped
1 cup canned cannellini beans, drained and rinsed
2 tablespoons water
1 tablespoon nutritional yeast
1/2 teaspoon salt
4 ounces vegan cream cheese, softened
1 14 ounce can artichoke hearts, drained, rinsed and chopped
salt and ground black pepper to taste
2 cans vegan crescent roll dough
Directions:
1. Preheat oven to 350F. Line a baking sheet with parchment paper and set aside.
2. Heat the oil in a large skillet over medium-high heat. Add the shallot and saute until soft, about 5 minutes. Add the garlic and saute until fragrant, about 30 seconds. Add the spinach and saute until completely wilted, about 3 minutes. Remove the pan from the heat.
3. Put the beans, water, nutritional yeast and salt in a food processor and process until completely smooth, stopping occasionally to scrape down the sides of the bowl. When completely smooth, transfer the mixture to a large mixing bowl.
4. Add the cream cheese and spinach mixture to the bowl with the beans. Mix well until thoroughly combined. Fold in the artichokes.  Add salt and pepper to taste.
5. Open the cans of crescent roll dough, and separate the dough into 8 rectangles. DO NOT SEPARATE INTO 16 TRIANGLES. On the prepared baking sheet, arrange the rectangles into a ring with the shorter sides on the inside and outside of the circle, leaving a hole in the center.
6. Spread the spinach-artichoke mixture on the around the half of the ring closest to the center.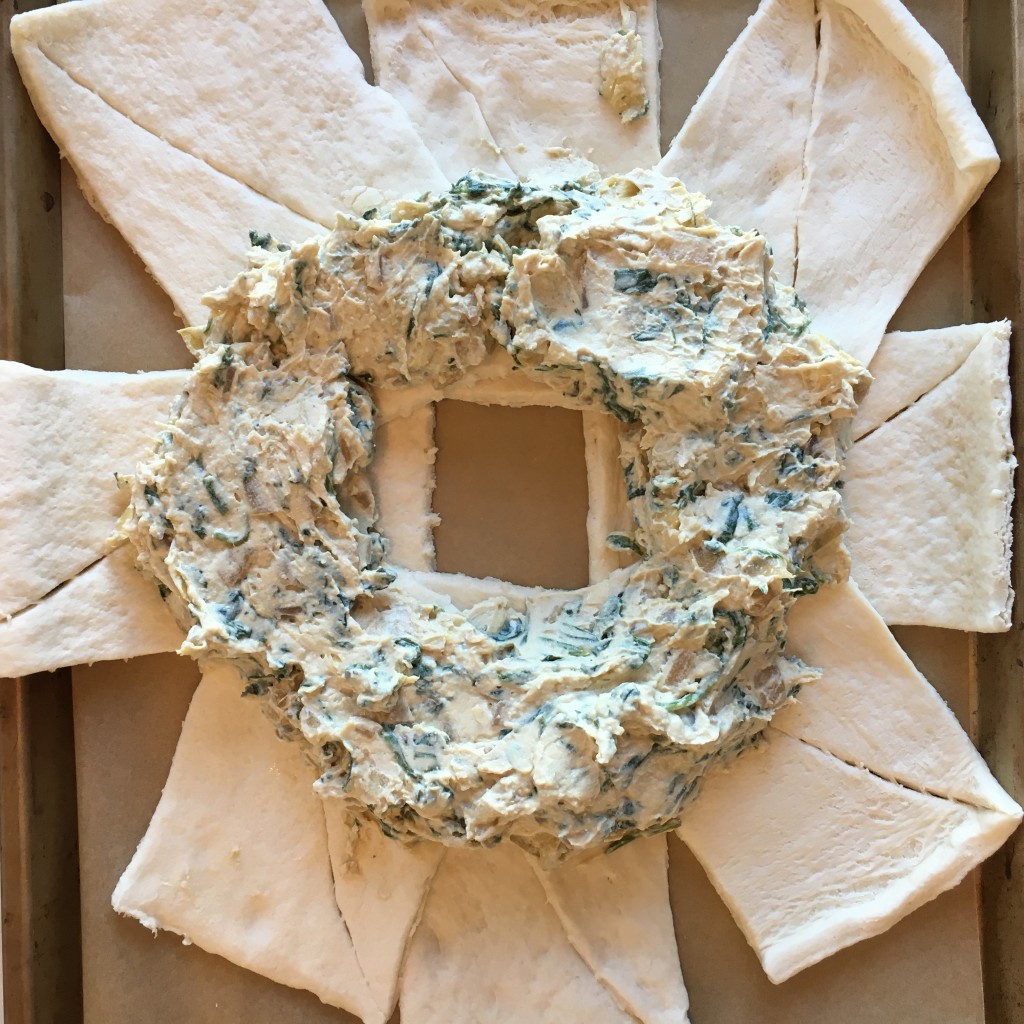 7. Carefully fold the outer, uncovered half, of each rectangle over the spinach-artichoke mixture, and tuck it under the inner edge of the dough.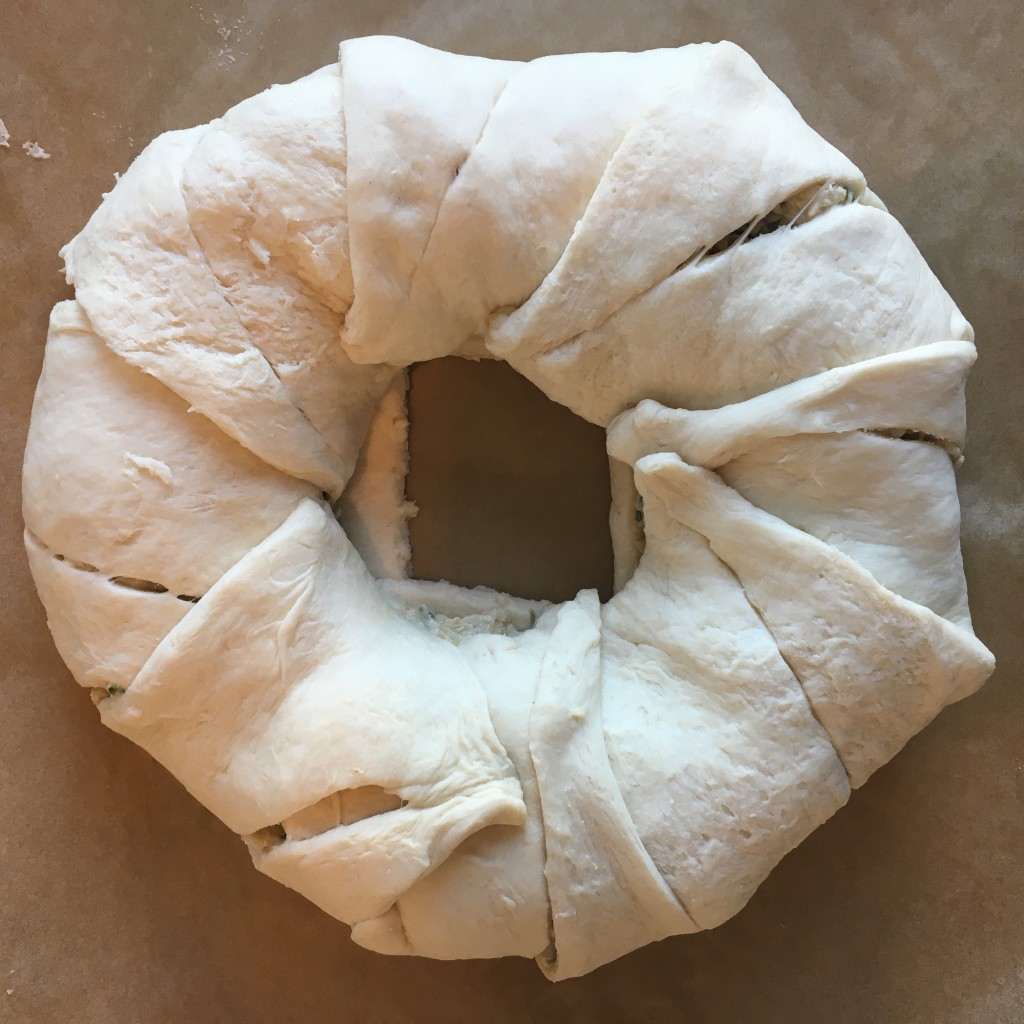 8. Bake for 25 to 30 minutes or until golden brown. Let cool for a few minutes before serving.